Your Support Inspires Change So People and Nature Thrive
Rare is a global leader in catalyzing behavior change and sourcing human-centered solutions to achieve enduring conservation results. For over 40 years, we have used insights from behavioral science to motivate people and communities to adopt new behaviors and practices that balance use and preservation.
Informed by our deep experience from over 450 community-led projects in 56 countries, we find what works locally and bring it to scale globally—providing a blueprint for building a conservation ethic around the world. The results? Empowered communities with the knowledge, tools, and rights to manage their resources sustainably—and create a brighter future for themselves, their families, their communities and the planet.
This work cannot wait. The world's most disadvantaged communities depend on forests, wetlands and coral reefs for jobs, food, and livelihoods—and conservation can only succeed when people and nature thrive.
Help us change the relationship between people and the planet.
Together, we can turn local change into global impact.

Rare 2021: The Campaign for Change is an ambitious global initiative to dramatically impact our planet. We aim to improve the lives of millions of people in developing nations by transforming coastal fisheries, restoring watersheds, and establishing more sustainable farming.
Nature will thrive. Our programs in coastal waters, watersheds, and agriculture will protect critical natural resources, biodiversity and coral reefs, ensure a primary source of clean fresh water, reduce pollution, and fight worldwide climate change.
People will thrive. Our programs are designed with people, for people. Our proven conservation solutions will boost livelihoods, improve food and water security, empower communities to take responsibility for their natural resources, improve cooperation with local and national governments, and build more climate-resilient communities.
Rare's unique and replicable behavior change approach turns local change into global impact. By 2021, Rare will dramatically scale our community-led, climate-smart solutions to global environmental challenges.
Change our Relationship with our Oceans
Change the Field of Conservation
Change How we Protect Productive Landscapes
Change Farming to be More Sustainable and Climate-Smart
Change the Way Local Solutions are Financed for Global Impact
Change Our Approach to Global Warming
Rare Legacy Circle
The Rare Legacy Circle recognizes the individuals who, through a legacy gift commitment, are fueling Rare's mission to inspire change so people and nature thrive. Their support has helped us reach thousands of communities in more than 50 countries.
Right now, Rare has community-led projects underway helping fishers, farmers and other resource users around the world protect the natural resources on which their lives and livelihoods depend. By leaving a gift to Rare in your will or trust, your support will help deliver positive and enduring change to people and the planet.
Your legacy gift will be used to:
Empower local leaders to inspire their communities to take pride in, and protect, their natural resources
Safeguard lives and livelihoods in coastal communities around the world
Protect watersheds that supply drinking water to millions
Help catalyze the global movement toward organic agriculture and sustainable small-scale fisheries
Support the development of climate-smart solutions and protect communities from a changing climate
Let us help you create a personal legacy that has global impact. To learn more about how creating a legacy at Rare can help meet your goals, contact John Chase, Manager, Planned Giving and Donor Relations.
People from across the globe are working with Rare to build a more sustainable tomorrow. We need your help. Your gift today will help empower communities, sustain critical ecosystems, boost livelihoods and inspire pride in our natural resources.
An Organization You Can Trust
Rare receives the highest rating given by Charity Navigator, America's premier independent charity evaluator.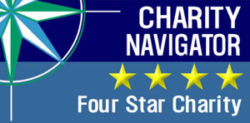 ---
Are You Rare?
Take Action Today