Carla and Roland Villacorta
The Villacortas want to pay it forward.  The "it" that high-school sweethearts Carla and Roland Villacorta reference is the generosity of people who came before.
Originally from the Philippines, Carla and Roland moved to the U.S. in the 1990s and have since called New York City home. Actively supporting relief efforts in the Philippines, Roland's alma mater, and Rare, while volunteering with various organizations, Roland and Carla are raising their three daughters to understand that charity starts at home and change comes from within. "We want our kids to learn that we are products of people's generosity. And we want them to see how investing in people now will benefit generations to come," Carla shares.
To help facilitate this ethos, the Villacortas look for opportunities to help the girls give back.  "Every year, a typhoon hits the Philippines, and families and communities lose everything." So every year, the their daughters collect and send supplies to the areas hit hardest by the typhoon. "It's a simple activity, but so important that they see that they can have a real impact."
Villacortas' giving to Rare started almost by sheer coincidence. Invited to a dinner party hosted by Rare, they met a coastal mayor from Negros Oriental in the Philippines, only two towns over from Carla's maternal hometown. "It was very special and significant to me to meet this mayor and small group of people from Negros," Carla said. "And it was beautiful to see this sense of pride they had in participating in Rare's program and sharing their success story." A few years later, the whole family traveled to the Philippines to visit Rare's work firsthand.  "It was so good to see the work Rare is doing to help the communities become more self-sufficient and sustainable, and tracking that success. That's how we decided to invest alongside Rare and be a partner in these efforts."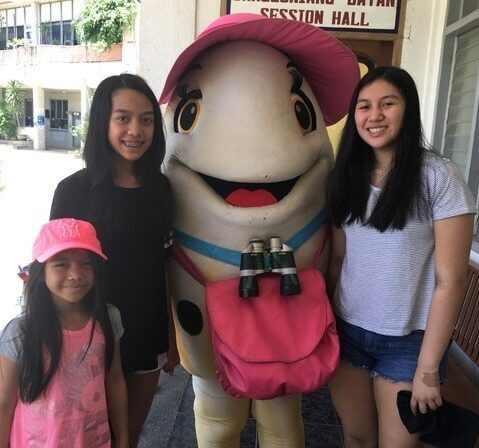 Carla says Rare has helped her family be more mindful of their own environmental impact and carbon footprint. She also credits that first visit with Rare to the Philippines with sparking the family's desire to focus their giving more broadly in the country.  "One of my favorite moments was when the Rare team came to Negros and their icebreaker was playing basketball. Basketball! Filipinos are not tall, but we love basketball.  It's so Filipino."