Fish Forever in Indonesia

A Changing Tide: A Story of Leadership for our Community Seas
As the world's largest island country—a vast archipelago made up of 17,000 islands with over 34,000 miles of coasts and hundreds of distinct native ethnic and linguistic groups—Indonesia is endowed with natural richness. It has the world's second longest coastline, one of the world's largest tracks of mangroves, and the second-largest area of coral reefs in the world; in fact, 97% of Indonesia's coral reefs are located within territorial waters (0-12 nautical miles from shore).
The coastal fishers and fisheries that depend on these essential natural assets form a key part of the nation's cultural heritage and economy. 80 percent of Indonesia's 2.4 million fishers are small-scale coastal fishers, using small boats and simple gears to fish in nearshore areas for food and income. These fishers account for over half of Indonesia's total wild fish production.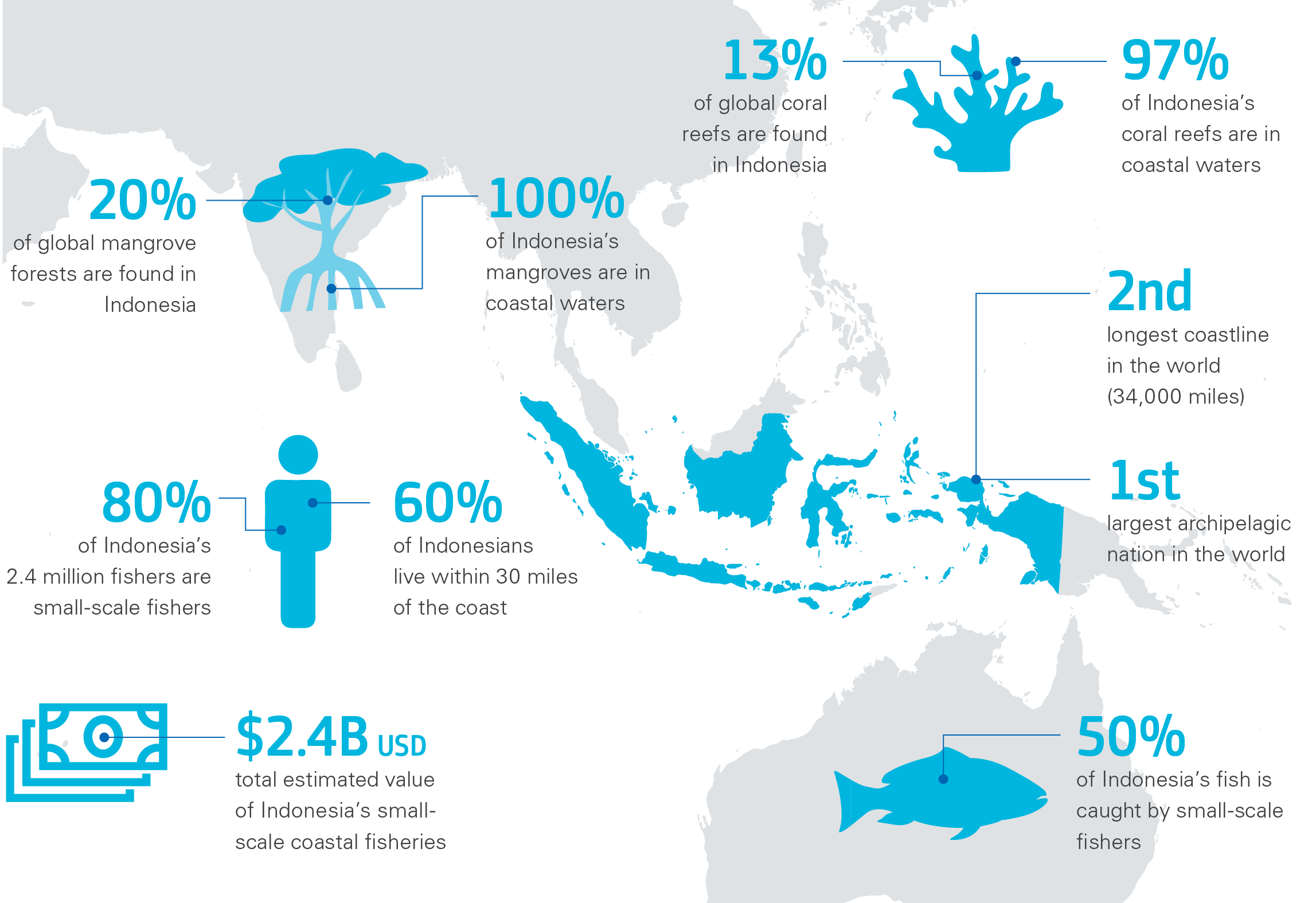 Unsustainable and poorly-regulated fishing practices, poor enforcement and governance, degradation of essential fish habitat, and external stressors such as climate change severely threaten the coastal fisheries on which Indonesia's coastal fishing communities depend. Declining fisheries destabilize nationwide development efforts and pose a material threat to Indonesia's economy, as well as the food security and livelihoods of millions of people. The first to feel the impacts of these depleted resources are coastal fishers and their families and communities.
Stay Connected
Sign me up for occasional emails to learn more about Rare's work and how I can support its mission. I know I can unsubscribe at any time.
Fish Forever in Indonesia works with fishing villages and district and provincial governments to build and strengthen community-based coastal fisheries management of Indonesia's provincial waters.
The program works to:
Establish managed access areas that provide fishing communities clear rights to fish in certain areas
Create networks of fully-protected and community-led no-take marine reserves to replenish and sustain fish populations and protect critical habitat
Build community engagement and effective management bodies to support local decision-making
Enable fishers to adopt more sustainable and better-regulated fishing behaviors (e.g., become a registered fisher; record fish catch; respect fishing regulations; and participate in fisheries management)
Collect, disseminate and help fishing communities use data for decision-making
Advance coastal fishing communities' inclusion in financial and market opportunities to increase household resilience
Mobilize public and private investment in coastal fisheries and marine natural resources
Enact policy to promote and sustain a community-based management approach
---
The Ministry of Marine Affairs & Fisheries, the Ministry of Environment & Forestry and Rare commit to developing a breakthrough on marine conservation area management, together with the local fishers, to strengthen their sense of belonging and to preserve their ocean as their source of food and income."

Agus Dermawan, Secretary of Directorate General of Marine Spatial Management, Ministry of Marine Affairs & Fisheries, Republic of Indonesia
Our Network
The statistics below include both established and proposed managed access areas and reserves.

*Real-time program data. For more details, visit the Fish Forever program portal: https://portal.rare.org.
Fish Forever has developed an extensive global partnership network of over 100 organizations and institutions to make change happen. Rare focuses on building the capacities of our implementing partners to sustain this change long after Rare's involvement ends. Rare partners in Indonesia include national government ministries (Ministry of Marine Affairs & Fisheries, Ministry of Environment and Forestry, Ministry of Home Affairs, and Ministry of National Development Planning); provincial and district governments (Southeast Sulawesi and West Papua); local government departments; fishers and fisher associations; universities (University of Haluuleo, University of Muhammadiyah in Kendari); NGOs (Conservation International, World Wildlife Fund, Blue Ventures); and other civil society groups.
Are You Rare?
Take Action Today