Fish Forever in the Mesoamerican Reef

Why the Mesoamerican Reef?
The Mesoamerican Reef (MAR) is the second largest barrier reef in the world, and the largest in the Western Hemisphere. With over 600 miles of essential mangrove, coral reef, and seagrass bed habitats, stretching across the Caribbean coasts of Mexico, Belize, Guatemala and Honduras, the livelihoods of over two million people across the region depend directly on the reef's health.
The fish populations that these amazing habitats support provide invaluable benefits to coastal communities, including economic development, food security, and poverty alleviation. Community-based small-scale fisheries across the MAR form a crucial part of the regional economy, provide food and jobs for thousands of small-scale fishers, and are a central component of the region's cultural fabric.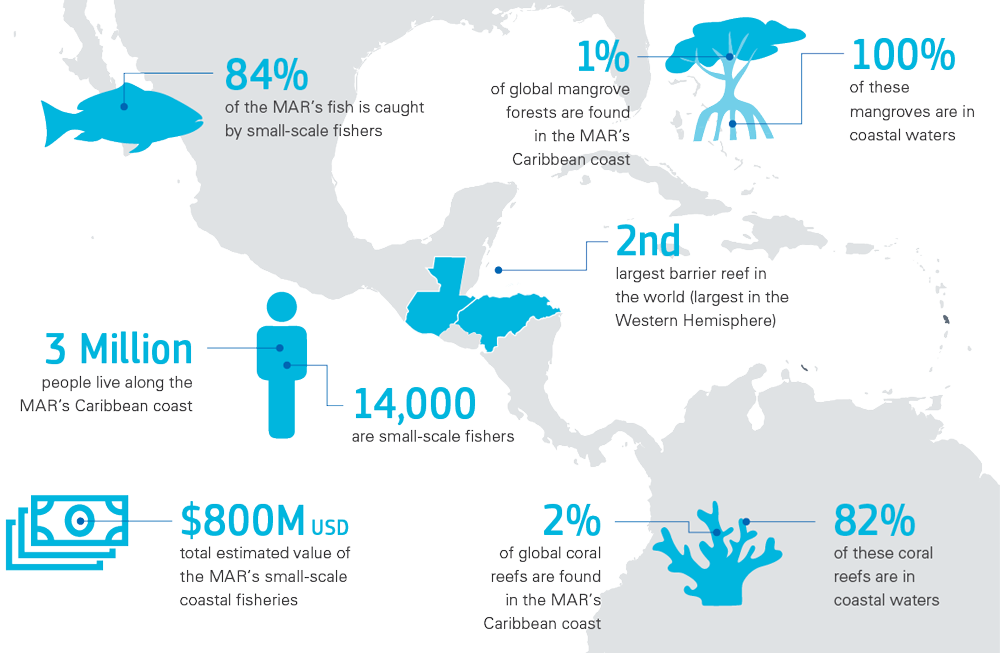 Overfishing continues to jeopardize coastal fishers' livelihoods and the future of communities across the region. Community-based fisheries, especially those not targeting export species like lobster and conch, have largely operated under little or no effective governance. The dispersed and complex nature of this sector is hard for the traditional central government authority and "command and control" management approach to monitor and regulate. Further, a lack of accurate fisheries data presents an ongoing barrier for effective marine management. Managing these fisheries must focus on local community-level action while also building effective governance across municipal, provincial, national, and regional scales.
.
Stay Connected
Sign me up for occasional emails to learn more about Rare's work and how I can support its mission. I know I can unsubscribe at any time.
Fish Forever in the Mesoamerican Reef works with fishing communities and municipal governments to build and strengthen coastal fisheries management across the Caribbean coasts of Honduras and Guatemala.
The program works to:
Establish managed access areas that provide fishing communities clear rights to fish in certain areas
Create networks of fully-protected and community-led no-take marine reserves to replenish and sustain fish populations and protect critical habitat
Build community engagement and effective management bodies to support local decision-making
Enable fishers to adopt more sustainable and better-regulated fishing behaviors (e.g., become a registered fisher; record fish catch; respect fishing regulations; and participate in fisheries management)
Collect, disseminate and help fishing communities use data for decision-making
Advance coastal fishing communities' inclusion in financial and market opportunities to increase household resilience
Mobilize public and private investment in coastal fisheries and marine natural resources
Enact policy to promote and sustain a community-based management approach
---
Fisher participation and self-regulation is the best strategy to protect and manage natural resources. It's a success story when conservationists and fishers are working together."

Marco Cerezo – General Director, FUNDAECO
In 2018, Rare began partnering with local governments, fisher associations, fisher groups and other local organizations in Honduras and Guatemala to catalyze and connect grassroots initiatives that can protect the reef system and improve livelihoods for fishers and their communities—leveraging this momentum into a movement for national and regional adoption of local, community-based coastal fisheries management.  Rare has also previously worked in Belize and Mexico.
In a new film series, "Bright Spots," produced in partnership with The Summit Foundation, we're sharing the inspiring stories behind national and regional adoption of community-led conservation measures to protect the MAR's coastal communities.
Bright Spots: Belize   bright spots: Guatemala   Bright Spots: Honduras   Bright Spots: Mexico
Fish Forever has developed an extensive global partnership network of over 100 organizations and institutions to make change happen. Rare focuses on building the capacities of our implementing partners to sustain this change long after Rare's involvement ends. Rare partners in the MAR include national government ministries (Ministry of Agriculture and Livestock, Fishing Directorate, port authority, and navy); municipal governments; fishers and fisher associations (Puerto Cortes, Utila, Guanaja, APROCUS Fisherman association in Honduras, Fisherman network in Guatemala); universities (Universidad Nacional Autonoma de Honduras); and civil society organizations (the Honduran Centre for Marine Studies, Smithsonian Institution, and Fundaeco in Guatemala).
Are You Rare?
Take Action Today