Brazil is one of the most populous and diverse countries in the world, home to spectacular beauty, biological diversity, and unique blending of indigenous and non-indigenous populations. As South America's largest country, its lengthy Atlantic coastline—stretching almost 5,000 miles—and coastal waters support more than a million coastal, small-scale fishers who depend on Brazil's natural bounty for food and income.
The vast majority of fishermen in Brazil are small-scale, concentrated in the country's northern and northeastern states, and account for most of the country's fish landings. Further, Brazil holds the world's largest contiguous mangrove area.  Such lush and essential vegetation provides food for millions of people and habitat for hundreds of species of plants, arthropods, mollusks, crustaceans, fish, and birds.  Importantly, mangroves also help to mitigate the impacts of climate change.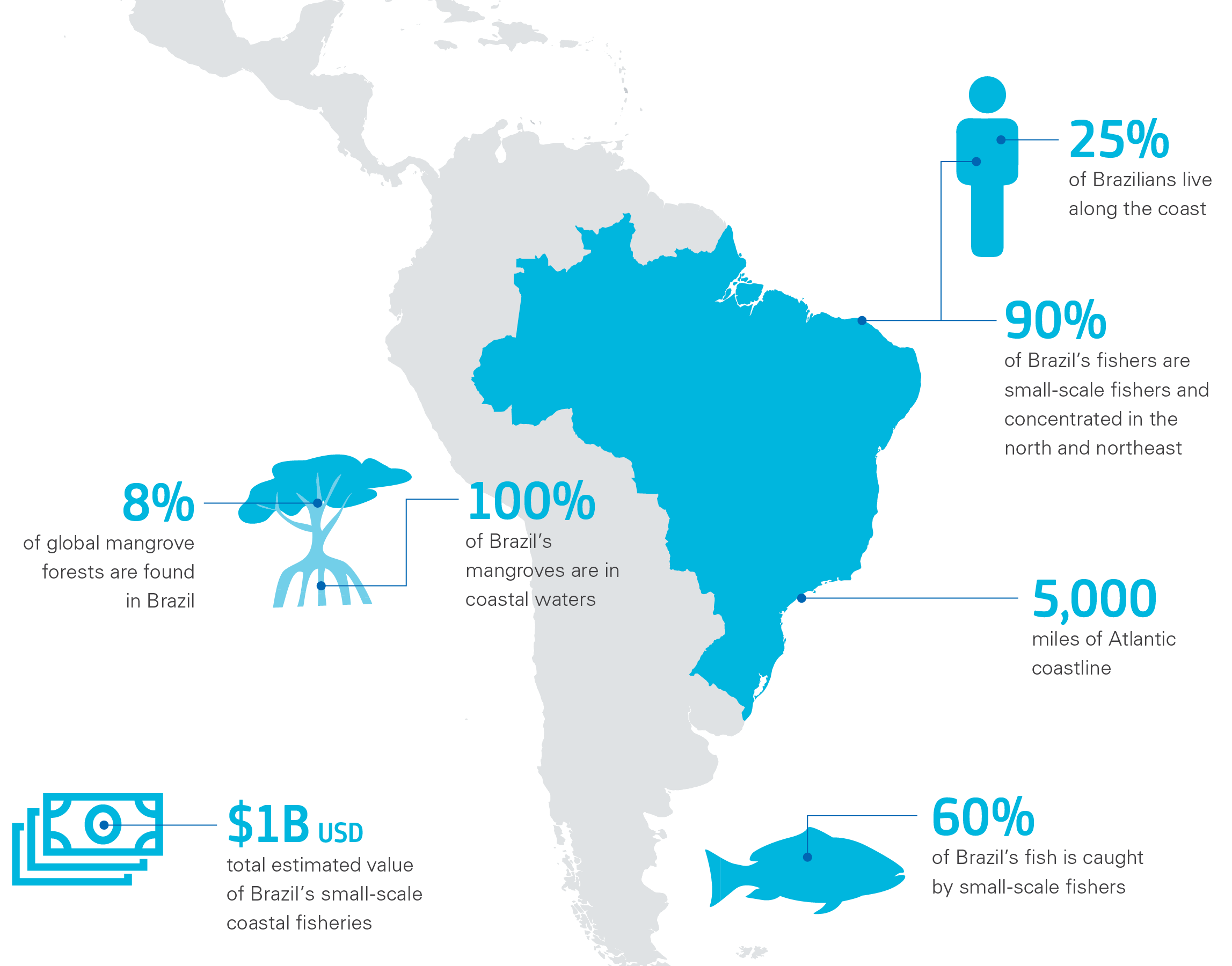 Despite existing area-based fisheries management that provides preferential access to traditional fishing communities, the communities lack confidence in their abilities to sustainably manage their fisheries.  Further, they distrust the government to respect their decisionmaking authority; and this distrust is compounded by high-level political corruption scandals that continue to destabilize the country. Unsustainable management of Brazil's coastal fisheries will imperil the food and income security and biodiversity benefits these vital systems have provided communities for generations.
Stay Connected
Sign me up for occasional emails to learn more about Rare's work and how I can support its mission. I know I can unsubscribe at any time.
Fish Forever in Brazil works with fishing villages to build and strengthen community-based coastal fisheries management inside existing coastal and marine protected areas within Brazil's northern states, such as Pará.
The program works to:
Establish managed access areas that provide fishing communities clear rights to fish in certain areas
Create networks of fully-protected and community-led no-take marine reserves to replenish and sustain fish populations and protect critical habitat
Build community engagement and effective management bodies to support local decision-making
Enable fishers to adopt more sustainable and better-regulated fishing behaviors (e.g., become a registered fisher; record fish catch; respect fishing regulations; and participate in fisheries management)
Collect, disseminate and help fishing communities use data for decision-making
Advance coastal fishing communities' inclusion in financial and market opportunities to increase household resilience
Mobilize public and private investment in coastal fisheries and marine natural resources
Enact policy to promote and sustain a community-based management approach
---
Rare's support has been fundamental to creating an opportunity for discussion and learning among leaders, fishers, and buyers."

Zacarias Monteiro – Fisher and President of the Association of RESEX Gurupi-Piriá
---
Our Network
The statistics below include both established and proposed managed access areas and reserves.

*Real-time program data. For more details, visit the Fish Forever program portal: https://portal.rare.org.
Fish Forever has developed an extensive global partnership network of over 100 organizations and institutions to make change happen. Rare focuses on building the capacities of our implementing partners to sustain this change long after Rare's involvement ends. Rare partners in Brazil include national government agencies, including the Ministry of Environment and Instituto Chico Mendes de Conservação da Biodiversidade, CEPENE, and the National Commission for the Strengthening of Marine Extractive Reserves and its Traditional Communities; state and municipal governments; fisher associations; universities; NGOs; and other civil society groups.
Are You Rare?
Take Action Today