Pathways to Establishing Managed Access and Networks of Reserves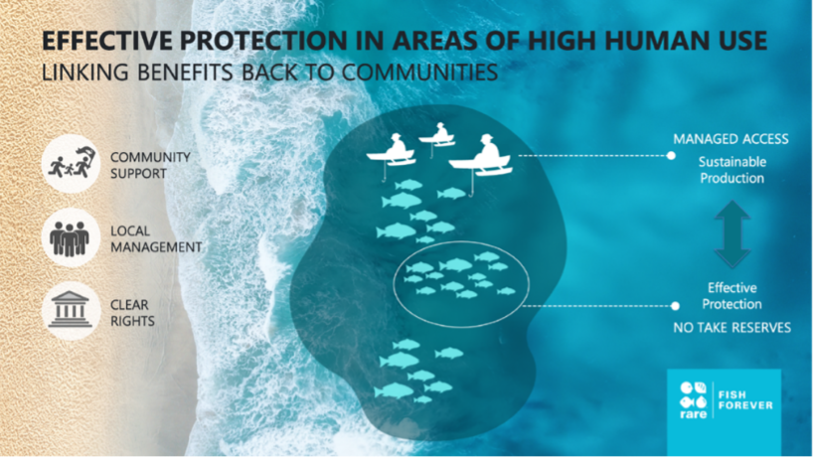 In 2020, Rare analyzed the successful legal, regulatory, and institutional pathways undertaken to establish managed access with reserves (MA+R) for small-scale fisheries in the Philippines, Indonesia, and Brazil. This analysis, recently published in Marine Policy, identifies how local communities secure and strengthen legal and functional access rights to fisheries resources at the appropriate geopolitical scales (at the state level or through local government nested within provincial governance).
The analysis also highlights several common elements necessary for establishing and implementing MA+R:
Strong Partnerships: Building strong partnerships among fishing communities, government decision-makers and agency staff, NGOs, and universities creates the enabling conditions for success: shared understanding, mutual respect and trust, information-sharing, advocacy, and pooling resources.
A Robust Engagement Strategy: A engagement strategy, built from policy landscape and stakeholder analyses, builds the consensus, understanding, and support needed to establish legal and functional user rights and secure long-term sustainability.
Policy Alignment: Harmonizing local initiatives, such as ordinances, with state and national legal and policy frameworks.
Connected Local Leaders: Cultivating and actively supporting committed leaders and 'champions' at national and local levels – and connecting them—provides short and long-term support, inspiration, and continuity to establishing and implementing managed access with reserves.
The Right Scale: Identifying the appropriate geographic coverage to scale the managed access and reserve areas (and the rate at which to do this) to ensure stakeholder buy-in and participation.
Devolving authority over coastal fisheries from a centralized government to a community-based co-management model of MA+R is a central theory for Fish Forever (see diagram). The pathways identified involved interpreting and adapting a mix of fisheries, marine conservation, marine protected area, and government administrative and legal instruments at national, sub-national, and local levels. The policy and governance work that supports these pathways also focuses on strengthening community rights-based management capacity.
Our analysis and related report serve as guidance for replicating MA+R across Fish Forever countries. Building off this case study and policy landscape assessments conducted in six countries, Fish Forever will further analyze and compare decentralization efforts more broadly to explore how our work can strengthen community rights-based management approaches globally.