Americans' climate change concerns are at record levels. And increasingly, they expect action—from the government, their employers, and each other. While it will take all three to address the climate crisis, American companies have a remarkable opportunity to lead in building the critical mass of people taking meaningful climate action. 
Rare's GreenShift initiative helps U.S.-based companies act on climate change. The program offers employers and employees the opportunity to pursue high-impact climate actions that will positively impact the climate and culture of sustainability in the United States.
Sustainability requires employer and employee buy-in
Eight in ten Americans are willing to make lifestyle changes to fight climate change.
How GreenShift works
GreenShift works with companies to engage their employees in climate-positive behaviors. The social initiative helps companies tailor-fit a program to a company's unique culture, environment, and business practices. It uses the best practices from behavioral science, employee engagement, and digital marketing to motivate employees to take small actions that have a big impact.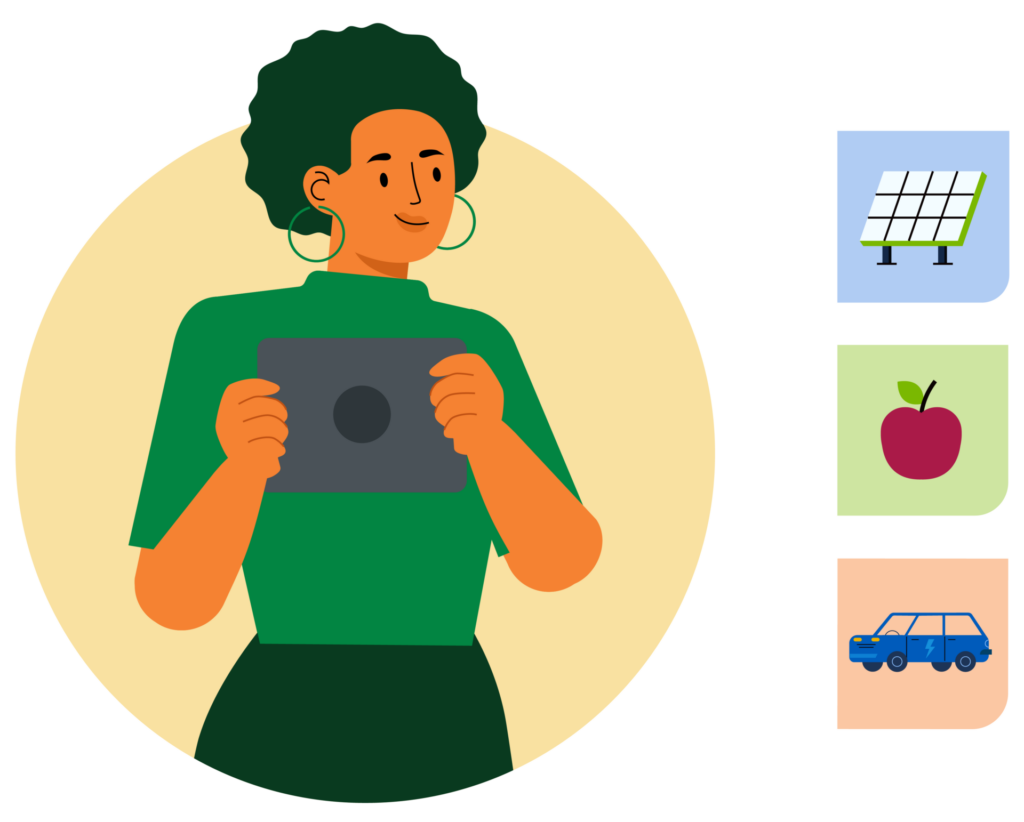 Unlike most other climate-based employee-based initiatives, GreenShift isn't an external or separate climate action platform. It's a series of flexible and fun four to six-week modules that easily integrate into a company's goals, calendars, and sustainability initiatives, such as a company's 'Sustainability week' or existing transit benefits.  
The modules translate tenets of behavioral science into learning opportunities, shared experiences with colleagues, individual and team challenges, video content, fun quizzes, employee benefits, and more. Plus, GreenShift fits in with your company culture through peer-to-peer outreach, communicating through existing channels, and our supported Ambassador program. 
Want to know more about how your company can participate in a GreenShift?
Contact us at greenshift@rare.org
Why do we need a GreenShift?
Increasingly, business leaders recognize the strength of the business case for sustainability and the need to involve their employees in their company strategy. Workplaces that engage employees in a sustainability program can enjoy significantly greater productivity, acquisition, and retention. Further, our research shows that any program encouraging behavior change needs to engage individuals on multiple fronts. 
Grounded in behavioral insights, behavior-centered design for the environment, and decades of community engagement experience, GreenShift offers companies the ability to support people and the planet into the future.  
GreenShift's many benefits include the following: 
A science-based approach that builds long-term shifts in climate-friendly behaviors and increases employee engagement in existing corporate benefits.
A values-based design that aligns with the uptick in current and prospective employees seeking employment at companies that share their values.
A culture-add: A simple, turnkey program requiring minimal company resources tailored to company culture.
A clear pathway for adopting and maintaining climate-positive behaviors.
Compelling company testimonials of success to share with investors, shareholders, and customers.
---
Why Rare?
Rare is the leading behavior change organization in the conservation world. We have run over 500 behavior change campaigns in 60+ countries, and our campaigns have increased adoption by 18 percentage points on average. Our work, part of Rare's "Climate Culture" program, is steeped in the behavioral and social sciences and designed to help your employees adopt the highest impact behaviors for tackling climate change.
Results from our initial pilots:
Employees engaged in GreenShift
Glad employer offered the program
Believe their personal values and company's values are better aligned
Want to know more about how your company can participate in a GreenShift?
Contact us at greenshift@rare.org
Frequently Asked Questions
We already have a sustainability program that focuses on company GHG gains. What does an individually focused program add to that? 
A1: Many companies realize the gains of efforts like switching to clean energy but leave the considerable potential of their employee base untapped. A recent Vanderbilt study published in the New York University Law Review declares that roughly 1/3 of US-based emissions come from individuals. And the best part is that employees only need to make small changes to make a significant aggregate impact. 
We have a sustainability program in place. Does GreenShift require me to upend our current program or our existing tech ecosystem? 
A2: GreenShift works best when it complements a company's sustainability and employee-focused efforts. Our modules offer scheduling flexibility to fit your calendar, and we work with companies to blend organically into your current culture. From white-labeled emails with your branding to messages via Slack or Teams to internal Ambassadors reaching out to colleagues, GreenShift connects your employees in already comfortable ways. 
We have a lot of employee programs, and frankly, adoption isn't that high. How is GreenShift different? 
A3: GreenShift was designed using the best practices from behavioral science, employee engagement, and digital marketing. This holistic approach allows us to create enjoyable employee experiences highlighting health and financial benefits and those for the planet. For our pilots, the employee adoption rate has averaged over 85%. Additionally, GreenShift works with your existing programs and can build awareness and adoption of current benefits, such as a mass transit pass or wellness stipend. 
Where does GreenShift belong in my company?  
A4: Everywhere! While we primarily work with Sustainability staff, GreenShift offers benefits across companies. There's employee engagement and benefit adoption for People teams, brand burnishment and great storytelling for Marketing and Public Affairs, and – of course – averted emissions for sustainability.  
Our employees loved taking climate action with Rare's GreenShift program. The curated options made it easy, helped connect employees to the company's sustainability efforts, and spurred positive new sustainable behaviors across the business."

—Amy Berquist, Vice President, Conservation, Education & Sustainability, Lindblad Expeditions

These are all actions I've meant to take for a while, but this program got me to actually do them!"

—Aly, program pilot participant

LOVED the opportunity to learn more--and have the resources culled and vetted and available from Rare."

—Amy, program pilot participant