Stanford d.school Executive Director, Former EPA General Counsel Join Rare Board
April 23, 2018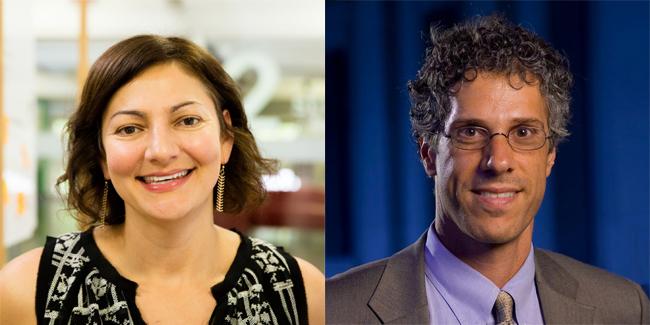 (Arlington, VA) Today, Rare announced the appointment of Sarah Stein Greenberg and Avi Garbow to its board of trustees. Stein Greenberg is the Executive Director of the Hasso Plattner Institute of Design (the d.school) at Stanford University. She is also currently on the Advisory Board of Rare's Center for Behavior & the Environment. Garbow is a partner in the Washington, DC office of Gibson, Dunn & Crutcher, and the former General Counsel at the U.S. Environmental Protection Agency (EPA).
"We are honored to have these two visionary and accomplished individuals join Rare's board," said Brett Jenks, President and CEO of Rare. "Both Sarah and Avi bring with them unique perspectives on the challenges our planet faces and what needs to be done to solve them. Their knowledge, leadership and experience will be a tremendous benefit to Rare's work activating communities and engaging governments in support of community-led conservation solutions. We congratulate them on their appointments and thank them for their contributions to Rare."
As Executive Director of the d.school, an interdisciplinary institute at Stanford that nurtures innovators and spreads design thinking, Stein Greenberg supports a multidisciplinary learning program of about 45 courses that reach more than 1,000 Stanford students annually, taught by more than 75 experts including designers, Stanford academic faculty and the Silicon Valley community. Previously, she worked in the innovation practice of Monitor Group, an international consulting firm, and advised multinational companies on developing innovation capabilities.
In the classroom, Stein Greenberg has co-taught the d.school's foundational course on design thinking, a course integrating public policy and design, and the school's legendary class on design for the developing world called "Design for Extreme Affordability." In 2013 she launched an experimental concept called Pop Up Classes that helped spark a wave of experimentation across higher education. Stein Greenberg holds an MBA from Stanford University and a BA in History from Oberlin College.
Both Sarah and Avi bring with them unique perspectives on the challenges our planet faces and what needs to be done to solve them.

Brett Jenks, President and CEO, Rare
Garbow is a Co-Chair of Gibson, Dunn & Crutcher's Environmental Litigation and Mass Tort Practice Group. Honored by the National Law Journal as an Energy and Environmental Trailblazer in 2017, Garbow has extensive experience in the development, implementation and enforcement of environmental regulations under nearly all major environmental statutes.
Garbow joined the firm after serving as General Counsel at EPA. Nominated by President Obama, and confirmed with the unanimous consent of the Senate, Garbow served from 2013 through 2017, becoming EPA's longest-serving General Counsel. Garbow's tenure occurred during the most advanced efforts of the federal government to address climate change, both domestically and internationally. While serving as EPA General Counsel, Garbow twice led EPA's delegation to the U.S.-China Strategic & Economic Dialogue and participated in the U.S.-China Climate Change Working Group.
Garbow received his Juris Doctor from the University of Virginia School of Law, where he received the Robert F. Kennedy Award for Public Service. He received a Masters Degree in Marine Affairs from the University of Virginia Graduate School of Arts & Sciences.
---
About Rare
Rare is the global leader in the use of behavior change to help local leaders inspire their communities to take pride in, and protect, their natural resources. To learn more about Rare, please visit rare.org.