State of Pará, Brazilian Environmental Ministry and its agency ICMBio, Conservation Organization Rare and CONFREM Unite to Protect Brazil's Mangrove Habitats
November 13, 2017
(BONN, Germany) Today, the Brazilian Ministry of the Environment and its agency responsible for protected areas (ICMBio), the Government of Pará, the National Commission for the Strengthening of Marine Extractive Reserves – RESEX – and its traditional communities (CONFREM), and Rare, an international conservation organization, announced a new initiative to protect over 625,000 hectares of mangrove forests along Brazil's northern coast. The initiative was announced at the United Nations Framework Convention on Climate Change (COP23), with the presence of the governor of Pará, Rare, CONFREM, and the Brazilian federal government.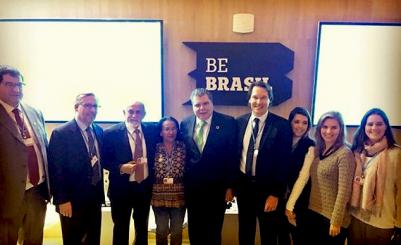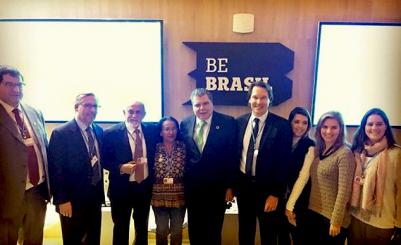 The partnership's launch comes after a recent study revealed that Brazil lost nearly 20 percent of its mangroves between 2000 and 2016, putting coastal communities at an increased risk of resource depletion and leaving them more vulnerable to natural disasters.
Though historically undervalued, mangroves, which live along shores, rivers, and estuaries in the tropics, are one of the most important ecosystems on the planet. Mangrove forests have the capacity to help slow the negative impacts of climate change by absorbing carbon emissions from the Earth's atmosphere. They also provide numerous social, environmental and economic benefits, acting as barriers for natural disasters, filtering sediment and agriculture runoff, and providing habitats for species that sustain more than one million people.
For the governor of Pará, Simão Jatene, the discussion on sustainability of the Amazon must not only take into consideration the environmental dimension, but also must account for the social and economic issue. "Talking about sustainability in the Amazon only makes sense if we consider that the region has a double role, which is to be a provider of environmental services on a planetary scale, but also to serve as a basis for a decent life for the people who live here," says Jatene.
Ricardo Soavinski, President of ICMBio, said "As home to 7.4% of the world's mangrove forests, Brazil, the second country in mangrove extension in the world, has demonstrated a strong commitment to protecting these unique and critical ecosystems; about 87% of Brazilian mangrove forests are within protected areas. In addition, we believe it is key to promote engagement of local communities in sustainable use of its resources, especially in extractive reserves areas (RESEX, a multiple use type of protected area). We believe it is paramount to bring international attention to the importance of mangroves and the need to better protect, manage, and restore them for the benefit of people and nature, particularly due to their roles in climate change adaptation and mitigation and sustainability of livelihoods."
Pará is Brazil's largest producer of fish from small-scale fisheries, the second-largest producer of total seafood in the country, and its population is more dependent on small-scale fisheries than any other Brazilian state. This initiative will support Rare's existing work to empower local fishing communities to better manage their natural resources along Brazil's coast.
In view of this, the partners will work to adopt measures that protect mangroves, as well as support the socioeconomic development of the population directly and indirectly related to the ecosystem. CONFREM, which represents the fishers within RESEX, and Rare intend to work together with the state and federal government to promote Rare's signature behavior change methodology and tools to encourage sustainable fishing solutions among the local communities.
"This collaborative effort to expand and develop new protected areas and implement existing ones will help Brazil continue to break new ground in building social, economic and environmental resilience for these coastal communities," said Brett Jenks, CEO of Rare.
Working closely together, the partners will work to establish measures that:
Promote the conservation of mangroves and the sustainable use of their natural resources, especially fisheries, through the integrated management of conservation units on the north coast of Brazil;
Promote the development of sustainable fisheries value chains in order to develop the local economy and improve the quality of life and livelihoods of PA communities;
Implement sustainable use protected areas associated with other conservation strategies such as areas for conservation and recovery of fish stocks (no-takes) of the main target species of local artisanal fisheries.
Foster social participation, promote environmental education activities for communities residing in protected areas, and launch social marketing campaigns to build community support and behavior change for the sustainable use of natural resources, especially fisheries.
Rare will also work closely with fishing communities to make improvements to the supply chain of commercially and socially important target species by reducing the number of intermediaries and guaranteeing buyers, like supplying the state government for school lunches, resulting in higher profits for the fishers. This initiative will support greater integration and synergy of existing work between State (MMA, ICMBio and government of Pará) and Rare to empower communities along the Amazon coast to better manage their natural resources.
---
ABOUT RARE
A 4-star Charity Navigator-ranked NGO, Rare is a leader in using behavior change to achieve conservation goals globally. Rare inspires people to take pride in the natural resources that make their communities unique, while also introducing practical alternatives to environmentally destructive practices. Rare has trained more than 350 community leaders and government employees in 56 countries in campaign planning and social marketing, equipping them to deliver community-based solutions based on natural and social science, while leveraging policy and market forces to accelerate positive environmental change. Rare then works to scale that impact to help deliver the same kind of change elsewhere. Learn more at http://www.rare.org and follow us @Rare_org.