Actor and Environmental Advocate Kate Walsh Joins Leading Conservation Orgs in Search for Climate Solutions
Walsh Joins Distinguished Panel of Experts Helping to Identify Innovative Solutions for Helping Consumers Adopt Climate-Friendly Behaviors
May 30, 2018
(Arlington, VA) Today, Solution Search: Climate Change Needs Behavior Change, announced actor and environmental advocate, Kate Walsh, will join the global crowdsourcing competition as a judge. Walsh joins a distinguished panel of CEOs, academics and officials that will help identify, reward and spotlight innovative approaches to curbing climate change.
Solution Search is sponsored by Rare, Conservation International, National Geographic, The Nature Conservancy, United Nations Development Programme, and the World Wildlife Fund, and is open to nonprofits, companies, governments and other organizations that have developed and implemented approaches to helping consumers adopt more climate-friendly behaviors that ultimately help decrease greenhouse gas emissions.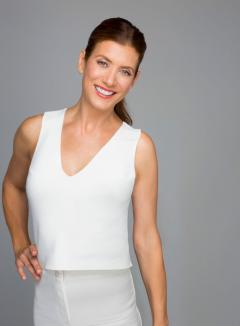 Walsh, who is currently starring in Netflix's 13 Reasons Why is widely known for her roles in the television dramas Private Practice and Grey's Anatomy. As an environmental advocate, she has sought to protect the world's oceans and marine life through political advocacy and has been a vocal proponent of clean energy.
"As we speak, people around the world are doing amazing things to not only promote more climate-friendly behaviors, but also working to get people to adopt them. If we can find these solutions and lift them up, we can tap their potential for sparking the kind of wide-spread change we need in the fight against climate change. I am thrilled to be a part of this search for proven ways to motivate people to behave differently—for the good of the planet and our own future," said Walsh.
While traditional approaches often rely primarily or exclusively on economic or regulatory incentives, Solution Search: Climate Change Needs Behavior Change will focus on those that use the latest insights from behavioral science including leveraging the power of emotions, changing social norms, and making preferred behaviors easier to adopt. Solution Search judges will review a pool of 10 finalists and select a Judges' Choice Winner, which will be awarded a $25,000 grand prize and a capacity-building workshop with some of the biggest names in conservation, development and behavioral science.
The panel of judges also includes Aileen Lee, Chief Program Officer, Environmental Conservation – Gordon and Betty Moore Foundation; Anthony Leiserowitz, the Director of the Yale Program on Climate Change Communication; Brett Jenks, President and CEO of Rare; Carter Roberts, President and CEO of World Wildlife Fund; Charlotte Blank, Chief Behavioral Officer at Maritz; Christopher Graves, President & Founder of the Ogilvy Center for Behavioral Science; David Halpern, Head of the United Kingdom's Behavioural Insights Team; Elke Weber, Professor of Psychology and Public Affairs, Princeton University; Gary E. Knell, CEO of National Geographic Partners; Henry Paulson, former US Treasury Secretary; Katharine Wilkinson, Senior Writer of Drawdown; M. Sanjayan, CEO of Conservation International; and Mark Tercek, President and CEO of The Nature Conservancy.
Aside from acting, Walsh has also been a strong voice in the fight for women's rights, she has served as a member of Planned Parenthood's Board of Advocates for over 10 years. Walsh has also traveled around the world with Operation Smile to provide surgical care to children born with cleft lips. The organization continues to be one of great importance to her.
More information available at https://solutionsearch.org/contest/climate-change-needs-behavior-change.