AG Saño
ARTIVIST
|
WHALE BOY
Grief, tragedy, justice, and hope have motivated A.G. Saño's art and activism over the last thirty years. The renowned Filipino muralist, photographer, and environmental activist is well-known for painting large-scale murals of dolphins and ecological issues in public spaces around the Philippines. But climate change art and action now drive him. "Before it was more about advocacy, because of my exposure to science and data. But now, it's more than that—it's personal."
A.G., a.k.a., "Whale Boy," regularly conducts whale and marine mammal research and conservation through Balyena—the nonprofit he co-founded with friends in 2000—and paints environmental murals. But two events in the last ten years changed his environmental art and activism. "When my research team and I watched "The Cove" in 2010, I was shocked to see dolphins wiped out by the thousands while we were trying to conserve them. I instinctively painted a wall of dolphins to express my grief and to pay tribute." A.G.'s painting spurred thousands to paint, invitations to paint murals across Southeast Asia, and various awards and accolades.
And then, in 2013, when A.G. lost three loved ones to Super Typhoon Haiyan, one of the world's strongest storms, and witnessed its devastation, he zeroed in on climate-related work. "[In the Philippines], we have, on average, 21 storms a year because of the warming climate. They are violent and people and communities get hurt. So, now I use my mural art to do mental wellness in the aftermath of disasters and volunteer for relief efforts." A.G.'s journey is ongoing. "I'm still growing as part of the environmental movement. There's a lot more to do, especially with populations in the tropics vulnerable to climate change."
Who inspires A.G. Saño?
"Being inspired is a regular thing for me, in every step of my journey." Richard Obarry, dolphin trainer-turned-liberator, friend, and star of "The Cove," inspires A.G. with his relentless dolphin advocacy. "Every time I find myself getting depressed, I look at what he does." Gary Stokes, another documentary star, is "a one-man team focused on reducing plastics and dedicated to data and research," while WWF Philippines' Environmental Education team has "educated one million Filipinos about climate change." Lastly, A.G. honors the memory of his late friend and biker, Ruel, who was killed in a hit and run, by campaigning the government to make the streets safer for bicyclists. "Ruel biked to work every day and advocated for the climate. It's what he would have wanted. He walked the talk."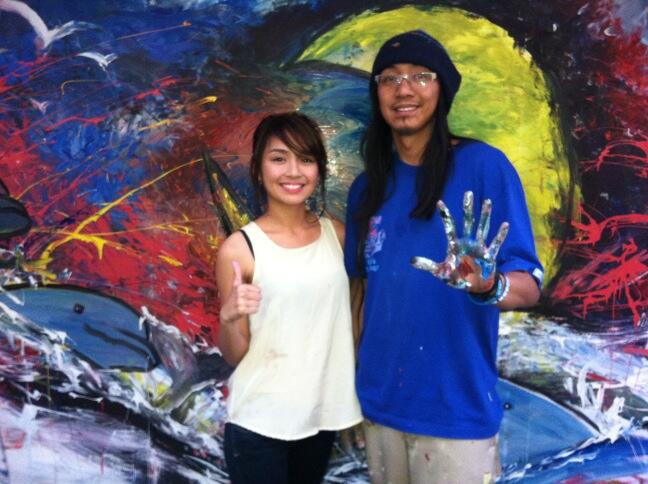 .
Get Inspiration in your Inbox
If these stories inspire you, join us in creating a world in which both people and nature thrive. Sign up to receive a regular dose of inspiration and insight delivered to your inbox, from Rare with love.