Fish Forever Progress Update #20
September 27, 2019
Make sure you never miss an update. subscribe to the progress update newsletter
---
In this issue, find news and updates on:
Fishing forward
Fishing for Climate Resilience in Southeast Sulawesi
From One Coast to Another
OSPESCA, Rare Join Efforts to Scale Fisher Registration
Training for Resilience in Mozambique
Functioning Coral Reefs in the Indo-Pacific Respond to Local Management
In Other News
The Science of Fish Forever – What We're Reading
---
Fishing Forward
An Interview with Dr. Steve Box, Vice President of Fish Forever, on building networks, measuring impact, promoting transparency, and thinking bigger.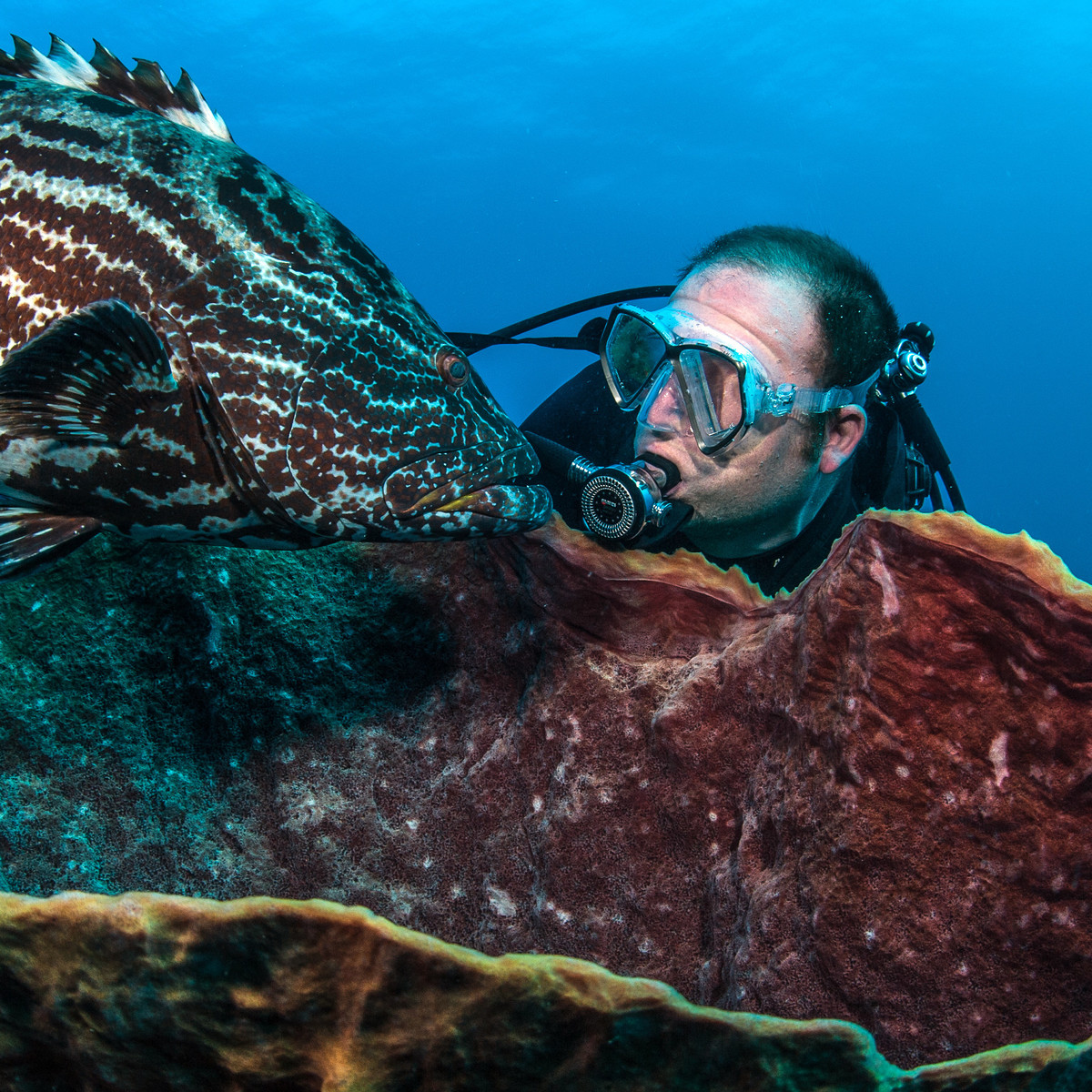 Fish Forever, which kicked off in 2014, has now moved into its second programmatic phase. What does that mean?
It means a lot! Fish Forever's first phase was a mass prototype designed to test whether rights-based management and fully-protected reserves, delivered using Pride (Rare's behavior change method), would change a community's behaviors and provide effective protection for fish. We implemented it across 260 communities, clustered into 41 sites in three countries, and worked to identify commonalities across different geographies, cultures, and coastal fisheries, as well as the gaps and the unexpected. The results showed significant biological, ecological, and social change and proof that a community-based approach to fisheries management is essential to solving overfishing.
So, based on this evidence, the natural next step was to focus on scaling this effort. Phase two, therefore, is about creating networks that match the scale required to manage these fisheries appropriately—unprecedented ecological networks of marine reserves, social networks of local governments and their communities co-managing coastal resources and leading by example, and political networks of subnational, provincial, state authorities executing against the same plan and vision for coastal fisheries reform.
If you were to describe Fish Forever to a layperson, what would you say?
The simple answer is, it's not really about the fish. It's about people, coastal communities, and fishing as a livelihood, a job, and a way of life. It's about a sector that influences society but goes unrecognized. The misconception is commercial and industrial fishing make up the lion's share of global fish catch. We at Rare know it doesn't. Small-scale fisheries provide food for the world. They provide jobs. They underpin cultures. But if provincial governors, national ministers, buyers, fishers and their communities don't recognize their critical role in the global economy, they won't be motivated to protect and manage these critical assets.
Fish Forever is about building a social movement to prioritize better management of coastal fisheries. And it's about converting that social movement into a political movement so that local to national governments and international bodies recognize the real importance and value of these fisheries and feature the sector prominently in development and policy-making. When this global community correctly values the fisheries, the conversation changes from one anchored in concern over how we conserve reefs and mangroves to one that boasts how engaged communities and active local governments can both protect and sustainably use these resources.
What has been most inspiring to you about the program's evolution? The biggest challenge(s)?
So much has inspired me! I'm inspired by seeing so many people engaging with us and committing to solving overfishing. I'm thrilled by the speed at which fishers and local leaders are joining Fish Forever, based on the positive changes and momentum they see in other constituencies. And I'm moved by the global range of deeply personal stories of people touched by the program in measurable ways.
Change is inherently difficult. As a behavior change organization, we walk into any change knowing that change is hard and sustaining it can be harder. We recognize that a truly sustainable solution exists at an entirely different scale—in our case, at a sub-national level—and that to accomplish this while maintaining efficacy and impact requires coordinating more partners, more leaders, more coastal communities, and more coastal area. It also forces us to ask tough questions, such as how do we reach more people? How do we balance the desire to solve local problems but impact globally? How do we know we have been successful?
Ahh, the question of success. Let's get to that in a moment. You're regularly asked to describe Fish Forever's reach and impact—at local, national, and global levels—and subsequently, the ability to scale the program. At this point in program implementation, how would you answer?
Fish Forever is now working in more communities than ever before, engaging hundreds of local governments and protecting tens of thousands of hectares of vital coastal ocean waters. We've built a robust global network of over 100 partners, a training hub, provided core tools, training materials, and capacity, and shared services for science and tech. And now, we're starting to see a rapid acceleration in reach and adoption.
We know this because phase two emphasizes transparency and real-time data tracking. We've invested in digital technology to track Fish Forever's implementation, milestones, and metrics alongside our footprint and reach. Our goal is to publicize this data so that anyone can access and follow our progress. We're committed to publicly tracking progress to ensure program transparency and accountability, which I don't think has been seen in this way before.
The mission now is to show that Fish Forever isn't just a hyper-local solution in one community or area, but is relevant for networks of communities and appropriate for multiple provinces in multiple countries. And that governments around the world recognize this approach to community-based management as a viable and replicable solution that they can implement at a significant spatial scale. To me, that's the proof point in 2022.
Back to success. What does overall program success look like to you? How about success at ecological, social, and political levels?
(Laughing) Ok, success is such a loaded word. We have to break it down into stages.
Success in the water is to stop taking fish out faster than they can recover, to have a sustainable fish catch and protect critical habitat and marine biodiversity at the same time. Success socially is when communities can use their access to these incredibly rich resources to build prosperity. And success at the political level is when these communities are no longer explicitly or unintentionally disenfranchised, and instead recognized and valued for their real worth.
Overall, success is that I can visit a fishing community and see that they feel tightly connected to their coastal resources as guardians and stewards, recognized for their essential role in managing it, and can provide for their families. And ultimately, that they are benefitting from the surrounding wealth of resources and using them to ensure a better future for fish and people alike.
Explore Fish Forever on our award-winning website
---
Fishing for Climate Resilience in Southeast Sulawesi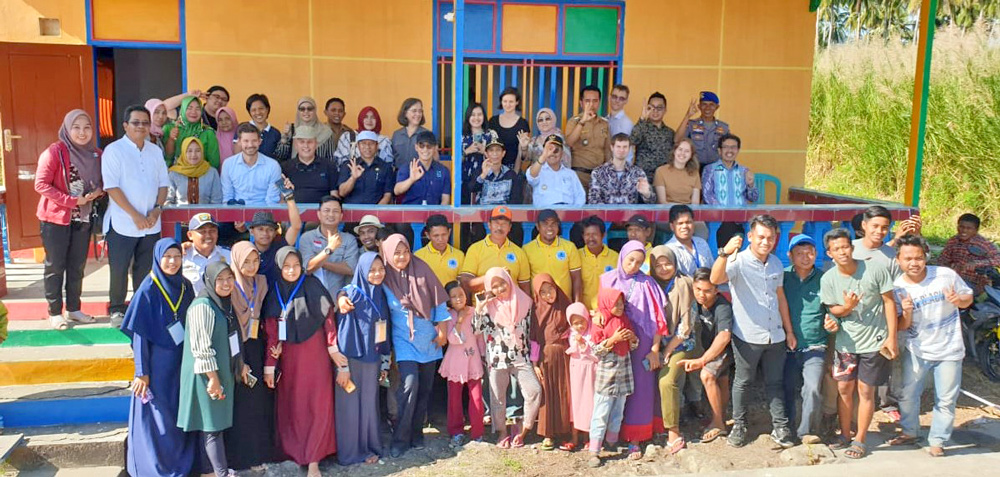 From August 8-10, 2019 Rare hosted a visit by Germany's Federal Ministry for the Environment, Nature Conservation and Nuclear Safety (BMU) delegation, led by Mr. Norbert Gorißen, Deputy Director General and Head of Directorate, International Policy (IK) and Mr. Philipp Behrens, Head of Division International Climate Initiative (IKI) and representatives from the German Embassy and the Deutsche Gesellschaft für Internationale Zusammenarbeit (GIZ) GmbH, to Kolono Bay, a Rare Fish Forever site in Southeast Sulawesi Province, Indonesia. Indonesia is one of the five countries covered by Rare's Fishing for Climate Resilience project supported by the BMU through the International Climate Initiative.
Explore PART ONE OF the TWO-PART SERIES ABOUT THE PROJECT AND VISIT ON IKI'S SITE
---
From One Coast to Another
Mozambique shares more in common with Brazil than just Portuguese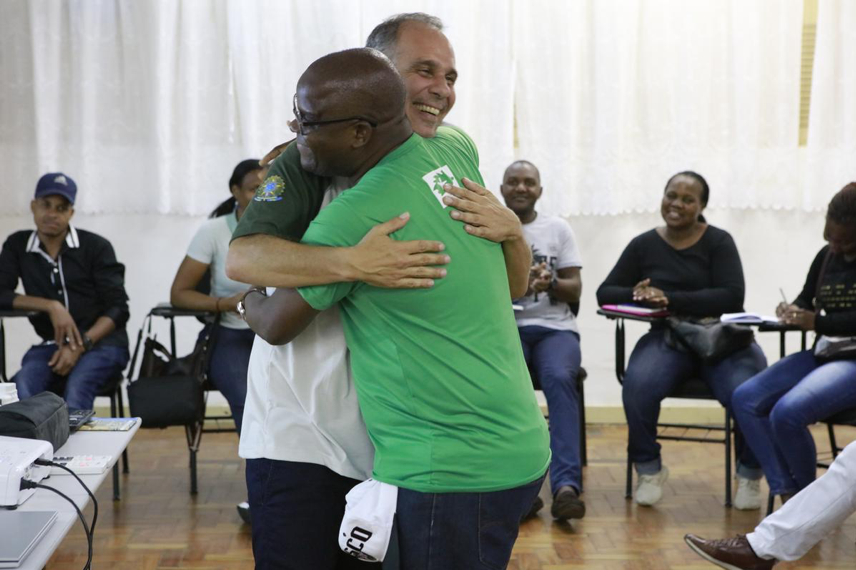 In August, a government delegation from Mozambique traveled to Brazil to share their country's experiences with coastal fishing and better understand the parallel sector in Brazil. The exchange trip was a unique opportunity for the two countries to learn about each other's regulatory systems related to marine protected areas, participatory fisheries management, and the importance of reporting fishery production.
Monique Galvão, Vice President of Rare Brazil, affirmed the critical nature of the trip. "This important exchange has enabled us to create a strong network of partners who must work together to promote sustainable fishing in our two countries."
It was a great honor to be able to show our sustainable crab management work. I am very happy to know that our example can be taken to the African continent."

João Lima, Brazilian fisherman and community leader
Explore the full trip in our photo essay
---
OSPESCA, Rare Join Efforts to Scale Fisher Registration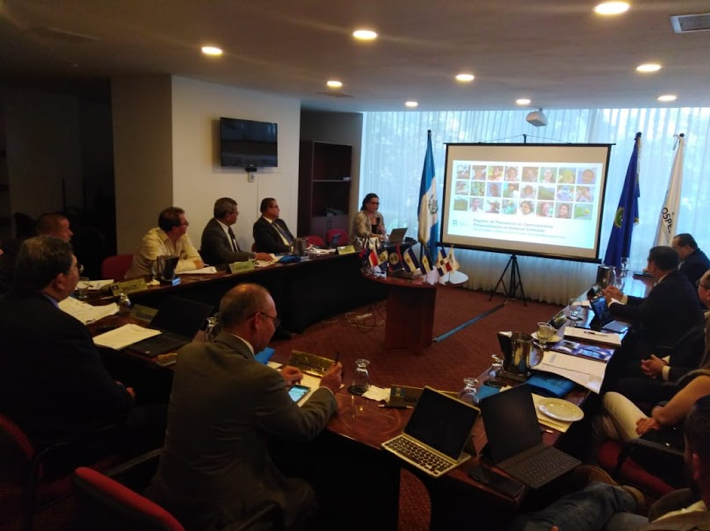 In June 2019, the Central American Fisheries and Aquaculture Organization (OSPESCA) invited Rare to its Council meeting of Vice Ministers for Fisheries and Agriculture and Fisheries Directors in Guatemala to speak about the joint commitment of both agencies to advance fisher registration within OSPESCA's member states. Diana Vasquez, Fish Forever's MAR Director, highlighted the significant progress made in developing Honduras's fisher registration system—in partnership with the Center for Marine Studies and the Honduran Fisheries Department—and emphasized the fundamental roles of both national and local government in making the system a success.
At a Rare-hosted mayoral signing commitment ceremony earlier in the year, in which sixteen mayors from Honduras and Guatemala publicly pledged their commitment to small-scale fishery reform, OSPESCA Director Reinaldo Morales expressed excitement during his closing remarks for how closely the mayoral commitments he witnessed aligned with OSPESCA's goals and policies. He also shared how encouraged he felt by Rare's progress in engaging and empowering local government:
"I am very satisfied with the commitment I have witnessed today and with the progress achieved by the municipalities…What we have seen is the result of great work that joins [OSPESCA's regional] efforts and allows us to guarantee a better quality of life for our fishers and citizens."
The mayoral commitments have spurred regional momentum for reform. OSPESCA represents eight Central American countries (including Fish Forever countries Honduras, Guatemala and Belize) and is an integral partner for Rare's goal of registering 100% of coastal fishers across the Caribbean coasts of the Mesoamerican Reef.  Given that OSPESCA coordinates regional fisheries management, a partnership aligned on prioritizing the small-scale fisheries sector and harmonizing approaches to coastal fisheries management across Central America, starting with fisher registration, will significantly benefit Rare's ability to scale the program.
Today, Honduras' central government fully manages and finances the country's fisher registration system, and its municipalities support all registration and licensing efforts. Over 7,500 fisher licenses have been submitted to date, making the system practically pay for itself. Further, Rare is in the process of signing a collaboration agreement with Guatemala's Ministry of Agriculture and Livestock to replicate the system.  Other MAR countries are watching the Honduran registration system as a potential solution for registration in their countries.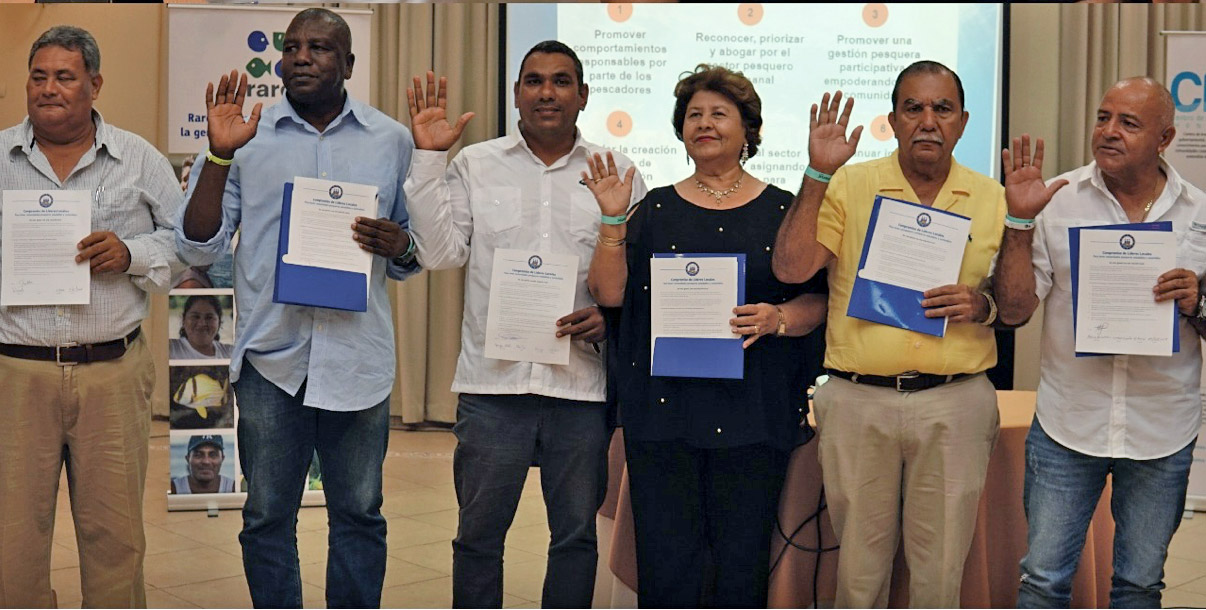 Encouraged by success in Honduras, and Guatemala's early interest in adopting a similar system, Rare and OSPESCA will develop a joint proposal for a unified fisher registration system across OSPESCA's member countries. And to further connect regional momentum to local action, OSPESCA has invited mayors to share their progress and achievements during OSPESCA's Council of Ministries for Fisheries, Livestock and Ag meeting in December 2019.
Explore our video about Fish Forever in the MAR
---
Training for Resilience in Mozambique
In Beira City, capital of Sofala province in central Mozambique, and hardest hit by Cyclone Idai earlier this year, the remnants of destruction will linger for years to come. Cyclone Idai made landfall along the coasts of Buzi, Beira and Dondo districts, flooding the remote coastal fishing communities, damaging fishing boats and gear, destroying homes, creating unsanitary health conditions, and generally testing the resolve and resilience of communities dependent on the sea and land for food and income.
But in early September, Rare teamed up with IUCN and the Swedish International Development Agency to train 30 fishing community members and six government authorities, in Dondo District and beyond, to bounce back from the unexpected—and train for resilience. Over two days, participants traveled from Dondo, Inhassoro and Memba districts—all Fish Forever program sites—to learn the fundamentals of starting community enterprises: how to value marine ecosystems, the basics of economic principles, and how to draft business plans. These modules built upon previous training received by participants as well as elements of Community Resource User and Resilience Action Plans co-developed with the communities; The latter ensures that the business ideas protect and preserve marine ecosystems as a first line of defense against climate change.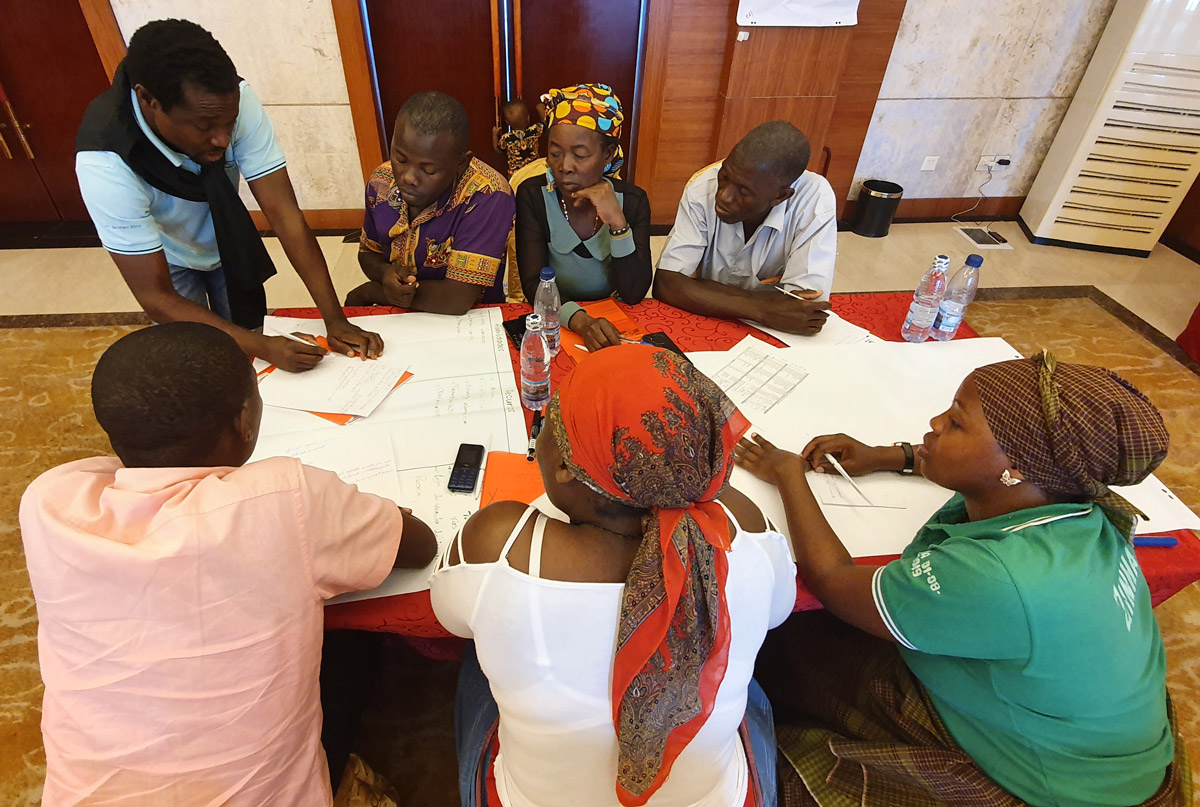 Training participants included fishers, buyers, community fisheries councils (CCPs) and savings club members, along with representatives from Mozambique's fisheries and development agencies, IDEPA and DPMAIP. Some participants had never flown on a plane or traveled beyond their communities. Despite what many perceived as differences, participants expressed appreciation for the ability to exchange ideas and experiences.
Sofia Salencia, an IDEPA Maputo extension officer, "expects to use the training to improve future training done at IDEPA."  Eulalia, an Inhassoro district fish trader, felt that "the important exchange will make it possible to incorporate new ideas in developing her own community's enterprises."  Mr. Carlos Sendela, DPMAIP Sofala Province Director, emphasized "the importance of conserving marine ecosystems to increase community resilience against climate change." By the training's end, each community drafted two business plans for further development and implementation upon their returns home (with financial support from IUCN and SIDA to advance community enterprise development).
Building the financial resilience of fisher households, small businesses, and the community connects directly to the central reality that small-scale fisheries are businesses, even if most of their business activities occur within household, micro- or small enterprises within the informal economy. Improving the management of these businesses and ensuring they are resilient against unpredictability supports improved community-based fisheries management and resource conservation. Through this approach Fish Forever can connect sustainable natural resource management with sustainable financial management at a community level.
As Rare supports its staff and Fish Forever communities in Mozambique adjust our work given the realities of recovery efforts, we also reconfirm our commitment to helping communities globally plan for these events and put mechanisms in place to recover from them.
Funding for this training was provided by IUCN/SIDA under the Coastal Resilience to Climate Change (CRCC) project. 
Explore Fish Forever in Mozambique
---
Functioning Coral Reefs in the Indo-Pacific Respond to Local Management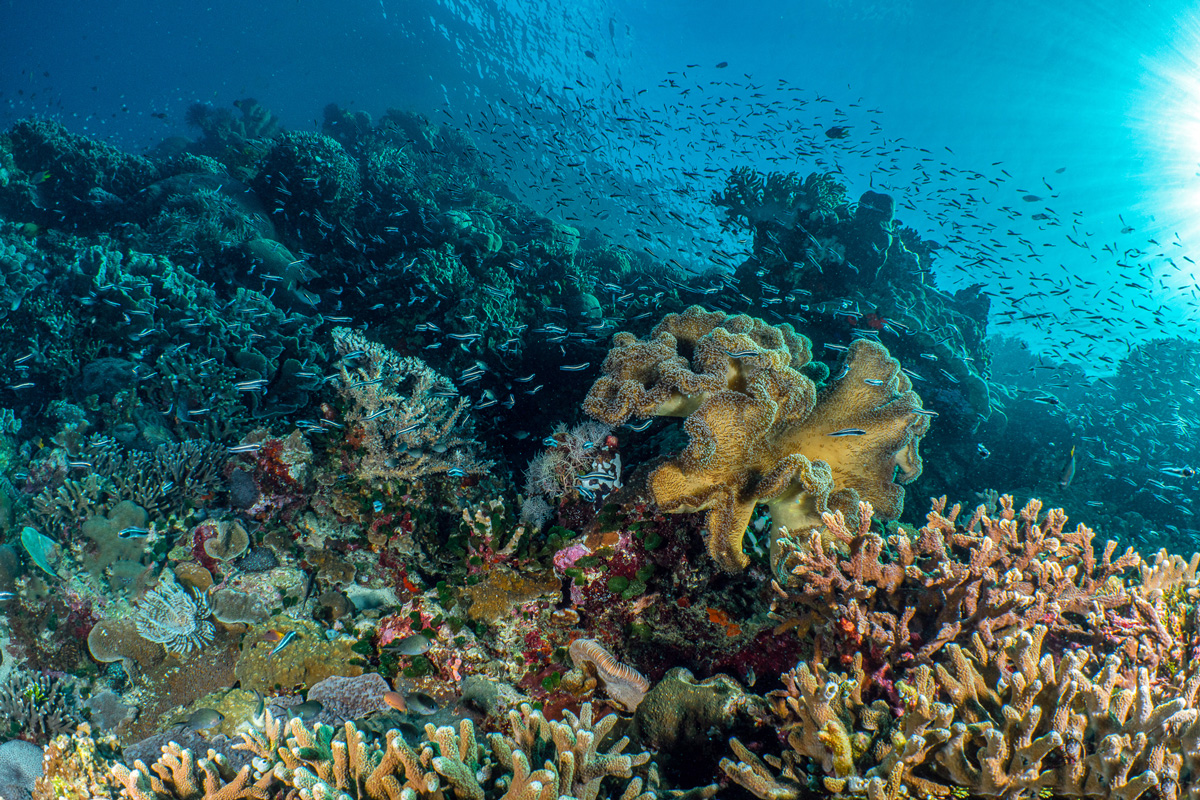 This blog, written by Stuart Campbell, Deputy Director of Rare in Indonesia, summarizes a recent paper published by Emily Darling et al. in Nature Ecology and Evolution. The study showcases data collected on coral reefs in the Indo-Pacific, along with related policy and management findings. It includes 2,584 surveys from 2014 to 2017 (a global mass bleaching event with coral reef loss) from 44 countries—from East Africa to South East Asia, the Coral Triangle, and the Pacific. Stuart is a co-author of the study.
When it comes to news about coral reefs, it's easy to feel doom and gloom, not hope. But based on the most extensive study of its kind, in which I and nearly 100 coral reef scientists took part, we found that functioning coral reefs in the Indo-Pacific still exist — and as my colleague and the study's lead author, Emily Darling, observes, "It's not too late to save them." That is if we can manage them effectively against threats like climate change and overfishing…
---
In Other News 
Signing New Mayor Pledges and MOAs in the Philippines
Rare in the Philippines continues its pursuit to sign partnership agreements with local governments and new mayoral commitments to small-scale fisheries recovery and reform. In the last two months alone, the team has signed 16 new Memorandums of Agreements (MOAs) with municipalities who have agreed to implement Fish Forever over the next three years, while 16 mayors have signed the global pledge for local leadership, joining dozens of other leaders from Honduras, Guatemala, Mozambique, etc.
Rare selected to join Brazil's National Environment Council
Rare Brazil was recently selected to join Brazil's National Environmental Council (CONAMA) as one of only four NGOs drawn to represent the sector.  Given the challenges posed by the new administration regarding environmental protections, Rare aims to leverage its network of program partners, board members, and advisors to represent civil society and defend the country's endangered social and environmental heritage. CONAMA, created in 1981, is the consultative and deliberative body of Brazil's national environment system. It establishes rules and criteria for the country's licensing; monitors implementation of the National System of Protected Areas (SNUC); establishes systematic monitoring; strengthens the State and Municipal Environmental Councils and Watershed Committees; and enforces the country's environmental policy; on the latter, the council has the power to deliberate, through resolutions, propositions, recommendations, and motions, to fulfill national environmental policy objectives. CONAMA is linked to the Ministry of Environment and meets every three months. Rare will hold the post for one year, with potential for a one-year renewal.
Reaping Rewards from Responsible Fishing and Savings Clubs in the Philippines
Since early 2016, Rare has introduced community-run savings clubs in coastal fishing communities throughout the Philippines. In these remote areas, saving and investing in one's own future is as novel as it is necessary. Learning to save requires fishers to pivot from quick spending to long-term financial planning, and that change in behavior can create powerful impact for the long-game strategy behind coastal fisheries conservation and the goal to end overfishing. This photo essay visualizes the people behind these savings clubs and the communities changed by this shift in behavior.
Continuing Fish Forever in West Papua
Rare submitted its final report for its first phase of work with the USAID-SEA program, which ran from June 2017 through June 2019, and signed a contract to extend the work through September 2020.  The report summarizes nine strategic approaches used to establish 31 Customary Fisheries Management areas covering 268,000 hectares of marine waters in West Papua, Indonesia.  The report also details progress advanced on improving gender equity in managing marine resources, ensuring sustainable income for local communities, and fisheries and habitat health by securing customary legal rights for 7200 people in the region.
Fishing for Climate Resilience – in Palau and FSM
Through the Fishing for Climate Resilience Project (supported by the BMU through the International Climate Initiative), Rare in Palau will be working with the government to explore a national fisher registration system and adoption of OurFish, as important first steps toward more sustainable coastal fisheries, while also partnering with Malekeok state to manage mangrove fisheries around an existing MPA; on the latter, we're excited about the opportunity to focus on the many women fishers in this area.
In FSM, we will work with our local partner, the Micronesia Conservation Trust, to implement an island-wide social marketing campaign (in Pohnpei) and work with the state government, municipal mayors, and traditional leaders to enable community-based management. The mayors of five municipalities on this island have agreed to work with Rare on implementing our approach and in convincing the state leadership to devolve authority to communities. The state has authority over the waters, but municipalities and traditional leaders want communities to lead sustainable management. We will also help create a network of marine reserves at the state level.
---
The Science of Fish Forever – What We're Reading
Social–environmental drivers inform strategic management of coral reefs in the Anthropocene (Aug 2019)
Darling, E.S., McClanahan, T.R., Maina, J., Gurney, G.G., Graham, N.A., Januchowski-Hartley, F., Cinner, J.E., Mora, C., Hicks, C.C., Maire, E., Puotinen, M., et al., (2019). Social–environmental drivers inform strategic management of coral reefs in the Anthropocene. Nature Ecology & Evolution 3: 1341-1350, pp.1-10.
This study gathers coral abundance data from 2,584 Indo-Pacific reefs to assess the effect of 21 environmental, social, and climate variables on reef coral assemblages. The authors found that more reef-building corals were generally associated with isolated reef sites with weaker thermal anomalies, lower frequency of disturbances, slower human population growth, and less impact from agriculture. The study proposes three management strategies depending on reef status (protect, recover, or transform) that can guide conservation efforts to sustain a network of functioning reefs in the region.
Herbivorous fish rise as a destructive fishing practice falls in an Indonesian marine national park (Jul 2019)
Bejarano, S., Pardede, S., Campbell, S.J., Hoey, A.S. and Ferse, S.C., (2019). Herbivorous fish rise as a destructive fishing practice falls in an Indonesian marine national park. Ecological Applications, p.e01981.
This paper investigates herbivorous reef fishes in Karimunjawa National Park, Indonesia to assess the effectiveness of a seven-year restrictive management regime. The authors found that herbivore fish biomass doubled in about five years likely in response to a ban of large and destructive fishing nets knows as muroami. The authors suggest that gear-based regulations can be effective in fish recovery when compliance with zoning plans is low.
Social-ecological alignment and ecological conditions in coral reefs (May 2019)
Barnes, M.L., Bodin, Ö., McClanahan, T.R., Kittinger, J.N., Hoey, A.S., Gaoue, O.G., and Graham, N.A., (2019). Social-ecological alignment and ecological conditions in coral reefs. Nature communications, 10(1), p.2039.
This study dives into the complex social-ecological interactions that drive environmental problems in five reef fishing communities in Kenya. Based on ~650 interviews with fishers, reef surveys, and catch data, the authors show that better ecological conditions in coral reef fisheries are associated with fully linked networks of social actors and ecological resources. The authors suggest that better cooperation, communication, and trust among fishers may improve management of shared resources resulting in more fish biomass and higher functional diversity.
Integrating property rights into fisheries management: The case of Belize's journey to managed access (Sep 2019)
Wade, E., Spalding, A. K., & Biedenweg, K. (2019). Integrating property rights into fisheries management: The case of Belize's journey to managed access. Marine Policy, 108, 103631
This study evaluates stakeholder reactions to the newly introduced managed access and reserve program in Belize, which aims to promote sustainability by incentivizing fisher stewardship of coral reefs. Based on the literature and interviews of fishers and policymakers, the authors found the new program is a re-packaging of traditional fishing areas where regulations are not enforced. Stakeholder's perceptions of the new program were mostly negative. The authors question the ability of the managed access program success.
Effectiveness of small locally managed marine protected areas for coral reef fisheries management in the Philippines (Sep 2019)
Muallil, R. N., Deocadez, M. R., Martinez, R. J. S., Campos, W. L., Mamauag, S. S., Nañola Jr, C. L., & Aliño, P. M. (2019). Effectiveness of small locally managed marine protected areas for coral reef fisheries management in the Philippines. Ocean & Coastal Management, 179, 104831.
This study assesses the biomass of commercially important coral reef fishes across 57 locally managed small MPAs in the Philippines, using the fish biomass of a nationally well-managed marine reserve as a comparative baseline. The analysis found that from all surveyed MPAs, 68% have fish biomass below 25% of that found in the baseline reefs, about 25% show fish biomass 25-50% of the baseline, while only 7% were above 50% of the baseline. The authors suggest that fisheries management of locally managed MPAs is not currently effective.
Coral reef conservation in the Anthropocene: Confronting spatial mismatches and prioritizing functions (Aug 2019)
Bellwood, D. R., Pratchett, M. S., Morrison, T. H., Gurney, G. G., Hughes, T. P., Álvarez-Romero, J. G., … & Jones, G. P. (2019). Coral reef conservation in the Anthropocene: Confronting spatial mismatches and prioritizing functions. Biological Conservation, 236: 604-615
This review discusses that coral reefs in the Anthropocene require new management plans and actions to confront the coral reef crisis. Although the perception of threats, goals, and solutions in reef management has rapidly changed over the past decades, there is a growing spatial mismatch between the scale of the threats and their appropriate responses. The authors present a roadmap for future reef conservation that calls for a better understanding of Anthropocene reefs and the crucial need to address both local and large-scale threats.
Outcomes of gear and closure subsidies in artisanal coral reef fisheries (Sep 2019)
McClanahan, T. R., & Kosgei, J. K. (2019). Outcomes of gear and closure subsidies in artisanal coral reef fisheries. Conservation Science and Practice.
This study evaluates the results of subsidizing natural and fishing capital in coastal reef fisheries upon the return of management and governance from national to county governments. The authors found that with gear subsidies, fishers change gears from costly traps to cheaper spearguns, resulting in larger-size fish. In contrast with closures, fishing effort results in smaller size fish, albeit increases in catch-per-unit-effort, yield, income, and per area revenues. The authors suggest that fishing gear subsidies worsen the fisheries, while closures improve it at a lower cost.
Why joint conservation and development projects often fail: An in-depth examination in the Peruvian Amazon (Aug 2019)
Chambers, J., Del Aguila Mejia, M., Ramirez Reategui, R., & Sandbrook, C. (2019). Why joint conservation and development projects often fail: An in-depth examination in the Peruvian Amazon.  Environment and Planning E: Nature and Space.
This review assesses the claim that "conservation projects convert local people into long-term environmental stewards and improve their wellbeing." The study identifies four common reasons that lead to failure to achieve behavior change: 1) selection of like-minded individuals, 2) limited incentives and protective laws, 3) limited conservation motivation, and 4) ignored broader economic drivers of unsustainable practices. The authors argue that these failures stem for the lack or limited interpretation of human motivation, and highlight the need to bring local and external actors together to reframe competing motivations and re-design conservation governance.
Examining linkages between ecosystem services and social wellbeing to improve governance for coastal conservation in Jamaica (Sep 2019)
Chan, C., Armitage, D., Alexander, S. M., & Campbell, D. (2019). Examining linkages between ecosystem services and social wellbeing to improve governance for coastal conservation in Jamaica. Ecosystem Services, 39, 100997.
This study examines perceived changes to the linkages between ecosystem services of a marine protected area (MPA) and the social wellbeing of the associated small fishing community in Bluefields, Jamaica. Based on semi-structured interviews and focus groups discussions, the authors found that the MPA was important for provisioning and cultural heritage for fishers and non-fishers, especially for inshore fishers. However, inshore fishers perceive marginalization in the governance processes. The authors highlight that local governance must consider the individuals and traditional livelihoods to achieve legitimacy and support
Evaluating the efficacy of small‐scale marine protected areas for preserving reef health: A case study applying emerging monitoring technology (Sep 2019)
Bayley, D. T., Mogg, A. O., Purvis, A., & Koldewey, H. J. Evaluating the efficacy of small‐scale marine protected areas for preserving reef health: A case study applying emerging monitoring technology. Aquatic Conservation: Marine and Freshwater Ecosystems.
This case study evaluated the effectiveness of three small and long-term managed reserves, within central Philippines, in conserving reef health by applying a new monitoring technology. The authors collected reef community data and 3D structural data using a recently developed photogrammetry technique (Structure from Motion) and found that fish biomass within the managed reserves has increased five times from baseline levels. The new technology detects high-resolution reef complexity and allows for greater quantitative options to estimate reef tridimensional structure.
Fish Forever: A solution to coastal overfishing – delivered by empowering communities through clear rights, strong governance, local leadership, and participatory management – that protects essential fish habitat and regulates fishing activities to replenish and sustain coastal fisheries.
Goal: To deliver replicable and scalable community rights-based management across ten countries, using a global network of 500 local leaders to secure livelihoods for one million fishers, alleviate poverty, ensure food supply, and protect coastal ecosystems from chronic threats.
Fish Forever Countries: Philippines, Indonesia, Mozambique, Brazil, the Caribbean Coasts of Honduras, Guatemala, Belize, and Mexico, and the Pacific Island countries of Palau, Federated States of Micronesia, and the Marshall Islands
Fish Forever is possible thanks to the support of many, including the following current donors: