Before the first savings club started in her hometown of Ayoke Island, 36-year-old Analou Lumapguid had two options for saving: she could either store spare cash in a piggy bank that she would break open for emergencies, or she could make the rare trip across the water to a bank in mainland Cantilan, where she and her husband have a savings account. "I haven't visited in a year," says Analou of the trouble. As in many of the Philippines' small and remote fishing villages, there are no banks on Ayoke Island.
Analou's options changed in March of 2016, when Rare and local partners began introducing savings clubs to help people in coastal communities of the Philippines save smarter, and thrive from productive use of their savings. The clubs are part of a Global Development Alliance project, receiving support from USAID. In each club, members gather weekly to contribute to group savings, take out loans, and pay them off.
Ayoke Island was the first to adopt a savings club, which Analou led as chairperson. The island started with 30 club members, which eventually grew to two-thirds of the total population. Now, more than 100 savings clubs exist in communities of nine of the country's coastal provinces, including Occidental Mindoro, Camarines Sur, Negros Oriental and Surigao del Sur.
Members like Analou are finding that the savings clubs enable them to dream bigger, and turn the extra funds they make today into something more later on — be it a sturdy house, a good education for their children, or a profitable small business of their own.
•   •   •
For the Philippines' coastal communities, the journey to better saving begins with an immediate uphill climb, as it's a setting in which reliable income, formal financial institutions, and access to financial literacy tools have been noticeably absent.
For many people in small fishing communities like Ayoke Island, the source of extra, potentially bankable income comes from the sea, in an influx of good fish catch. When that catch and other opportunities put extra cash in the hands of coastal villagers, the common response is celebration. Usually, fishers will spend the money on things of the ephemeral kind — personal consumer goods providing instant gratification. "In the past, saving money was never a priority," says Analou of the local tendency to spend.
Members like Analou are finding that the savings clubs enable them to dream bigger, and turn the extra funds they make today into something more later on.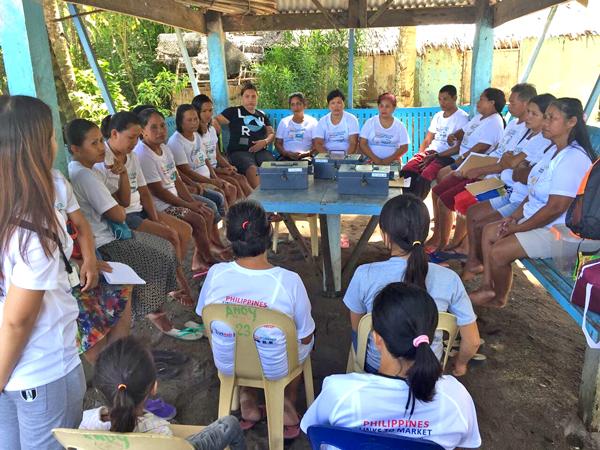 The same was the personal case for 51-year-old Pervelinda Castelo of Lubang, a community in Occidental Mindoro. She sells dried fish at the Lubang pier and works with her husband as caretaker for a landowner. "We never saved anything in the past, because we spent our money at once," says Pervelinda. "Our eldest child was not able to go to college because we did not have savings. If we had savings, we could have used it to start a business, like selling ice cream in the summer."
Often missing in these communities is foresight into how money can be saved to protect a household against disaster, sickness and other big financial curveballs, or to fund costly dreams like a college education. The existing attitude is a big part of the cycle of poverty in which many are stuck, but it's understandable in their reality.
In more developed countries like the United States, it's easy to say it's easy to save.
Those countries possess concepts still lagging behind in the Philippines' fishing villages an ocean away, like huge banking institutions vying for customers and plenty of tools (in digital, print and human forms) to help people improve their financial literacy.
In most of the Philippines' small and often very remote coastal villages, there are no banks in town, and existing financial institutions in bigger cities may find their people less "bankable." Living off the bounty of the sea, it's difficult for fishers to know how much income they'll earn at any given time, or when that money will end up in their possession. Catch is
unpredictable and unreliable, affected by factors like weather events and how communities treat their own fisheries and marine ecosystems. Even once fishers bring their catch ashore, they watch traders dictate the prices of the fish.
When money is scarce from the start and with few options for convenient saving, pivoting to plan one's financial future isn't easy. Some in small communities have yet to experience the satisfaction of seeing a large sum stacked away and growing.
Rare is introducing savings clubs to make the concepts more accessible, and empower groups to increase their financial literacy and self-reliance together. "Low-income households need access to financial services to help diversify their income sources through small-income generating activities," says Cris Lomboy, Rare's Director of Markets and Enterprise in the Philippines. "Here lies the value of a savings club as a bridge for low-income coastal communities in the Philippines, to improve their financial literacy and be more attractive to formal financial institutions."
•   •   •
There are a few basic elements of structure, function and principle that keep the savings clubs running smoothly. The clubs have a minimum of 10 members and reach up to over 35 members, and meet on a weekly basis. Members can buy shares during each meeting. They can max out at five shares, valued at around 20 to 50 Philippine pesos per share, though that value depends on a number that each club decides. In some of the more mature groups, the share value has increased to between 50 and 100 pesos.
There are two kinds of savings pooled in the clubs: one is a savings fund and one is a social fund. The social fund is a group fund used for health and other emergencies. It is useful for all members to contribute to the social fund, while contributions to the savings fund are on an individual basis. Using the latter, each member can take out loans.
Key to their growth is the fact that the savings clubs are self-managed, with Rare only helping during the first two meetings, checking in on the fourth, and assisting with loan logistics. This allows for easier and faster replication of the clubs, says Cris. "We have basic training for the members of the savings clubs," he says. "We provide assets like calculators, passbooks, materials to run the savings clubs, but more and more, the savings clubs are totally self-run and organizing other savings clubs. Members invite other people to the savings clubs, and those people start their own."
There's a discipline to the group setting: each member has a unique number in the group and is seated according that number during the meeting. Each club maintains a savings book to track what members are saving, and they enable illiterate or low literacy members to track their own savings by using stamps instead of writing down numbers (the stamp is shaped as a fish; a member can simply count the number of fish to know how many shares he or she has in the group). The group also divides up protection of the funds: money is stored in a metal cash box with three padlocks, with each of the three keys kept by a different member of the group and a fourth holding the box.
The group dynamic is motivating, says Cris, who describes a "peer pressure" effect to meetings. Members can elect not to buy any shares for a week, but they feel more motivated to come up with money to put in their savings when they see how others have saved and done well. As members are often close neighbors, friends and family, they're not shy about nudging one another to add to the savings fund. "Every day, my neighbor reminds me about my obligation to save money," says Analou. "So, it's a good system."
Here lies the value of a savings club as a bridge for low-income coastal communities in the Philippines, to improve their financial literacy and be more attractive to formal financial institutions.

Cris Lomboy, Director of Markets and Enterprise, Rare Philippines
The clubs work in cycles, and at the end of each cycle, the interest earned from the loan income is shared back out among members, divvied up based on shares. On average, they're earning about 2 to 3 percent interest, which is far better than area banks can provide, says Cris (only half a percent per annum). "During our second share-out, I received 24,000 pesos after 35 weeks, on savings of 500 per week," recalls Analou.
Analou remembers seeing a man excitedly collect 9,000 pesos after her club's first share-out. "It was the first time he had ever held that amount of money in his hands, because in the past, all the family's money would be spent in just one day or a few days," she says. "He finally managed to convince his wife, who was hesitant at first, to join the savings club."
The clubs offer women and men an equal chance to be involved in leadership of a community organization. At first, men wanted to run the clubs in many of the sites, says Cris, but as the clubs grew and progressed, women began to dominate club membership and took up many of the leadership roles.
Nearly 80 percent of the clubs' total members are women, and women outnumber men in every community where the clubs are in place. Analou says it may be in part because the men are out fishing most of the day, and are seldom in the village. Their drive likely comes from their closeness to the daily needs of the household, and the sense of financial pressure brought on by feeding and keeping their kids in school, dealing with health issues, and fixing problems around the house. "The women are the ones responsible for managing the household budget, and the men give their income to their wives," says Analou.
•   •   •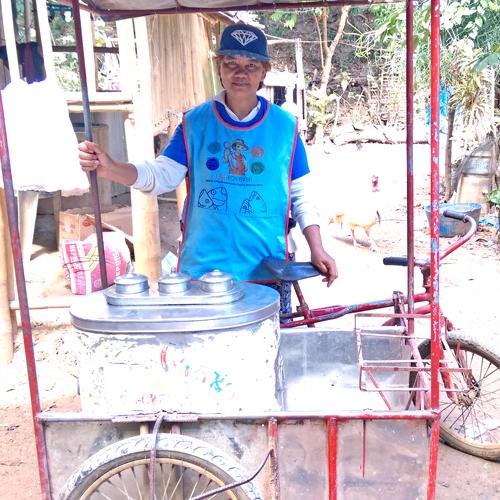 With 1,747 members and growing, the savings clubs' total current savings is more than 6 million Philippine pesos from deposits made to the groups' savings funds. "We are estimating that the total savings from the clubs may have reached more than 10 million pesos since they started in March of 2016," says Cris. Members have used the funds for education, healthcare, and small business.
The share-outs have ignited an industrious spark in members as well. Cris says people have told him that they can see members working harder and coming up with more ways to earn — and then save — money, signaled by smoke going up in houses as people engage in more food businesses, like selling hot dogs and skewered pork.
Analou has noticed the same on Ayoke Island, particularly among women. "Women are becoming more productive — they offer nail manicure services or cook food or engage in various enterprises, so they can save money," she says. "Even the fishermen, they work harder and save their income instead of spending their money on liquor. The joke here is that they will only drink if someone else pays, because they want to put their money in savings clubs."
Pervelinda wants to use the money for her piggery, to pay for the feeds. She learned to put away more and more money for such use over time. "We have had three cycles of share-outs," she says. "In the first one, I got 9,000 pesos because I only save 250 pesos a week. In the second and third share-out, I got more than 18,000 pesos each because I doubled my savings. The amount I get really encourages me to save more, so I can plan my investments."
With each cycle, club members like Pervelinda are able to look forward. And membership is growing quickly. "Many people are thankful that the savings clubs are helping us, and we know this will continue for a long time," says Pervelinda. "Ours was the first one in Lubang, and now we have five savings clubs in town."
We have had three cycles of share-outs. The amount I get really encourages me to save more, so I can plan my investments.

Pervelinda Castelo, Savings Club Member, Lubang
The clubs also continue to evolve. Since May of 2017, members have organized business groups that connect their communities and fishers' catch to companies marketing sustainable seafood in urban areas. The groups they've formed are called "conservation enterprises," because they use their savings to fund business driven by sustainable fishing practices. They're currently focusing on processed dried fish sold directly to market. Partnering with Rare, a company called Fishers and Changemakers, Inc., has started selling dried fish and squid from the conservation enterprises.
With concepts like the conservation enterprises, Rare aims to get a better sense of how savings clubs and their benefits can further help fishers. In the Philippines, Rare is working with coastal communities to change the social, economic and ecological
conditions in which their people live and work, through adoption of sustainable, community-based fisheries management. The organization's efforts span community engagement, systematic policy and legislative reform, and sustainable finance.
Cris says that the savings clubs should ultimately serve as stepping stones for people to access — and develop the motivation to use — formal financial institutions.
As their savings grow to unprecedented levels, the clubs may soon need to use the resources of such institutions. "Their savings are really growing, so the risk is increasing." But a stacked cash box is a good problem to have. As the clubs' savings and social funds boost income diversification and household resilience, members are starting to make big plans. "I had always wanted to save money in the past, but I did not see any results," says Analou. "Now, it has become more concrete, and we're using our savings for the construction of our house."
---
Rare Philippines Senior Manager of Communications Yasmin Arquiza contributed to the reporting of this story.