Climate Culture: Where We Work
More and more Americans want their employers to offer sustainability programs. And the majority of Americans personally want to do more to fight climate change, but they don't know where to start. Right now, there is a gap between what employees want and what's available to them.
For employers, this means there's a new and compelling opportunity to enhance employee engagement—one that also offers your company a competitive edge in recruiting and retaining top talent.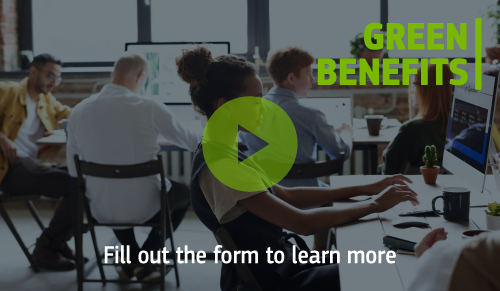 ---

Draw in Outstanding Talent
A new service, called Green Benefits, offers this competitive edge. 
Green Benefits incentivizes employees to take high-impact climate and sustainability actions. The service removes the stress and distraction of navigating confusing information about the climate, which is often a barrier to action. It also helps engage your employees, which typically makes acquiring and holding on to talent easier and improves productivity.
---
Amplify Employee Engagement and Sustainability 
Green Benefits offers a solution to close the gap between the meaningful sustainability programs employees want and what their employers provide.
Attract employees: when looking for a job, nearly 60% of job seekers and more than 75% of millennials care about a company's social and environmental commitments.1
Retain employees: Right now, more than 50% of workers are open to or already looking for new opportunities. But when employees believe their company is making a positive impact, that number drops to just 7%.2
Options and examples of the Green Benefits service in action include:
Incentives to try out plant-based meals to create new habits.
Opportunities to amplify the impact of carbon offsets.
Rebates and guidance for adopting renewable green energy sources.
Financing and support for purchasing an electric vehicle.
Incentives or opportunities to reduce food waste and save money with smarter shopping and storage.
Support for installing rooftop solar.
Lead the Change and Reap the Rewards 
Employers who purchase a Green Benefits service package for their employees may see:
More engaged employees: Employees see that it's easier to make a difference than they thought, that it's fun when people take action together, and that they're part of something important through their workplace. 
A powerful recruiting incentive: More and more employees want to work for companies that align with their values. Green Benefits provides employers one more avenue to offer employees pathways for values-based action. 
Collective carbon impact: As employers work to reduce their company carbon footprint, they can also incentivize employees to be mindful of their own carbon emissions.
Want to learn more? 
If you are a U.S.-based employer with at least 500 employees, seeking a sustainability-related value proposition for your employees, and interested in shaping a program that can ultimately scale to hundreds of leading employers, sign up for more information sent directly to you below or contact us at greenbenefits@rare.org.
---
1. Cone Communications. (2016, November 2). Three-Quarters of Millennials Would Take a Pay Cut to Work for a Socially Responsible Company, According to the Research from Cone Communications [Press Release]. Available here.
2. WeSpire. (2021). The 2021 State of Employee Engagement. Available here.