(Arlington, VA) Today, Rare announced that the Government of St. Lucia has awarded Senior Vice President Paul Butler with the prestigious Medal of Honour (Gold) for his work to help save the St. Lucia parrot from extinction. The Medal of Honour, which is awarded to individuals who display eminent service of national importance to St. Lucia, was presented on during St. Lucia's 2018 Independence Investiture Ceremony, part of the nation's Independence Day celebrations. St. Lucia had previously awarded Butler the Medal of Merit for his work.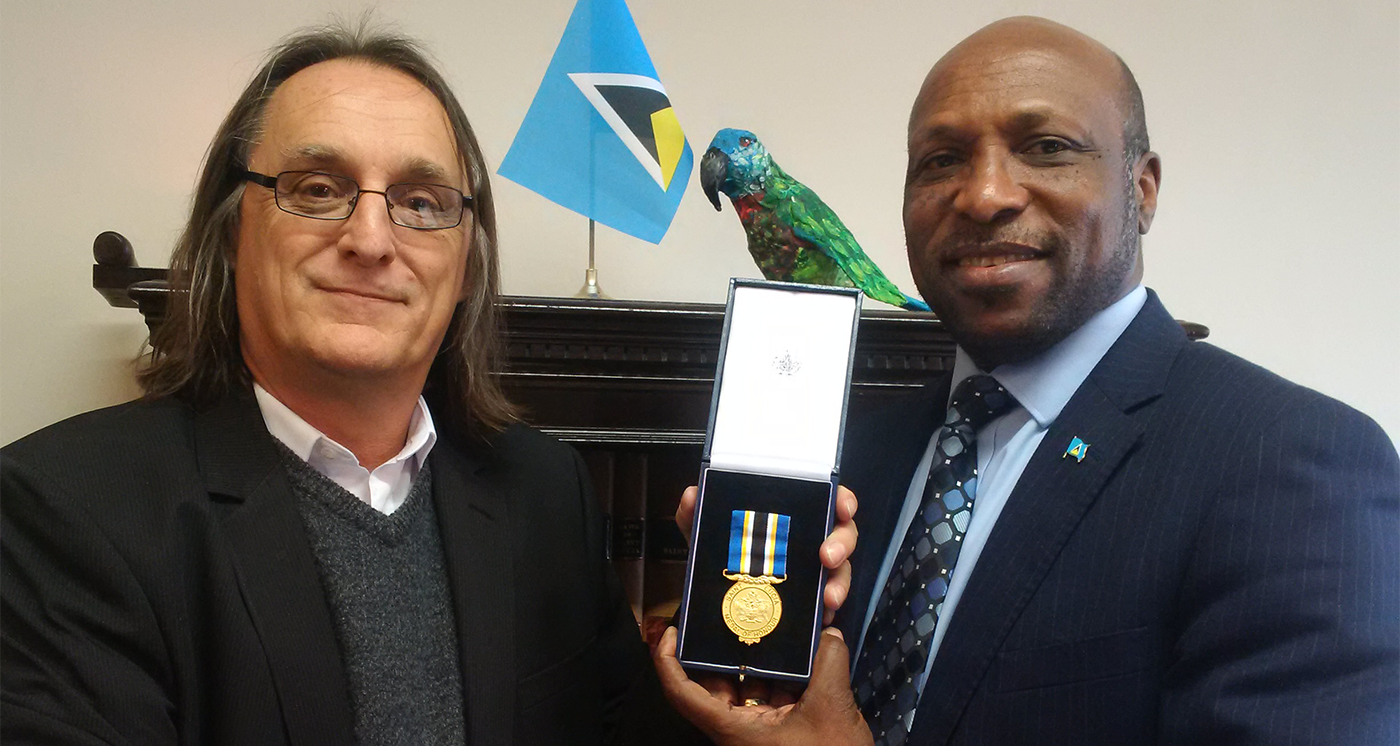 "It is an enormous honor and privilege to receive this prestigious award," said Butler, who lived in St. Lucia for 25 years. "Scientists predicted that the Saint Lucia Parrot would likely become extinct by the year 2000. But today, thanks to the commitment of Saint Lucians from all walks of life, we can still see this unique bird in its forest home. The parrot and Saint Lucia's other plants and animals are living symbols of what I believe to be the most beautiful place on Earth! Working with (St. Lucia's first Chief Forest Officer) Gabriel Charles and the dedicated staff of the Forestry Department shaped my career. And now, through my work with Rare, I am pleased to be able to bring the pride approach—which began right here in St. Lucia—to more than 50 countries around the world."
In the late 1970s, the St. Lucia parrot was nearing extinction. Only 100-150 were thought to remain. In 1977, determined to find a way to save the species, Butler traveled to St. Lucia and was later hired by the nation's forestry department. In 1979, as St. Lucia gained full independence, Butler and the forestry department used the historic moment as a springboard for a public outreach program and social marketing campaign in support of the bird. With a parrot mascot, named Jacquot, at the center of the campaign, the Forestry Department helped transform the parrot into a symbol of national pride. Their efforts helped bring the parrot back from the brink, and make it an official symbol for the new island nation.
Butler's work also gave birth to the Pride Campaign, a methodology, which Rare would later adopt and deploy in hundreds of communities around the world in order to inspire communities to change their behavior and protect their natural resources.
Read the full story of Paul Butler's work and the origin of Rare's signature Pride Campaigns here.