Reducing Plastic Pollution in Vietnam with Behavioral Science
By: Gautam Ramnath, Executive Director, ICM Falk Foundation; Katie Velasco, Director of Operations & Engagement, Rare's Center for Behavior & the Environment
Vietnam is at a critical inflection point with plastic pollution. Its growing economy has driven it to be the 3rd largest waste producer by Asia/Pacific nations per capita. Between 1990 and 2015, plastic consumption in Vietnam rocketed from 3.8 kg per year to 41 kg per year. This has created over 1.8 million tonnes of annual plastic waste. Unfortunately, proper disposal or collection has been limited. For example, only 27% of all plastic bags are treated and recycled.
The Vietnamese government has taken a leadership role within the region and is taking important steps to address this problem by leveraging regulatory frameworks and financial incentives to drive better waste management. In 2020, the national government created a National Action Plan on ocean plastic waste and has an upcoming nationwide ban on single-use plastics by 2025. Alongside these new laws are financial incentives – or in this case, disincentives. The national government is eyeing an environmental tax that will also hopefully reduce overall plastic consumption.
While this is a great start, experiences from similar local interventions indicate that these steps may be insufficient and met with common challenges: lack of enforcement and low levels of compliance. In Ho Chi Minh City and in Da Nang, city officials passed laws that required households to properly separate their waste. Unfortunately, both cities struggled with weak enforcement mechanisms and a lack of infrastructure to support the new regulations. Citizens lost trust in the system and in turn, lost their motivation to sort the waste. The desired behavior changes fell short. A USAID report reviewing this effort stated that "[i]n Vietnam, regulations are a necessary but insufficient condition to create behavior change."
Behavioral insights are a key missing link that can accelerate Vietnam towards its plastic reduction goals.  While traditional approaches to changing behaviors rely on employing rules and regulations, material incentives, or information sharing, the latest research suggests that these approaches can be more effective when complemented by emotional appeals, social influences or choice architecture. For example:
Words in a regulation matter. A study in the United States found that 'paying a tax' versus 'avoiding a fee' was more effective in encouraging shoppers to utilize reusable bags in place of plastic bags. Yet, in some cases, as people become accustomed to the additional cost, they can rebound in their plastic bag consumption.
Financial incentives must be designed to meet local contexts and social systems. In Mexico, a collective payment to a village to reduce littering reduced participation (even compared to receiving no payment) because of a likely lack of trust in local leadership. When the payments went to individuals, participation increased. In Tanzania, however, the individual payments were less effective. Participants preferred to not receive a payment or to have the payment directed to the village school via donation.
Leveraging people's surroundings has also proven successful. Reminding grocery shoppers to think about packaging while they are in the store increases the selection of unpackaged groceries. In Denmark, England and China, when researchers placed guiding markers (footprints or other culturally-relevant icons) to trash bins, littering reduced 15 – 46%.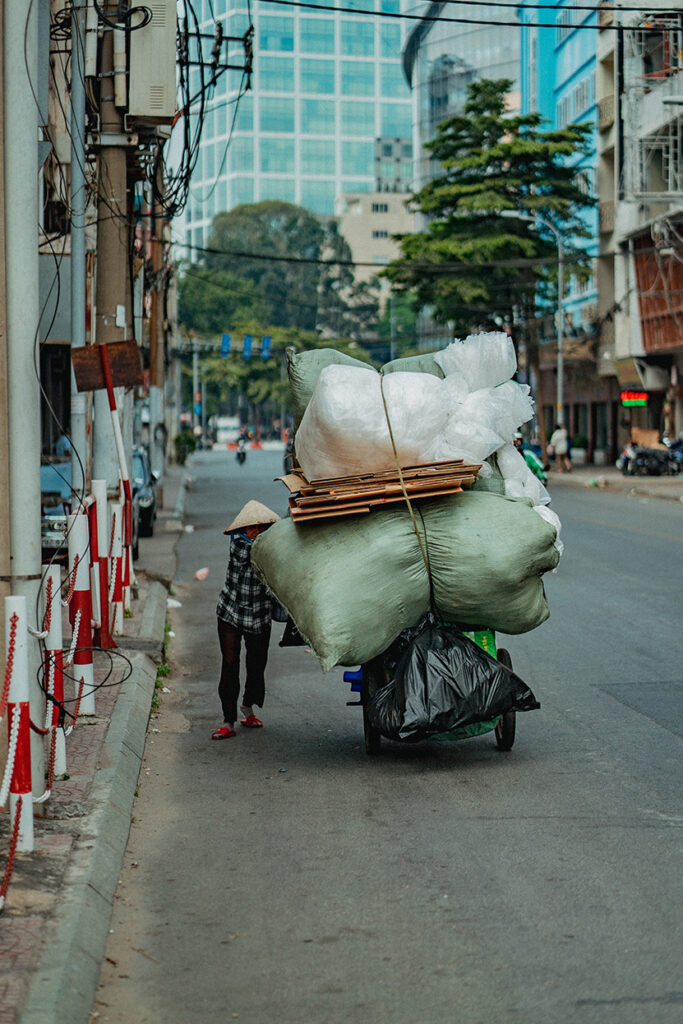 To effectively propel these behaviorally-informed solutions, young people are one of the most important audiences to engage. The United Nations identified youth as "key actors in raising awareness, running educational programmes, promoting sustainable lifestyles, conserving nature, supporting renewable energy, adopting environmentally-friendly practices and implementing adaptation and mitigation projects." In short, they could be critical allies in influencing behavior change. Further, as this generation grows (with currently 1.2 billion people 15-24 years worldwide), it has the power to transition future international operations into more sustainable systems. Young people are often untethered to conventional thinking or commonly divisive approaches.  This coupled with increasing transparency and authenticity between consumer brands and the public are likely to hold the key to unlocking consumer-driven transformational innovations.
Vietnamese youth, 70% of whom are under 35, are already stepping up to change the nation's relationship with plastic. In 2019, the World Bank highlighted Trang Nguyen and her NGO GreenHub as it mobilizes youth to engage on plastic issues and contributes to the National Action Plan. Further, in June 2020, UNESCO and the Coca-Cola Foundation launched "Youth and Innovation for the Ocean" to invest in youth-led plastic solutions for a circular economy.
Recently, ICM Falk Foundation joined Rare, 11th Hour Racing, The Circulate Initiative, Inter-American Development Bank, Lonely Whale, The Nature Conservancy, and Ocean Conservancy in an effort to identify best practices to reduce water pollution worldwide. This Solution Search program specifically calls out the role that behavioral insights play and has a special award for youth-led initiatives. With 100 solutions submitted from 33 countries, the program is in a unique position to accelerate identified best practices across the world.
We can't waste this timely opportunity for change in Vietnam. Widespread behavior change is critical to meet the plastic pollution challenge and to achieve the scale necessary for impact. We must build on government actions by investing in surfacing and spreading behaviorally-informed interventions that tap into different points across the plastics lifecycle. Whether it is upstream, downstream, or throughout the recovery/reprocessing chain, people and their daily behaviors are at the center of both the problem and the solution.