When Theory Meets Practice: A Mission (to) Accomplish
Embracing complexity, one Fish Forever site visit at a time
September 13, 2017
Simplicity does not precede complexity, but follows it – Alan Perlis
"Don't call Us the Experts."
This compelling but humble declaration kicked off Rare's first week-long 'Behavioral Insights" field immersion and learning exchange in the Philippines with partners of the newly launched Center for Behavior & the Environment. It was the first of many such dynamic learning moments with our colleagues from the Stanford University d.school, the Stockholm Environment Institute, and the Yale Applied Cooperation Team, who joined us in Tinambac, Camarines Sur (a Rare Philippines field site since 2010) to evaluate and refine Rare's use of behavior change strategies in protecting small-scale fisheries.
Matthew Osborne, Research Fellow at the Stockholm Environment Institute's Behaviour and Choice Initiative, posited that we can all be experts in behavior change: "Everyone has implicit knowledge. People are experts in their own lives and their own goals," he stressed, amidst nods of approval from our group of academics and practitioners. "We are all experts in behavior, but it is complex." Appreciating this complexity, our party of thirteen behavioral science designers, researchers, interventionists and practitioners devoted a week to rigorously debating, observing and applying the latest behavioral science theory and human-centered design principles to Fish Forever in the Philippines.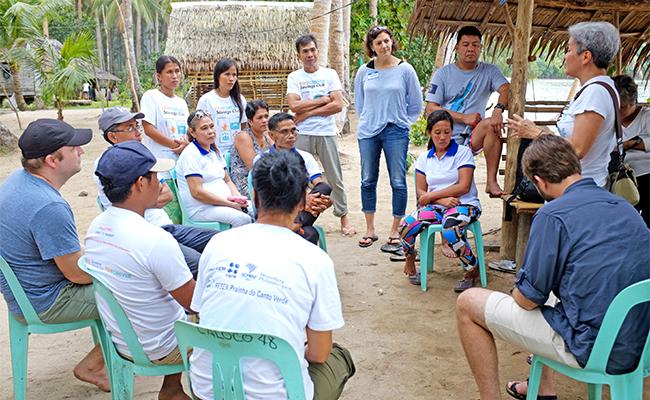 The group spent the majority of the week identifying the specific behavior adoption strategies that are working, with a particular focus on 'non-conventional' techniques: appealing to the fishing community's emotions (such as Pride), creating social incentives (establishing and/or strengthening norms) for participation, and simplifying choices (and hence the ability of the target communities to change their behaviors).  We also reviewed the use of conventional behavioral tools and tactics for program implementation, such as regulations and policy (e.g., compliance rules), economic incentives (subsidies and penalties) and information (promotional or educational materials). Individually, through interviews with fishers, buyers, and household and community members, and collectively, through focused discussions, we dug into behavioral insights, ranging from the role of social capital, trust, and bias in designing community-led programming, to the need for more explicit socio-economic systems thinking for programmatic sustainability, to the importance of micro-experimenting, and testing, to continue iterating and innovating the Fish Forever solution.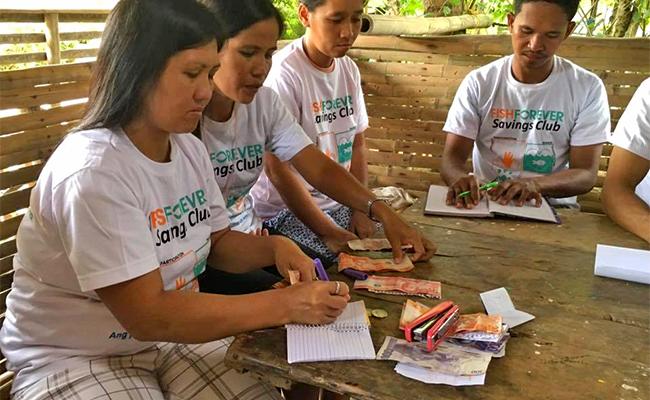 Together with our academic colleagues and practitioners, and under the mission leadership of Rare Campaign Fellow and now-staff Cathy Demesa, we visited two communities of Tinambac that represent a Fish Forever 'bright spot': an example of the program's potential to achieve impact at scale by applying the latest human behavior research to policy, program and product design.  Notwithstanding the aims shared across all of Rare's Fish Forever sites (such as legal and operational TURF+Reserves, improved ecological connectivity among sites, and enhanced resilience of target communities), Tinambac's flourishing 'savings clubs' (found only in certain sites) were a star attraction of the mission, given their promise as a platform that encourages collective action and resilience to exogenous shocks. Matthew rationalized their importance in this way: "Savings clubs get people to talk about something collectively, then do something collectively. It seems to be working well, and has created buy-in from the community – that's good. The next step is to match this collective action to ecosystem health, and work on making that message clearer."
The site visit provoked meaningful reflection for both Rare staff and visitors alike on these and other topics, including: the overall need to more deeply understand the behavioral drivers behind our target communities; relative impact of social versus legal enforcement of TURF+Reserves; to what extent local markets are influencing fishing behavior; and, more generally, the future effects of reciprocity and exclusivity (i.e., unintended consequences) that may come with a managed access approach. Steve Box, Rare's VP of Global Solutions and Fish Forever, who joined the trip to both share his Fish Forever expertise and deepen his own knowledge of behavior adoption techniques, summarized the trajectory of Rare's historical approach to behavior change pre-Fish Forever:
Rare used to work on more 'linear problems' with a conservation target. Now, we are working in a more complex system that shifts upon implementation – and our job is to continue shifting alongside it, and understand the behaviors that underpin the shifts."
While Rare staff absorbed the latest behavioral science research and theories of change, our 'non-experts' from Yale, Stanford and SEI expressed a general appreciation for the complexity of addressing the challenge of overfishing in small-scale fishing communities and offered thoughtful recommendations for ways to do it better: using journey maps to deepen our understanding of the target audience, cultivating empathy as the centerpiece of a human-centered design process, and making behavioral choices simple, among other advice. Sarah Stein Greenberg, Executive Director of the Stanford d.school, reinforced the importance of knowing and caring about the households with whom we are working: "We are appreciative of the need to co-create solutions with people. This is very much in line with the human-centered design philosophy. As designers, it's our job to understand the why, and figure out where that intersects with needs and goals."
Erez Yoeli, Co-Director of the Yale Applied Cooperation Team, whose applied research is driven by the perennial question of 'how to get people to do more good', encouraged Rare to continue to deepen and evolve our approach. "Fish Forever has figured out the main things I tell people to do – from observability (such as making sure enforcement is observable) to establishing norms in public. You have found a way to identify what the public good element is for a group, and in the case of Fish Forever, you figured out that giving exclusive benefits is a way to motivate a community to move towards a collective benefits mindset – which you needed in place for Fish Forever to work. You have gone from having no public good to having a public good supported by social norms. I can see it in a very real way."
Seeing Fish Forever through the eyes of our 'non-expert colleagues' this past week has inspired us to further ideate and test change theories and principles and consider new ways we can empirically test our impact and apply more low-cost but effective interventions to our work; these have become the hallmark of behavioral science practice. The more we can understand—what is and isn't working, and how much that distorts decision-making and cognition—the better we can design programs and policies so that they empower and support fishing families, and create a culture of simplicity rather than complexity.