Dispatch from Dickinson Part II
Sustainability Educators Put Behavioral Design to the Test
February 20, 2018
What does it look like to apply behavioral design on a college campus? This was a new question for me, even after my 6.5 years at Dickinson College and 15 years in the education field. Last October, I had the opportunity to spend a mini-week with Brett Jenks, Rare's President and CEO, and Kevin Green, Rare's Senior Director of the Center for Behavior & the Environment, and it radically changed my ways of thinking, knowing, and doing in sustainability education. Rare launched the Center for Behavior & the Environment with a vision to bridge the gap between thought leaders in the science of human behavior (not me) and field-based conservation practitioners (me). With that goal in mind, Dickinson hosted the Center's first pilot workshop focused on "Behavioral Design for Sustainability." During Rare's residency, 57 students, faculty, and staff were put to the test to design solutions to global problems that put people and their real motivations at the center.
Lightbulb on. People and their real motivations.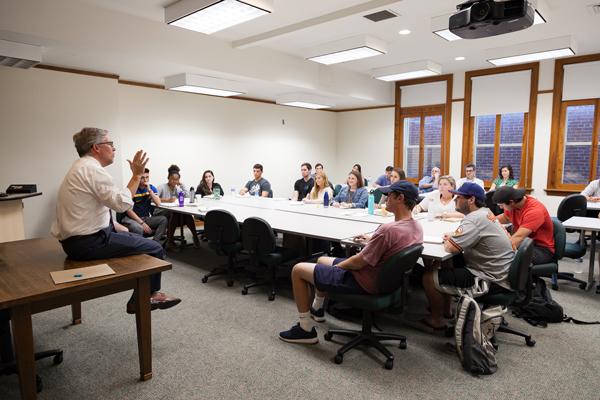 Suddenly, the solutions to problems I had been working on with students for years started to become clearer. Appealing to human emotions, acknowledging humans' shared need to belong and desire to be recognized, implementing designs that are inspired by people we like and trust, and removing barriers to pave the way for new behaviors — these insights were simple, yet powerful. Instead of pushing more education on environmental threats, we needed to start with understanding the everyday habits of people's day-to-day lives and craft our campaigns based on what's meaningful to them.
What better place to blaze a trail for creating new norms and behavioral patterns than at a small, liberal-arts college. Here, our institution can influence the environment and systems that make up the campus infrastructure, where students are given a certain behavioral landscape day after day for four years. Four years is enough time to change habits, create new social norms, and harness all the diverse passions that exist on a college campus. And we have the right setting to do it: a strong foundation of campus sustainability, trendsetters and role models, and plenty of room for growth. So, that begged the question: how can we maximize our impact throughout higher education institutions and better utilize these microcosms to foster real, lasting behavior change when individuals leave campus?
The Center for Sustainability Education, with our student interns, has spent a lot of time thinking about just that. We have built programs, designed posters, taught workshops, and peer-educated in every way, shape, and form we can imagine. Still, we've been so focused on promoting the role of information and education that we lost track of our larger goals and desired change. Rare's workshops reinvigorated our programs to focus on the crux of behavior change, instead of just sharing information in creative ways. We started looking at all we've accomplished and realized that we could clear many programmatic hurdles by simply using Rare's lens of behavioral design. Armed with this new tool, we got to work.
Here are some highlights of what we've achieved since Rare's visit in October 2017:
We hosted a focused training for Eco-Reps (our 45 campus peer-educators for sustainability) to help them re-envision their event or campaign for the semester to include elements of emotional appeals, social incentives, and choice architecture.
We added new behavioral activators to our Green Devil Certification Program by creating new ways to leverage the power of pride, create moments of joy, and provoke surprise.
We analyzed our residence hall energy challenge competition to better strengthen group identity and build community pride.
A group of about 10 students furthered a plan with Dickinson's Dining Service to make food-waste reduction easier through better choice architecture. We hope to have a new portion-based ordering system for our buffet service in the dining hall hitting the lines in Spring 2018.
Students in a policy management senior seminar re-envisioned their "Last Straw" projects to focus on behavioral design choices and choice architecture instead of simply using more sustainable products or banning straws altogether.
We just hosted a Sustain IT Workshop focused on social incentives, called "Shifting the Norm: Plastic Bags at Dickinson."
Our time with Rare provided us with a new lens to improve our campus sustainability projects and programs. We will reach beyond simply educating our students in hopes that they "do the right thing." Instead, we will use behavioral design to reshape our campaigns with a new goal of lasting impacts and meeting people where they are. This will provide our students, faculty, and staff with the skills and motivation to effect change well beyond their time and life at Dickinson. We are excited to continue to use our college as a site for innovation, change, and inspiration with hopes that our students, as field-based conservation practitioners, will go on to positively make a difference. And we are confident that higher education institutions can be more than sustainable campuses, but also hotspots for enduring behavior change for environmental stewardship.
---
Lindsey Lyons is the Assistant Director of the Center for Sustainability Education at Dickinson College.