Building Community Resilience in the New Era of Climate Migration
May 11, 2023
Communities around the world are facing the impacts of the climate crisis. The Dry Corridor region stretching across Guatemala, Costa Rica, Honduras, Nicaragua, and El Salvador has lost more than half of its crops to ongoing droughts. Disastrous flooding in Pakistan has destroyed water pipelines and left millions without clean water. And wildfires in California have become an annual recurrence, charring entire neighborhoods, landscapes, and livelihoods.
Natural disasters and extreme weather events are forcing people and their communities to make the unfathomable decision to leave their homes to seek safer living conditions. With climate events increasing in power and frequency, we're just beginning to see the realities of climate migration. 
What is Climate Migration?
Climate migration is the act of moving away from one's homeland due to unlivable conditions caused by climate change. In some cases, natural disasters like hurricanes, tsunamis, and wildfires destroy homes, leading to the immediate displacement of people. Other times, intensifying weather conditions like floods, droughts, and extreme temperatures slowly force people to flee their land in search of better conditions. Underlying factors like poverty and a lack of employment are closely linked to climate migration and further exacerbate individuals' needs to relocate for better social and economic opportunities. 
The majority of climate migrants are relocating inside of their country's border and settling in new neighborhoods or communities not yet severely impacted by climate change. But as the impacts of climate change intensify, people will be forced to migrate across international borders in search of refuge. The World Bank reports that climate change will force over 200 million people to migrate within their countries by 2050.   
Communities on the Frontlines of Climate Change 
Indigenous People and local communities are often the least responsible for global carbon emissions, yet they face the most catastrophic impacts of climate change. Coastal communities across Latin America are especially vulnerable to climate-related changes, given high exposure to hurricanes, tropical storms, floods, droughts, and landslides. 
In November 2020, Hurricane Eta made landfall in northeast Nicaragua as a Category Four storm. Just two weeks later, Hurricane Iota wreaked devastation as it barreled across Nicaragua, bringing torrential rain and landslides to Honduras, Belize, and Guatemala. The consecutive hurricanes directly impacted over 6 million people across Central America, further exacerbating instability as the countries combatted the COVID-19 pandemic, political unrest, gang violence, food insecurity, and poverty.  
Scientists and humanitarian organizations expect a mass climate migration of Central and South Americans migrating north towards the US-Mexico border in search of refuge from climate disasters and uninhabitable land. To better understand this scale of climate migration, The New York Times Magazine and ProPublica joined the Pulitzer Center to model how people will move across borders. Their model predicts 680,000 climate migrants moving from Central America and Mexico to the United States between now and 2050. 
Investing Globally in Community-Led Solutions
As climate change wreaks havoc on natural ecosystems, marginalized, small-scale fishing communities and agriculture-dependent economies bear the brunt of climate change impacts. 
Investing in the world's most vulnerable communities will help ease the great climate migration and support community resilience for decades. Through Rare's people-centered approach and design thinking, we facilitate solutions that help individuals and their communities face the challenges on their doorsteps.  
In Honduras, for example, Rare is working with two communities directly battling climate change's effects. The fishing communities of Barra del Rio Motagua and Barra de Cuyamel are the first coastal communities in Honduras displaced by climate change and plastic pollution. Home to more than 70 families, the communities watched helplessly as rising sea levels and eroded coastlines destroyed their land and homes. In 2006, the national and local governments declared these areas high-risk with the need to relocate their communities. 
In 2021, Rare joined Barra del Rio Motagua and Barra de Cuyamel in their attempt to construct dwellings on stable terrain far enough from the shoreline. With Centro de Estudios Marinos (CEM), Rare created the "Barra del Rio Motagua" savings group and financial education programs to help the locals develop economic, environmental, and social stability. With this money, the families could build new homes safe from coastal erosion and polluted water.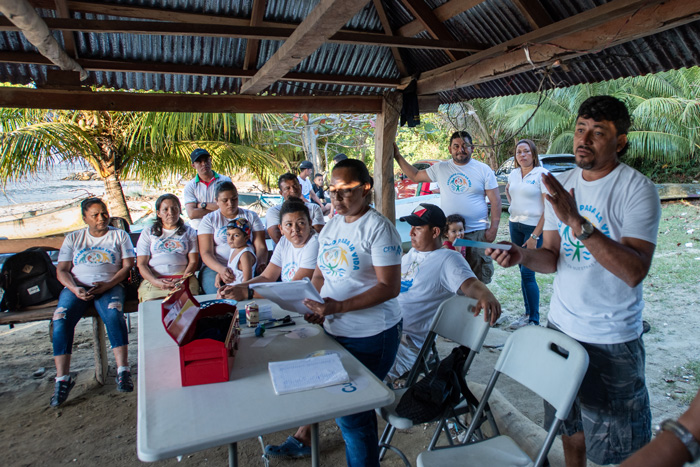 Scaling Support for Community Resilience 
Lack of community resilience exacerbates climate displacement. Governments and local organizations must work together to create climate adaptations allowing nature and people to stay in their homeland. In the case of people on the coasts, Rare's Fish Forever program is supporting coastal fisheries communities to become more climate resilient.  
In 2018, with support from Germany's International Climate Initiative (IKI), Rare launched a four-year Fishing for Climate Resilience project to help coastal communities in Indonesia, Palau, the Federated States of Micronesia, and the Philippines adopt nature-based solutions to climate change. The results provide strong arguments for Rare's behavior adoption methods and community-led resource management.  
With the threat of climate migration increasing, Rare is focused on helping communities on the front lines build climate resilience and adaptations and elevating the voices of the affected communities.  Rare CEO Brett Jenks has joined high-profile leaders on the newly founded Climate Migration Council to push for global action on climate-related migration.    
Building Individual Action Alongside Systemic Change
We're embarking on a new era of climate migration. Global food security, economic stability, and personal livelihood are in peril as the world grapples with the impacts of climate change.  
We need large changes from corporations and governments, but systemic change only happens with demand and wide-scale implementation. What can be done now to address the daunting future? We each can fight climate change at its source by changing our own behaviors, like opting for green transportation, minimizing food waste, and choosing green energy alternatives. Collective behavior changes can reduce emissions significantly while strengthening demand for climate-positive policies. We all have a role to play in making climate-positive actions a common and expected social norm. Together, we can build demand for policy that accelerates climate solutions and supports communities on the frontlines of climate change.