Agricultural producers are leaders in Meta
May 17, 2022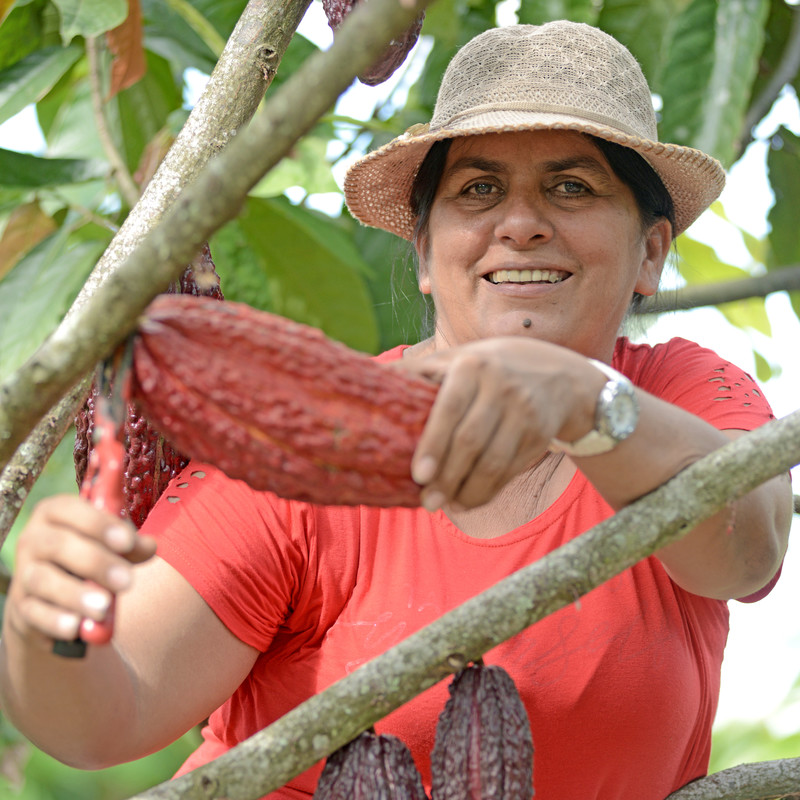 More than 2,500 smallholder farmers in Colombia's Meta region are implementing sustainable agricultural practices to strengthen natural resource productivity and conservation.
According to Colombia's Ministry of Agriculture and Rural Development studies, small producers generate approximately 70% of the country's food and more than 50% of employment in the agricultural sector. However, only 15 receive training or advice on sustainable practices.
Rare seeks to transform the Colombian agricultural sector, strengthening the adoption of sustainable production practices and consolidating a network of local allies. As part of this effort, Rare is partnering with producers and extension agents to expand rural extension service coverage to the municipalities of Granada, El Dorado, El Castillo, Lejanías, San Luis de Cubarral, Acacías, Guamal, Fuentedeoro, Castilla La Nueva, Mesetas and Vista Hermosa.
The Lands for Life program uses behavioral science tools, social marketing techniques, and mobile technology to promote change in rural communities, paying particular attention to the invaluable roles of women, youth, local administrations, and associations in the social fabric and productive activity.
The program also deploys face-to-face agronomic advice through text messages and a behavior change methodology that makes visible the economic, social, and environmental benefits of betting on sustainability.
The program has helped us a lot. If we look at it here on the farm, the costs have gone down. Fertilizers are already few because they are expensive and organic matter gives us more. This is a guarantee for us as farmers, and it is profit.

Raúl Prado, cocoa producer
The program is also establishing a community system to quantify the contribution of more sustainable farming practices to mitigating climate change. Such a system would lay the foundations for accessing future sources of financing and developing payment schemes for environmental services that benefit the entire community. It's also an exciting opportunity for the department of Meta, which is second in Colombia in total greenhouse gas emissions.
Sustainable practices for the future of the rural sector
Lands for Life uses radio campaigns, murals, songs, recreational activities, and practical workshops to promote more regenerative farming practices, e.g., implementing fertilization plans following soil analysis recommendations, composting to improve soil quality, recording rainfall, temperature, and supplies for efficient production, pasture rotation, and creating conservation areas for the region's native flora and fauna species.
These practices seek to improve the well-being of producers and their families, helping vital resources such as soil, water, and biodiversity continue to support rural economies and generate income in the present and the future.
One of the main benefits of this project is the transfer of knowledge to our producers. All that knowledge that they can practice from now on has been the main legacy for the communities.

Yovana Andrea Barney, Secretary of Economic Development and Competitiveness of the Mayor's Office of Granada
Marcela Gutiérrez, a participating producer, reflects on his experience: "This has helped us change, look for other alternatives, and not use so many herbicides and pesticides on our crops and soils."
Establishing alliances in the territory
This initiative has involved various international, national, and local actors. The project is implemented by Rare and The Nature Conservancy (TNC), with funding from the UK PACT program of the UK government and the Department of Agriculture and Rural Development. The Secretariat of Agriculture of Meta, Cormacarena, the mayor's offices of the participating municipalities, the University of Los Llanos, the Orinoquía Biocarbon project, and associations of producers from the department of Meta all support the program.
---
This story originally appeared in Spanish in Periodico del Meta on January 31, 2022.