A movement is bubbling up in the small fishing communities across the Philippines, promising impact for the entire coast. More and more coastal towns are passing laws to support community-managed fisheries and the use of locally based fishing rights. With the passing of such laws, each community sends a message: It's time to protect and empower the small-scale fishers who call our town home.
Living and working on the coast hasn't been easy for the country's small-scale fishers, who catch and primarily sell their fish locally. Over the years, they've had to adapt to declining stocks and competition from commercial fishers that pass through the same waters with much bigger ships and more advanced gear. In most of the country's coastal waters, where open access has long been the standard policy for fisheries, overfishing and illegal fishing have grown into norms.
Recently, coastal communities began to search for something better. Dozens have decided to put local fishers first, by adopting a management approach called "managed access + sanctuaries." When communities adopt the approach, they adopt areas of fishing access exclusive to local fishers, and often pair them with marine protected areas (or sanctuaries) to boost both sustainable use and marine conservation.
Rare is working with communities and local government units in 30 municipalities to legally establish managed access + sanctuaries, with the support of partners like USAID, the German Environment Ministry, the Global Environment Facility, and Bloomberg Philanthropies' Vibrant Oceans Initiative. When the Philippine Development Plan for 2017-2022 was published in June, it recognized the approach as a model for fisheries and coastal resource management.
In June 2017, Rare and the Philippines' Bureau of Fisheries and Aquatic Resources (BFAR) held an event to celebrate best practices in community adoption of managed access + sanctuaries, where the mayors of coastal municipalities, including Cortes, Del Carmen, Libertad, Ayungon, Bindoy and Pilar, shared their stories and insights about building local support for the approach. In this article, Rare shares a look at the unique journeys of two of those towns, as told by their mayors: Mayor Alfredo Coro II of Del Carmen and Mayor Mary Jean Te of Libertad.
Mayor Alfredo Coro II of Del Carmen, Surigao del Norte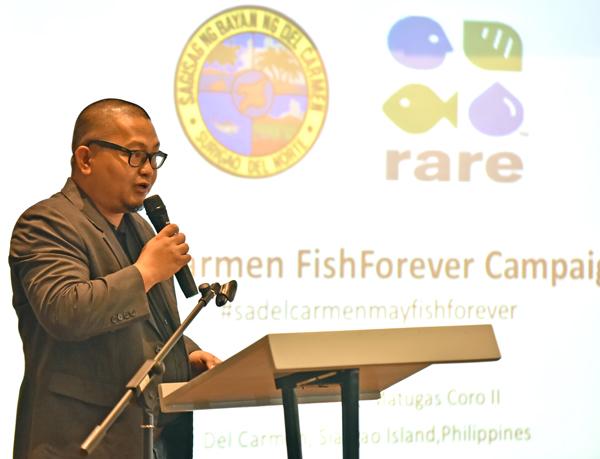 Mayor Coro doesn't deny he's had much to learn about the life of a Del Carmen fisher. "I'm not a fisher, I just eat fish," he says. "So that's the first part for me, to talk to them and ask about their lives." He leads the local government in Del Carmen, a municipality on Siargao Island with a population of 19,768 people and 20 barangays, or villages. In Del Carmen, locals make their money from farming, tourism (drawing in travelers with white sands and prime surfing spots on the island) and fishing. Around 1,900 fishing households depend primarily on Del Carmen's marine resources to generate income.
Del Carmen's municipal waters span 108,726 acres, including 12,355 acres of mangrove forest and extensive coral reefs on the coast. There, Mayor Coro and the rest of the community have seen unsustainable use of their waters threaten the area's ecosystems and drive a decline in catch, as well as slow recruitment of marine species in coastal waters (meaning less juvenile fish survive to maturity or to enter the fishery).
Mayor Coro and the local government partnered with Rare to make changes for the fishery's sustainability. They chose local government staffer Gina Barquilla to become a Rare Fellow and lead a Pride campaign, starting with efforts to increase communication. "It's about giving the community a voice, because they know what they want, they know what they need and how they will survive," says Mayor Coro. The campaign opened communication with fishers, soliciting input about the problems that gripped their livelihood. For many, poverty and a lack of professional recognition or benefits were at the top of the list, affecting how they acted in their occupation. "You start hearing problems that have nothing to do with fish," says Mayor Coro. "Education, health, basic services — so you try to provide these things to them. If you want them to be with you, you first have to address their needs. You realize that their needs are not really out of this world. And once you've given that, they start believing in you."
The Pride campaign empowered the local fishers to feel good about themselves.

Alfredo Coro II, Mayor of Del Carmen, Surigao del Norte
Gina Barquilla and the Pride campaign hosted discussions that sought feedback from community members about registering fishers, their boats and their gear to officially recognize their profession. They also spread word of solutions for sustainable fishing on Del Carmen's Radio Kabakhawan. "The Pride campaign empowered them to feel good about themselves," says Mayor Coro of the campaign's effect on local fishers.
At the same time, Rare and the Del Carmen community worked together to to strengthen marine protected areas, improving enforcement against illegal fishing in the San Fernando Marine Sanctuary in the coastal waters at the heart of Del Carmen, as well as a fish sanctuary in the waters of Caub, Del Carmen's outermost western island. Enforcement teams confronted illegal fishing with more than 200 apprehensions of illegal operations in two and a half years, "despite regular death threats with their houses being shot at, and being hunted by illegal fishers and threatened by persons of influence," says Mayor Coro. "You never compromise. You will be tested. Our conservation fellow has been offered bribes many times — an illegal fisher wanted to give her a vehicle."
Despite resistance from some and even the fear of violence, Barquilla and her colleagues focused on working with different members of the community to change their perspectives. "She emerged as a true champion of Del Carmen and Siargao in transforming illegal mangrove cutters and fishers to become her partners for protecting our environment." Barquilla's work paid off: this year, Del Carmen brought managed access to the Caub and San Fernando sanctuaries, legally adopting the managed access + sanctuaries approach as its management strategy.
It's about giving the community a voice, because they know what they want, they know what they need and how they will survive.

Alfredo Coro II, Mayor of Del Carmen, Surigao del Norte
Changes across all sectors in Del Carmen have followed. Boatmen, guides and community members who once fished illegally have recently created a community-based ecotourism program. The town is also working to build a climate field school to train farmers and fishers to increase resilience and capacity to deal with climate change. Del Carmen is the first grantee of the country's People's Survival Fund for its climate change projects in Siargao.
Mayor Coro has a clear list of the work left to be done, including stopping the illegal fishers still out there and giving fishers more government benefits in health, education, training and more. But for now, there's room to celebrate: In Del Carmen, there's been a 70 percent reduction in reported violations since 2014, and 70 percent of fishers have registered themselves, their boats and their gear. In Del Carmen's fishery, there are also signs of growth: Mayor Coro reports a 10 percent increase in near-shore fish stocks over the last two years. "We have rich fishing grounds, and that's because of the activities we've done," he says.
Mayor Mary Jean Te of Libertad, Antique
Fishing is the major source of income for people in Libertad, and tuna is their target. Libertad's mayor, Mary Jean Te, calls its abundant waters a "tuna highway." "It's a haven for tuna and tuna-like species," she says. The community of about 17,000 people shares a common resource base in Pandan Bay with three other municipalities in Antique — Pandan, Sebaste and Culasi — and recently formed an alliance with them. Years ago, Libertad got its start in conservation when the town declared eight marine sanctuaries, all within the shoreline.
When Mayor Te returned to Libertad after nine years away, she found that the the alliance and local efforts in marine conservation had dwindled, and the sanctuaries were neglected. She began working with Rare in hopes of reinvigorating conservation efforts and propelling sustainability forward in the fishery. "Sustainable livelihood in both the the uplands and coastal areas is my main thrust," she says. "I want to make sure that the next generation, 20 years from now, is still left with something to carry on in the future. That's why we are intensive with our protection and management, especially the illegal activities being done in our municipal waters."
I want to make sure that the next generation, 20 years from now, is still left with something to carry on in the future.

Mary Jean Te, Mayor of Libertad, Antique
Mayor Te and the local government have worked with Rare to declare two managed access areas, one near-shore around Libertad's existing fish sanctuaries — where local fishers catch much of their tuna — and another offshore within municipal waters. With technological support from Rare, the local government also has also begun to register fishers using an ID system. "They were all very happy, the 1,800 fishers who registered, because our fishers, they don't have IDs," says Mayor Te. "I signed the ID, and they were all excited. We launched it last month. It shows that they are really professional fisherfolk."
As in Del Carmen, initial resistance from the fishing community was a natural part of the process. "It was a struggle for us," says Mayor Te. "Even the declaration of marine sanctuaries before, they were so resistant." Mayor Te learned to describe the problem in terms that mattered to fishers. "I always tell them, I will always care about what our children's future will be," she says. "What will they eat in the next 10, 20 years?"
And like Mayor Coro, Mayor Te has taken stock of remaining obstacles to sustainable fishing. She cites the continuing issue of encroachment. Libertad is still in need of intensive watch against illegal fishing. "There are still big fishing vessels that come into the area from other provinces, like Aklan and Iloilo," she says. "We apprehended one from Bacolod, because they know the area is so rich. It's a tuna highway, so they want to encroach into our waters and take advantage."
Despite such obstacles, managed access represents a fresh start for the fishery. "Our fisheries program was enhanced when Rare came in and helped us make fishers understand that we need to sustain protection and management," says Mayor Te.