A Sit-Down with the Chair
Rare talks with new Board Chair Dorothy Batten
November 23, 2020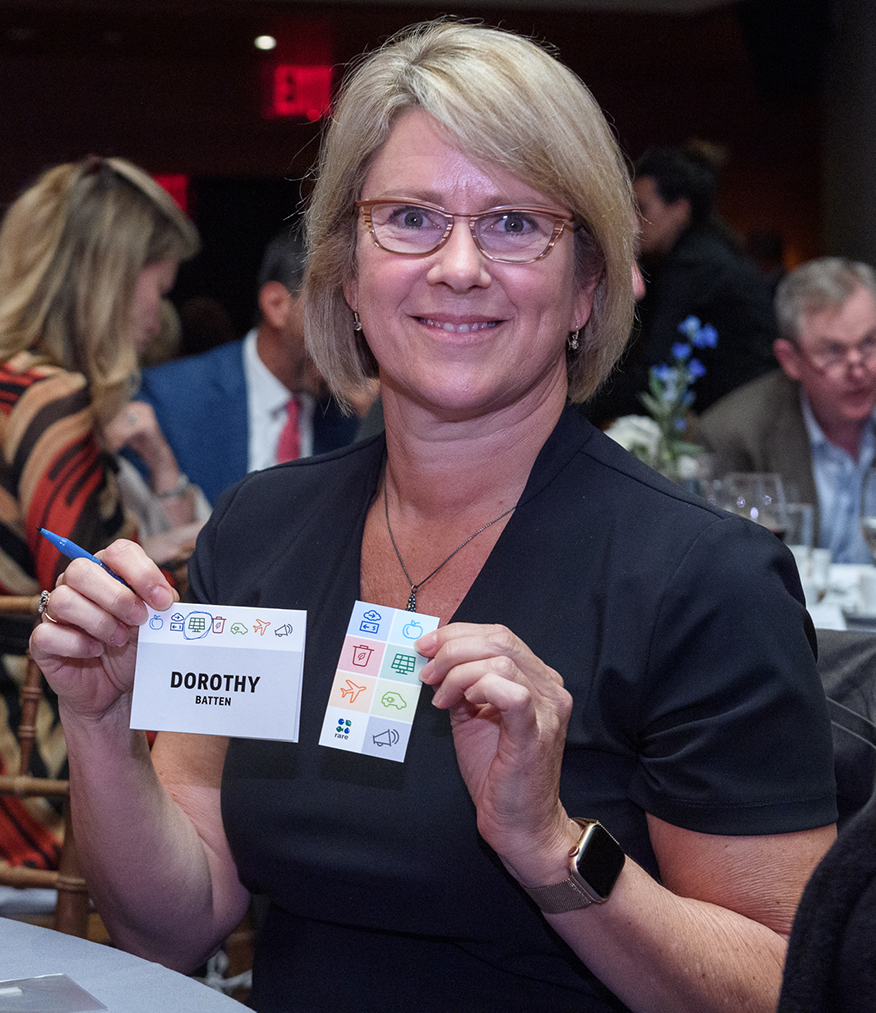 Earlier this year, Dorothy Batten was elected as Chair of Rare's Board of Trustees. Batten, who joined Rare's Board in 2016, is the President of the D.N. Batten Foundation and a lifelong conservationist. She is also the founder of iThrive Games, a non-profit initiative that fosters the adoption of positive psychology and social-emotional learning in video games and apps to promote resilience, self-awareness, and emotional well-being for adolescents. We sat down (virtually) with Dorothy to ask about the motivation behind her work, what inspires her, and the role she sees for Rare amidst COVID-19, climate change, and other global challenges.
---
When did conservation first become important to you?
I was very much a nature child. Growing up, I preferred to be outside. I lived on the banks of this beautiful tidal coastal river with marshes and woods and was constantly collecting periwinkles, befriending mallard ducks, and bringing home stray animals of all sorts that my parents did not like having in the house.
The conservation field first presented itself to me when I moved to Charlottesville, Virginia in 1994 and lived on a farm. People suggested I put my farm under conservation easement. I all of a sudden got really engaged in that work. It was much more exciting to me than being on the board of a museum or volunteering at my kids' school.
I immediately aligned with some other individuals in Charlottesville who were very involved in conservation in the tropical Andes, so my first involvement was not in the United States. It was in Peru and Bolivia. What brought me to Rare was my desire to broaden my knowledge of tropical regions.
You've traveled a lot with Rare and other organizations. What has inspired you most in all those travels?
First of all, the diversity of nature. I love seeing other environments and exploring other wild places.
Also, the culture. I love interacting with people from around the globe, who have very different cultures from me, and learning from them, particularly their children.
I think you really get to understand a country's culture by observing children. Their innocence, the way they see the world, is very hopeful and shows us, at the end of the day, that we're all really alike even though we have lots of different practices, beliefs, structures, and norms.
Why should conservation for people be a priority for philanthropists?
Simply, if we don't have a healthy planet, then none of us will survive. That's just the underlying issue. If our population keeps growing and using the amount of resources that the population is going to demand, a lot of us are not going to thrive.
One of the things I love about Rare is that it brings communities together, making them appreciate where they are and who they are. It comes back to pride, of being grateful and appreciative of everyone and everything in your environment, whether it's the people in your household or whoever's putting fish on the table for you to eat. It's learning to see beyond your narrow perspective and seeing the big picture.
That's what Rare does well, and we can't lose focus on that. I mean, it's got to be fun and provide people hope, take people out of the gloom and doom.
Should Rare and other conservation organizations be involved in the movement for social justice and equity?
This moment has shown me how truly important it is that we all speak up, and we all have the opportunity to speak up.
The truth of the world will only come out if we bring light to what is happening. So it's really important that there's dialogue. People must have the opportunity to discuss their circumstances and what they feel because you can't address these things unless they're brought to light.
As far as just diversity, equity, and inclusion in organizations in general, any organization will be far better at delivering its work if it is representative of the people it's serving and of the world in general.
Given the challenges of COVID and climate change, personal behavior change is in the news. Given that our issue is so important at the moment, what do you see as the role for Rare?
Rare's role is to inspire hope, and we've proven that we are an organization that listens, allows people to have a voice, and designs solutions that work for them. It's a bottom up-type organization instead of a top-down organization where a model is imposed on other people. We're good listeners; we're good at inspiring people to work together in a coordinated, collective manner to help everyone. That's the only way that you can have transformation and change.
Obviously, the big change within (Rare) at the moment is the emergence of Make It Personal and stepping into the huge challenge of climate change in the U.S. It's my personal belief that climate scientists have been a little bit too reserved and a little bit too conservative in their projections so as not to be alarmist. But I actually think that they should be alarmist; This climate train is coming into the station a lot faster than people want to acknowledge. If we don't address climate somehow, then all the work that we're doing in the field with local fishers and farmers will just be wiped out. We've got to do something to not just mitigate the situation but also address the problem head-on.
What is your long term ambition for Rare? Where would you like us to be in 20 years?
For me personally, I would like the Rare name and brand to be the most well-thought-of and recognizable name in conservation, to be known as the organization best at inspiring hope and motivating people to work together towards change.
I don't know specifically what our programs are going to look like 20 years in the future. But just in a general sense, I want us to be the most effective organization at motivating and inspiring engagement toward collective action for good: where people actually step up, contribute, and change their behavior.
Part of the reason why I have been such a supporter of Rare is that I love how Rare allows people to make decisions for themselves in the most appropriate way and doesn't try to impose strict rules and regulations on people. I love that we are this really flexible, adaptable organization that listens to people and allows them to design solutions for themselves.
You've spoken before about applying that same approach as a philanthropist, by providing unrestricted support and trusting the organizations to make the right choices.
You've got to trust people to make decisions for themselves.
Unrestricted funding is the fuel that organizations need to thrive and to innovate. Just like a for-profit business needs R&D funds to experiment, you have to cast your net out there and try different ways of doing things until the right ones rise to the top as the proven path forward.
Although it is important, restricted funding doesn't allow an organization to remain entrepreneurial and adapt with the times. And as we're all seeing now with COVID, we really needed to be able to pivot and change our models and develop new ways of delivering and new products for delivery that were not in the budgets of these restricted proposals.
Finally, what gives you hope?
I really do believe that the vast majority of the people on this planet are kind and caring and if provided with knowledge, an opportunity, the necessary tools, and a path forward, they will choose to make responsible decisions.