Indonesia 2020
February 21–29, 2020  |  Wakatobi National Park
Please join Rare on February 21-29, 2020 for a once-in-a-lifetime journey to Indonesia's remote and stunning Wakatobi National Park.
A UNESCO Marine Biosphere Reserve nestled in the Banda Sea, Wakatobi's 3.4 million acres of land and water are renowned for their biodiversity. Spectacular coral gardens with nearly 400 coral species and dense mangrove forests are hallmarks of this unique tropical habitat.
We have designed this trip to inspire. You will join ocean advocates, philanthropists, and marine biologists as we experience and explore the natural and cultural wonders of this Coral Triangle jewel. Through our journey, you will learn how Indonesia has become a global leader in reforming coastal fisheries and meet key local players who have made this a reality, including village leaders and fishers.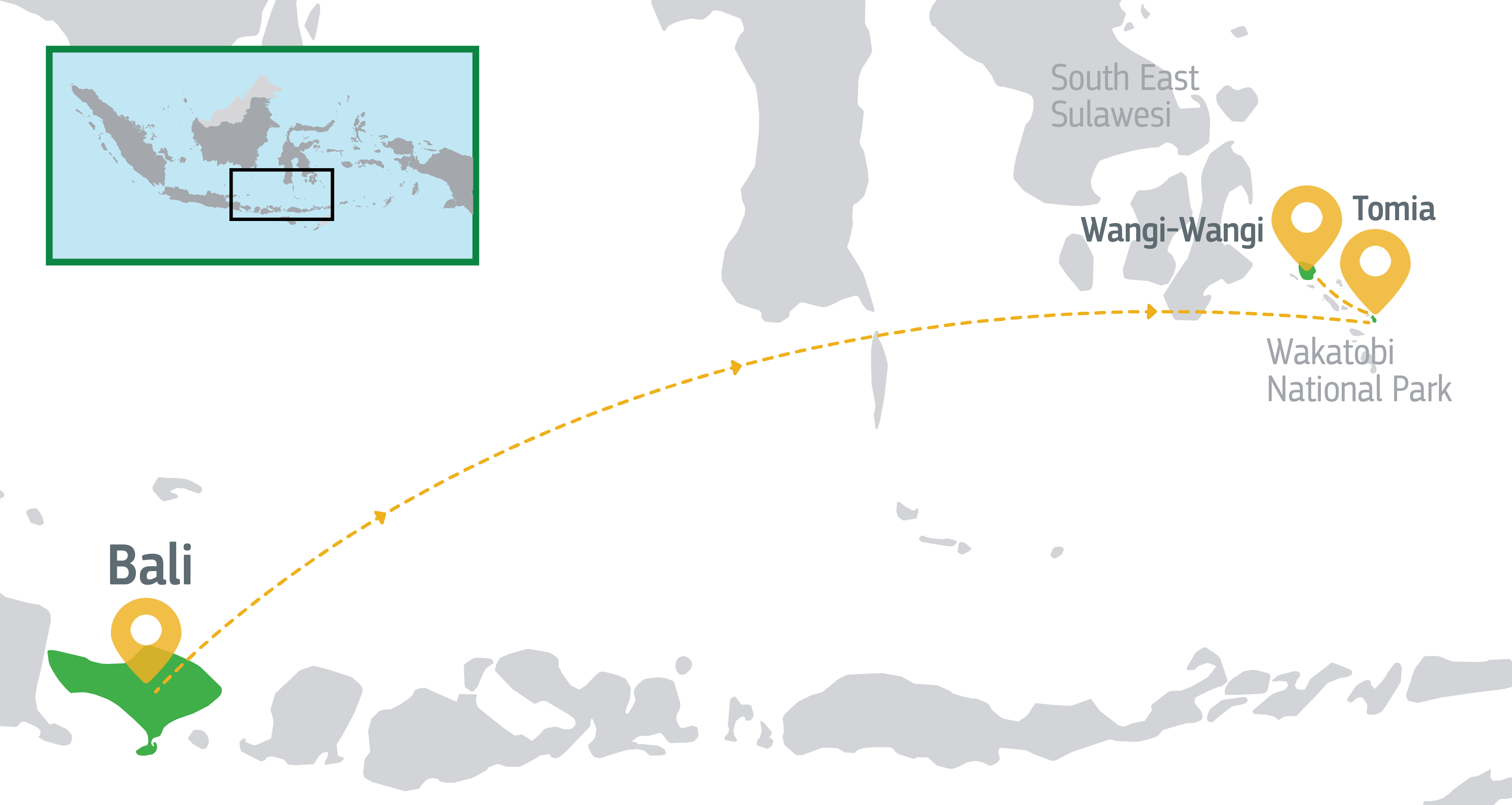 Itinerary and Trip Highlights
Check back often for the most up-to-date schedule of events!
Note: Itinerary subject to change
Friday, February 21
Depart U.S. destinations. Warm weather awaits!
Saturday, February 22
Bali
Most guests will arrive on this day, and Rare will greet those arriving at the airport. For those interested, we will meet for dinner as a group at 7:00 pm in the hotel lobby. For those who need more time to rest, you are welcome to grab dinner on your own, either at the hotel or one of the many options off the boardwalk (which is within walking distance to the hotel).
Sunday, February 23
Bali
We'll meet in the lobby at 7:45 am in the hotel lobby (after breakfast) to explore Ubud, the "spiritual heart" of Bali, via an electrical-assist bicycle tour of the famous rice terraces. The tour will be followed by a gentle yoga class or a hike along the Campuhan Ridge, then lunch. In the evening, we will have a casual celebratory welcome dinner to get to know the Indonesia team.
Monday, February 24
Tomia, Wakatobi
Together, we'll fly to Wakatobi Dive Resort on Tomia, one of Wakatobi National Park's four main islands. Guests will have the opportunity to take a short afternoon dive, snorkel, or paddleboard on the reef just offshore. We'll convene as a group in the evening with an official welcome cocktail hour and share expectations for the week ahead.
Tuesday, February 25
Tomia, Wakatobi
We'll spend the morning exploring the marine ecosystems, diving, or snorkeling in one of Wakatobi's hundreds of premier reefs. For those who do not wish to snorkel or dive, kayaks or stand-up paddleboards are available. Non-water-related activities for guests include a nature trail for birding in the morning, sunbathing, in-room massages, or simply enjoying some leisure time at the jetty bar. After lunch, we will play a game that puts the players in the role of a fisheries community stakeholder to explore why small-scale fisheries are vital to local communities. In the afternoon, while Rare's Board of Trustees holds its abbreviated Winter Board Meeting, non-Board Members are invited to the meeting, but can also choose from a variety of activities, including diving in the house reef.
Wednesday, February 26
Tomia, Wakatobi
After another morning in nature, we will meet at the house reef prepared to "dive" into data—specifically, learning what it takes for Rare staff and partners to collect data, measure our program's success, and use this data to design marine reserves. We'll have another chance to get into the water in the evening, with a serene night dive.
Thursday, February 27
Tomia and Wangi-Wangi, Wakatobi
Today, we'll take a day trip to Wangi-Wangi, the Wakatobi archipelago's largest island, to visit Mola and Liya: two villages implementing Fish Forever in partnership with Rare. We'll witness the challenge of working in different communities and learn how Rare's unique behavior change approach tackles these challenges. We'll also meet Wakatobi National Park officials and community members to understand first-hand how they have integrated Fish Forever into their lives and work.
Friday, February 28
Tomia
On our final full day together, we will continue to enjoy Indonesia's beautiful nature and each other while we reflect on all that we have learned this week. Guests are welcome to get in a few more dives in the morning to take in the awe-inspiring abundance of fish and coral. And, per tradition, we will all partake in a special Indonesian-style Rare Olympics in the afternoon. We will continue reflecting in the evening, sharing experiences and takeaways from the week together.
Saturday, February 29
Bali (or further destinations)
By late morning, we will pack up and say goodbye to Wakatobi. Our flight is expected to arrive to Bali by 2:30 pm, at which guests will either transfer to their international departures or stay another night in Bali to catch flights the next day.
The trip cost is $10,000 per person or $18,000 per couple. The trip payment covers lodging, meals, guides, all transportation while on the trip, and recreational activities. Air transportation to and from Bali, trip extensions, travel protection plan, passport, visa, and immigration fees are not included.
Space is limited; Wakatobi is a remote destination, and lodging is scarce. To reserve your spot, RSVP with Kelsey Sloter at ksloter@rare.org or +1-240-464-7907 and send a deposit to Rare by check or wire transfer. Deposits are non-refundable.
Deposit for single traveler: $7,500
Deposit for couple: $15,000
Please make checks out to "Rare" and mail to:
Rare
c/o Kelsey Sloter
1310 N. Courthouse Road, Suite 110
Arlington, VA 22201
Wire transfer information provided upon request.
Please contact Kelsey Sloter, Board Relations Associate, with questions or to receive more information: ksloter@rare.org or +1 703-522-5070 x157 / +1 240-464-7907