Fish Forever Progress Update #22
March 9, 2020
Make sure you never miss an update. subscribe to the progress update newsletter
---
In this issue, find news and updates on:
Rare's Board of Trustees visits Fish Forever in Indonesia's Wakatobi National Park
Making Ends Meet Through Fishing
Mozambique's District Administrators Pledge to Prioritize Small-Scale Fisheries
The Blue Action Fund and KfW Visit Fish Forever in Mozambique
The Big, Uber, Super Year for Our Ocean
Launching a public Data Portal to track Fish Forever's progress and impact
In Other News
Fish Forever in the News
The Science of Fish Forever – What We're Reading
---
Rare's Board of Trustees Visits Fish Forever in Indonesia's Wakatobi National Park

---
Making Ends Meet Through Fishing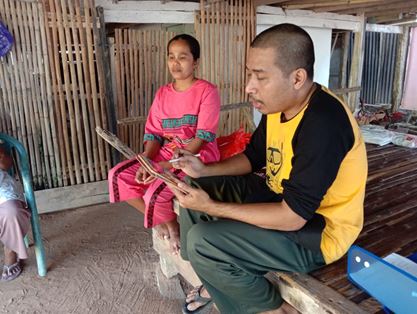 In Indonesia and around the world, collecting extensive and robust socio-economic data about coastal fishing communities was a task deemed so daunting that few have tried to do it—leaving governments with limited visibility and understanding of the lives of millions of people.
In 2019, Rare conducted over 15,000 80-question household surveys with coastal fishing communities in Fish Forever program sites around the world. Cumulatively, this means that Rare collected over 1 million responses related to perceptions of fishing household assets, livelihoods, financial resilience, fishing and related activities, social capital, fishery management, the effectiveness of existing enforcement and compliance, food security, and expenditures and income, among others.
Collecting robust socio-economic data, which we can aggregate to different scales—i.e., provincial, district, or village level—is unprecedented for small-scale fishing communities in Indonesia and beyond. Although collecting biological and ecological data about coastal ecosystems is standard practice, collecting parallel socio-economic data at large scales, using a standardized questionnaire, is much less common.
And, while livelihood and income data are just one set of indicators in the socio-economic story of coastal communities, they provide an essential baseline of fisher households against which we can measure program efficacy through time. Importantly, they help us answer a central question: Is fisheries reform through managed access and reserves providing measurable benefits back to the households and small businesses of the rural economy?
***
Indonesia's Household Survey Results: The Vulnerability and Uncertainty of Fishing as a Livelihood
In July, Rare completed over 6,000 of these surveys across 100 villages within 22 proposed managed access areas in Indonesia's Southeast Sulawesi province. Across these areas, the survey found several telling results that highlight the difficulties that fisher households have in making ends meet when fishing is their primary occupation:
Their reported monthly household income was $145, or approximately $4.83 per day;
On average, 77% of that income comes from the fishery (fishing, processing, and buying/trading); with farming as supplementary income and the second most common livelihood at 12%;
Only 39% of fisher households cited sufficient income "to make ends meet for their basic needs," with 61% responding that income was tight or insufficient; and
38% reported that they had enough income to be able to save.
Comparing these results to the government-reported average income of Southeast Sulawesi's (SES) smallholder producers (fishers and farmers) at $110/month, and Indonesia's national minimum wage of ~$172.50/month, places the province's fishers above the average for smallholder producers but below minimum wage (with their mean income about 84% of the minimum wage for Southeast Sulawesi). By definition, the minimum wage is the income level that supports the minimum living standards needed to protect the health and well-being of workers.
This data indicates that small-scale fishing incomes are low, and only a small percentage of respondents feel capable of making ends meet. Digging deeper, 55% of households profiled make less than Southeast Sulawesi's average income, with 19% of households making less than the national poverty rate of $1.9/day. In short, these fishing households—most of which are reliant on fishing as their primary occupation—are highly vulnerable (struggling to make ends meet by fishing alone) and living with high levels of uncertainty (related to fluctuating income from varying catches and external shocks such as storms).
The results align with what Fish Forever has seen across small-scale fishing communities in other countries: the urgent need to support long-term financial resilience. The results also reinforce Fish Forever's goal of working with communities to improve their fisheries and secure their livelihoods—by increasing not just the volume and value of fish catches but by helping communities capture, retain, and build wealth from those fisheries. On a positive note, while only 14% of community members surveyed are confident that their fisheries will improve or stabilize in the next five years, 67% believe that participating in management will help to maintain or increase fish catch.
Finally, the new data allows Fish Forever to understand our target audience better, see measurable results over time, identify program impact, and adjust our intervention to ensure more effective fisheries management. Rare will continue collecting this data from coastal communities around the world and repeat the same surveys in three years.

---
Mozambique's District Administrators Pledge to Prioritize Small-Scale Fisheries
In December 2019, District Administrators from four provinces of Mozambique (Maputo, Inhambane, Sofala, and Nampula) signed a public pledge committing to prioritize and protect their district's small-scale fisheries. Rare gathered these and other local leaders in Závora, Inhambane Province, to discuss small-scale fisheries, share knowledge, and strengthen local leadership commitments. Building on this pledge, and with financial support from the Blue Action Fund and Sida, the Swedish Agency for International Development Cooperation, Rare is focused on advancing sustainably co-managed coastal fisheries in Mozambique.
---
The Blue Action Fund and KfW Visit Fish Forever in Mozambique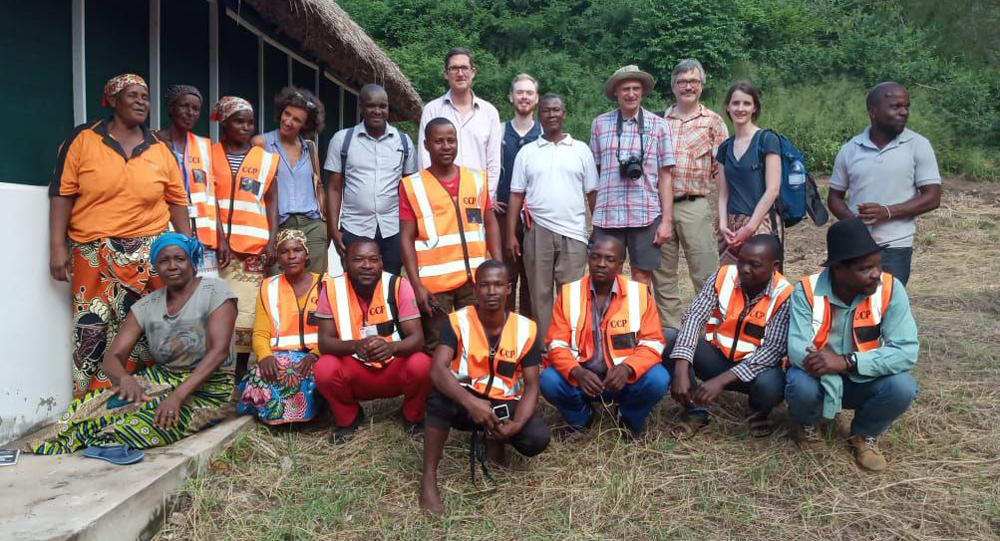 In February 2020, Rare Mozambique welcomed a delegation of the Blue Action Fund and the German development bank KfW in Mozambique to discuss key achievements and challenges in a Rare-conducted project under a grant from the Blue Action Fund in Mozambique. The delegation from Germany met with partners from both the local government and Community Fisheries Councils to learn more about the program and experience Rare's work on the ground first-hand.
---
The Big, Uber, Super Year for Our Ocean
By Steve Box, Fish Forever Managing Director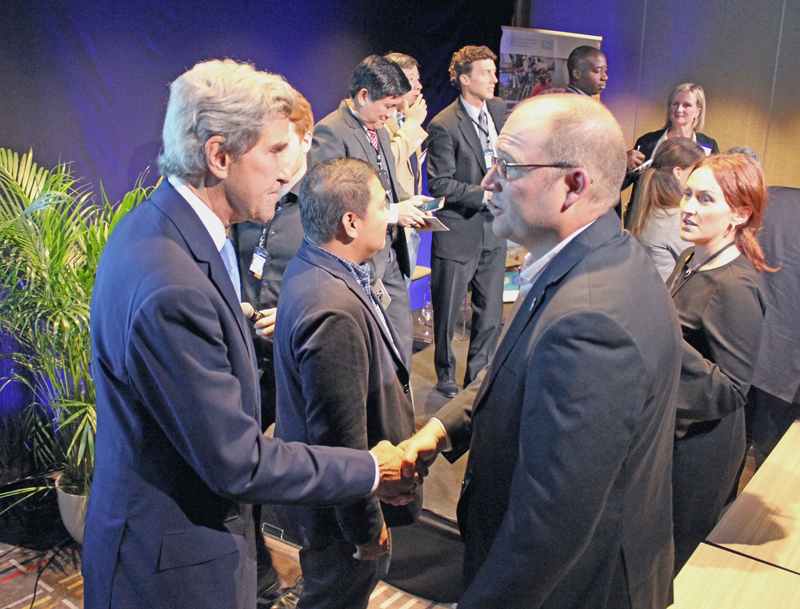 2020 is a pivotal year for global environmental action. The countless references to the "Super Year for People and Nature" (the GEF, The Nature Conservancy), "Decade of Action to deliver the Sustainable Development Goals" (the UN-Secretary General), "Super Year for the Oceans" (UN Foundation), and "Year to build a truly 'blue economy'" (Economist Group's World Ocean Initiative) all underscore how much is at stake for the world in the next few decades—for biodiversity, for the future of food, for people's well-being, and for our ocean in the face of climate change and continuing environmental degradation.
Fish Forever adds another refrain to the mix: "2020 must be the Year for Prioritizing Small-Scale Fisheries." By this, we mean that global and national targets—the UN Sustainable Development Goals, the 30×30 call to action, nationally-determined contributions (NDCs), etc.—must increasingly recognize small-scale fisheries' contributions to climate resilience, livelihoods, and conservation; and further, that reaching these goals is only achievable through coastal fisheries reform.
To this end, Fish Forever continues to build vital connections among local, national, and global policies relevant to small-scale fisheries, coastal zone protection, and a global movement of local leaders committing to these reforms. Further, with governments and fishing communities around the world, Fish Forever is focused, in 2020 and beyond, on:
Balancing fisheries production with their protection: By decentralizing fisheries management, and empowering local communities with legal rights to exclusively fish in coastal waters and the responsibility to protect their essential fish habitat and rich biodiversity, the program balances production with protection and helps these communities more effectively protect the ecosystems they rely on.
Helping coastal communities adapt to the realities of climate change: Building climate resilience is growing nationally. Countries like Indonesia are adopting ecosystem-based adaptation (EbA) approaches to combat climate change and incorporating conservation, sustainable management, and ecosystem restoration into fisheries management and governance plans at local and national levels. Rare's ongoing project with Germany's International Climate Initiative is mainstreaming EbA into fisheries management in coastal fishing communities in Indonesia, the Philippines, and Pacific Island countries.
Implementing innovative ocean management and conservation: Rare continues to work at the intersection of high biodiversity and high human use to benefit people and nature. Establishing managed access with reserves contributes to the growing global movement to protect 30 percent of the oceans by 2030 (30 x 30). Improving small-scale fisheries management while protecting certain parts of the ocean (i.e., those that contain vital habitats, like coral reefs) through networked marine reserve design prioritizes the part of the ocean most critical to people and nature and the ecosystems that build climate resilience.
Creating data for decision-making AND putting it into users' hands: Not only are we collecting extensive and robust biological, ecological and socio-economic data about the small-scale fisheries sector, but through a new public data portal, we are: providing decision-makers with access to both raw and analyzed data; 2. building management capacity (hundreds of decision-making bodies) to help in making decisions based on this data; and 3. building an unparalleled public collection of tools and materials for global practitioners' use.
Transitioning fishers into the formal economy: Using tools like OurFish and best practices like savings clubs and financial literacy training, Fish Forever is helping communities build financial and market inclusion: increasing both their access to formal financial services and the economic resilience of households.

Mr. Tome Dambuza, Head of Machangulo Administrative Post in Mozambique and Fish Forever local leader, on stage at Rare's side event during Our Ocean 2019.

Working with local, sub-national and national governments and other stakeholders to prioritize small-scale fisheries in their development planning and identify pathways to establish and sustain managed access with reserves: For example, as a founding signatory of RISE UP A Blue Call to Action—an unprecedented joint call from civil society, fishers, Indigenous Peoples and philanthropic organizations that provides governments and businesses a clear roadmap of the critical goals and solutions they can adopt to tackle the ocean crisis—Rare is actively helping to move the needle in favor of bold and transformative action for the ocean.
2020 is also a critical year to develop and enhance international and national political and financial commitments for the next decade. The Oceans focus of December's 'Blue' Climate Change conference in Madrid, for example, set the stage for heightening the focus on oceans within the climate change and biodiversity agendas of 2020, and gave Rare and NGO policy coalition partners a platform to elevate small-scale fisheries' role in contributing to these agendas.
And at this year's big events—the IUCN World Conservation Congress, UN Ocean Conference, FAO's 34th Committee on Fisheries meeting, the Convention for Biological Diversity (CBD) COP15 and the UNFCCC COP26, among others—Rare will continue to make the case for how more significant political and financial support for small-scale fisheries can deliver on a range of goals under the 2030 Agenda for Sustainable Development.
Stay tuned and join us in committing to improve the lives and well-being of fisher households and coastal communities and the ecosystem conditions and productivity upon which they depend.

---
Launching a Public Data Portal to Track Fish Forever's Progress and Impact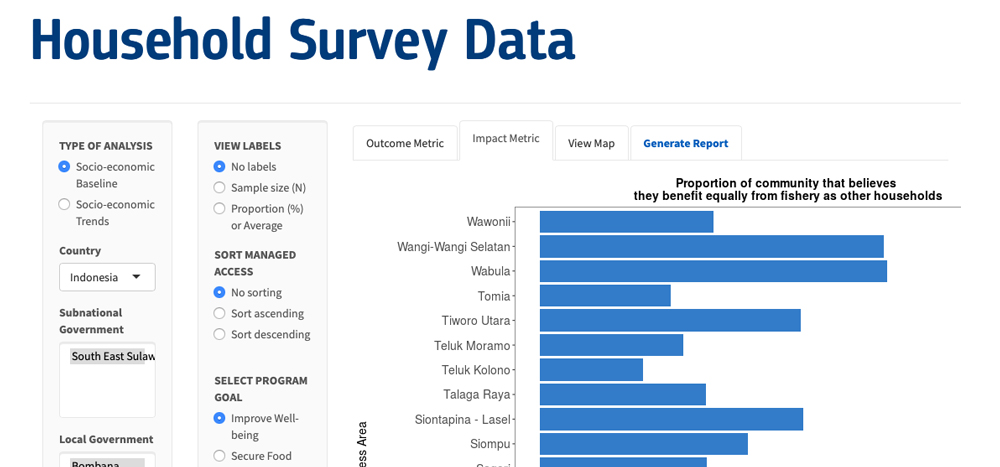 Fish Forever's Science and Technology team is preparing to globally launch two products that put data into the hands of decision-makers: a publicly-accessible data portal, and dynamic reports providing the "Status of Our Fishery" to local governments, management councils, and their constituent communities.
The online data portal fulfills Fish Forever's commitment to accountability and transparency. The open-access portal will provide programmatic data of where we work alongside socio-economic, biological and ecological data collected through the program's extensive monitoring and evaluation program; this will include aggregated results from the 15,000 household surveys of coastal fishing communities around the world referenced in this newsletter. It will also help practitioners track program progress and measure impact.
In parallel, the "Status of Our Fishery" reports will provide local governments and fisheries management bodies with regular updates, based on the latest data from their communities, upon which to base their management discussions and decisions. These data will include numbers of registered fishers, fisheries production statistics, socio-economic perception data, and the extent and condition of essential fish habitat.
Stay tuned for the public launch later this year.

---
In Other News
Fish Forever Progress Update Feedback Survey – Coming Soon!
The Fish Forever Progress Update will replace its April/May issue with a survey to solicit your feedback on the newsletter and understand how we can improve it. Stay tuned—and thank you, in advance, for your valuable feedback.
The Center for Behavior & The Environment launches a Virtual Learning Platform
Rare's Center for Behavior & the Environment invites you to explore its new virtual learning platform, behavior.rare.org, aimed at helping to create lasting change. This platform brings together cutting-edge behavioral science and design thinking to the environmental space. It encompasses members-only access to tools, resources, and research, with new videos, worksheets, and trainings uploaded regularly. Sign up to become part of a growing community committed to harnessing behavior change for the environment.
Philippines Mayors' league renews partnership with Rare
At the League of Municipalities of the Philippines (LMP) executive committee meeting in early January, mayors renewed the memorandum of agreement with Rare Philippines to enhance fisheries governance for the country's 1.8 million small-scale fishers. Resolutions from last year's National Coastal Fisheries Summit, co-hosted by LMP, resulted in creating technical working groups on marine protected areas, municipal fishers' rights, illegal fishing, climate change, and sustainable finance.
Indonesia's Southeast Sulawesi Governor signs groundbreaking Managed Access with Reserves regulation
In late 2019, following consultation with Rare Indonesia, the Southeast Sulawesi (SES) Governor signed into effect a groundbreaking provincial regulation on Managed Access with Reserves (MA+R). This comprehensive regulation provides a strong and clear legal basis for implementing Rare's approach in the province's coastal waters while also outlining the provincial government's responsibility to improve the capacity of local management groups to implement MA+R. Following the signing, the SES Marine and Fishery Office drafted the 'Governor Decree,' which proposes establishing the MA+R Working Team to review and provide recommendations to the Governor on proposals submitted by local, small-scale fisher groups to establish MA+R in their area. The Marine and Fishery Office, in close coordination with Rare, is preparing a workshop in early 2020 to disseminate details of the Governor's regulation. Demand for this approach is also growing. The North Sulawesi province MA+R Working Group Chair directed the Bureau for Law's Head official to develop a legal basis similar to that of SES for MA+R implementation in his province.
Indonesia's West Papua Governor signs local regulation for marine spatial planning
(adapted from the USAID Sustainable Ecosystems Advanced (SEA) Project News Brief January 2020)
West Papua Governor Dominggus Mandacan has signed a local regulation containing his province's marine spatial plan (RZWP-3-K). The just-signed West Papua RZWP-3-K specifically provides for securing and protecting more than 39% of provincial waters from the shoreline up to 12 nautical miles offshore, comprising areas of high marine biodiversity and biological significance for valuable species and fishery resources. The plan also allocates approximately 107,000 ha to be administered under local customary law (Masyarakat Hukum Adat), thus enabling local communities to manage and use their resources for local benefits. This outcome is a major target for USAID SEA (Sustainable Ecosystems Advanced) Project, which aims to protect marine biodiversity and provide incentives for local stakeholders to manage their marine resources under customary law.
Launching a state-wide fisheries campaign in the Pacific Islands
Rare and its partners in the Federated States of Micronesia, the Micronesia Conservation Trust and the Conservation Society of Pohnpei, have come together to implement a state-wide Pride campaign, the Ahi Mour Ahi Pwukoah campaign (Our reef/life, our responsibility), working together to align goals and share resources. MCT will support policy work to determine pathways to legalizing managed access, while CSP will build off its long experience and relationships with the communities in Pohnpei. Together, the partners developed a logo and slogan that communicates community cooperation towards keeping fisheries sustainable for the people who depend on them and introduced them in an island-wide parade to mark the start of the new year.
Let the Crabs Mate: Brazil's subnational crab fishing campaign takes off in Pará
The first meeting of Pará State's Fish Forever Integrated Working Group kicked off the state's subnational behavior adoption campaign to "Respect" crab closed season (January-March). Let the Crabs Mate aims to inform and engage fishers and traders in Pará's 12 RESEX in observing the crab's closed season.
---
Fish Forever in the News
TedXCambridge Salon: Watch Erik Thulin, Behavioral Science Lead with Rare's Center for Behavior & Environment (BE.Center), tackle the age-old Tragedy of the Commons—where individual interests come up against the common good—and offer a three-step process to get people to act cooperatively for their benefit, as well as nature's. Hint: Fish Forever features! Learn more with the Theory of Cooperative Behavior Adoption Guide.
watch video
NPR: The plight of the old-fashioned fisherman on a changing ocean: Read the story in which a local Colombian fisher highlights three major challenges he and other small-scale fishers face: industrial fleets, climate change, and navigating marine protected areas. The story speaks to the need for approaches to marine conservation that promote sustainable use—which is core to Fish Forever's approach.
read story
---
The Science of Fish Forever
Catalyzing sustainable fisheries management through behavior change interventions (in press)
McDonald, G.; Wilson, M.; Verissimo, D.; Twohey, R.; Clemence, M.; Apistar, D.; Box, S.; Butler, P.; Cadiz, F.; Campbell, S.; Cox, C.; Effron, M.; Gaines, S.; Jakub, R.; Mancao, R.; Rojas, P.; Tirona, R.; Vianna, G. (2020) Catalyzing sustainable fisheries management through behavior change interventions. Conservation Biology…. In press
This study used Fish Forever data from phase I of the program to assess the impact of establishing  TURF-reserves (community-based territorial use rights for fishing coupled with no-take marine reserves – now called Managed Access with Reserves) delivered through social marketing and behavior change campaigns across 41 sites in Brazil, Indonesia, and the Philippines. The authors found evidence that local communities were developing new social norms and fishing more sustainably, even before long-term ecological and socio-economic benefits of fisheries management were measurable.
Fishing restrictions and remoteness deliver conservation outcomes for Indonesia's coral reef fisheries (Feb 2020)
Campbell, S. J., Darling, E.S., Pardede, S., Ahmadia, G., Mangubhai, S., Amkieltiela, Estradivari, Marie, E. (2020). Fishing restrictions and remoteness deliver conservation outcomes for Indonesia's coral reef fisheries. Conservation Letters, e12698
This study evaluated coral reefs across the Indonesian archipelago and revealed a ~17,000 kg/ha range of fish biomass. Planktivore fishes dominated the food web, suggesting a substantial pelagic influence. Gear-restrictions and no-take areas had equivalent fish biomass, but biomass was higher in isolated remote reefs. The authors suggest that for no-take closures to elevate fisheries recovery above gear-based management, the benefits to communities must be equitable.
Functional traits illuminate the selective impacts of different fishing gears on coral reefs (Nov 2019)
Mbaru, E.K., Graham, N.A., McClanahan, T.R. and Cinner, J.E., (2020). Functional traits illuminate the selective impacts of different fishing gears on coral reefs. Journal of Applied Ecology, 57(2): 241-252.
This study examined whether artisanal fishing gears selectively targeted fishes with unique traits (diet, body size, schooling behavior, etc.) in coral reefs along the Kenya coast. The authors found that all fishing gears targeted a wide diversity of traits, although 50% of the catch by each gear was from few unique combinations of traits. These results imply that fishing gear bans may alleviate pressure on commonly targeted unique combinations of traits.
Human exploitation shapes productivity–biomass relationships on coral reefs (Dec 2019)
Morais, R.A., Connolly, S.R. and Bellwood, D.R., (2019). Human exploitation shapes productivity–biomass relationships on coral reefs. Global Change Biology.
This study integrated empirical data analysis and a modeling approach to assess the effects of exploitation on the relationship between reef fish biomass and productivity. The authors showed that a size-selective exploitation decreases fish biomass but increases production per unit of biomass. This result helps to explain why some biomass-depleted fish assemblages still provide ecosystem goods under exploitation.
Social ties explain catch portfolios of small‐scale fishers in the Caribbean (Jan 2020)
Alexander, S.M., Staniczenko, P.P. and Bodin, Ö., (2020). Social ties explain catch portfolios of small‐scale fishers in the Caribbean. Fish and Fisheries, 21(1), pp.120-131.
This study tested how social influence can explain catch portfolios (i.e., diversity of species fishers target) at a small-scale fishery in Jamaica. The analysis found that a peer-to-peer information-sharing social network, driven by older fishers' experience and information brokers, is crucial to explain catch patterns. This suggest that social networks can influence the management of small-scale fisheries with minimal legal and institutional support.
Perceptions and responses of Pacific Island fishers to changing coral reefs (Jan 2020)
Rassweiler, A., Lauer, M., Lester, S.E., Holbrook, S.J., Schmitt, R.J., Moussa, R.M., Munsterman, K.S., Lenihan, H.S., Brooks, A.J., Wencélius, J. and Claudet, J., (2020). Perceptions and responses of Pacific Island fishers to changing coral reefs. Ambio, 49(1), pp.130-143.
This study combined underwater surveys, catch data, and household surveys to evaluate how reef fishes and fishers responded to sudden coral loss in Moorea, French Polynesia. Results show that only 20% of households changed what fishes they used to caught or ate, even though the researchers observed substantial changes underwater and in the catch composition after disturbance. The results highlight that resource users and scientists may perceive the magnitude of changes very differently, which have important implications for fisheries management.
Effective fisheries management instrumental in improving fish stock status (Jan 2020)
Hilborn, R., Amoroso, R.O., Anderson, C.M., Baum, J.K., Branch, T.A., Costello, C., de Moor, C.L., Faraj, A., Hively, D., Jensen, O.P. and Kurota, H., (2020). Effective fisheries management instrumental in improving fish stock status. Proceedings of the National Academy of Sciences. 117 (4) 2218-2224.
This study compiled estimates of fish stocks' status from roughly half of the world's fish catch. The article found that, on average, fish stocks are increasing where they are assessed. The authors also demonstrated that where fisheries are intensively managed, the stocks are above target levels or recovering. These results imply that if small-scale fisheries are assessed or intensively managed, they may do much better than where these fisheries are not managed.
Gender differences in poaching attitudes: Insights from communities in Mozambique, South Africa, and Zimbabwe living near the great Limpopo (Nov 2019)
Sundström, A., Linell, A., Ntuli, H., Sjöstedt, M. and Gore, M.L., (2019). Gender differences in poaching attitudes: Insights from communities in Mozambique, South Africa, and Zimbabwe living near the great Limpopo. Conservation Letters, p.e12686.
This study conducted a large-scale survey in communities within South Africa's protected areas to assess gender differences in poaching attitudes. The study found that women's attitudes towards rule compliance was not generally different from men's, although some differences came to light depending on poverty levels. This result underscores the need to understand the causes behind gender differences in conservation attitudes, which we may observe in small-scale fisheries.
A qualitative comparative analysis of women's agency and adaptive capacity in climate change hotspots in Asia and Africa (Dec 2019)
Rao, N., Mishra, A., Prakash, A., Singh, C., Qaisrani, A., Poonacha, P., Vincent, K. and Bedelian, C., (2019). A qualitative comparative analysis of women's agency and adaptive capacity in climate change hotspots in Asia and Africa. Nature Climate Change, 9(12), pp.964-971.
This paper analyzed how women's abilities to make meaningful choices, and strategic decisions (i.e., women's agency) contribute to adaptation responses across three climate-hotspots locations in Africa and Asia. The study found that environmental stress affects women's agency independently of supportive household structures and social norms or exiting legal entitlements. This result may also be relevant in vulnerable coastal communities that rely on small-scale fisheries.
Fish Forever: A solution to coastal overfishing – delivered by empowering communities through clear rights, strong governance, local leadership, and participatory management – that protects essential fish habitat and regulates fishing activities to replenish and sustain coastal fisheries.
Goal: To deliver replicable and scalable community rights-based management across ten countries, using a global network of 500 local leaders to secure livelihoods for one million fishers, alleviate poverty, ensure food supply, and protect coastal ecosystems from chronic threats.
Fish Forever Countries: Philippines, Indonesia, Mozambique, Brazil, Honduras, Guatemala, and the Pacific Island countries of Palau and the Federated States of Micronesia.
Fish Forever is possible thanks to the support of many, including the following current donors: