Meet Rosmiati – Female Fish Buyer, Small-Business Owner, and OurFish User
Mrs. Rosmiati, a.k.a. Mama Aldi, is a 35-year old entrepreneur from Liya village on Wakatobi National Park's Wangi-Wangi Island. She sells the fish her husband catches to neighboring villages. But Mama Aldi and her husband have grown concerned about their finances as their fish catch has decreased over the years. "In 2009, there used be a lot of catches—20 buckets in one boat. But these days, only 4-5 buckets per boat," La Ode Mbilu (a.k.a. Papa Aldi, her husband), explains.
To make ends meet, Mama Aldi also sells homemade goods (bread, pisang ijo dessert, and sarongs) from her home, and sells clothes she bought in the big city, Makassar, from the stall she rents at the central market. Like most women in Indonesia, she also raises her children and manages the household finances. Papa Aldi also works at the local drinking water company in addition to fishing.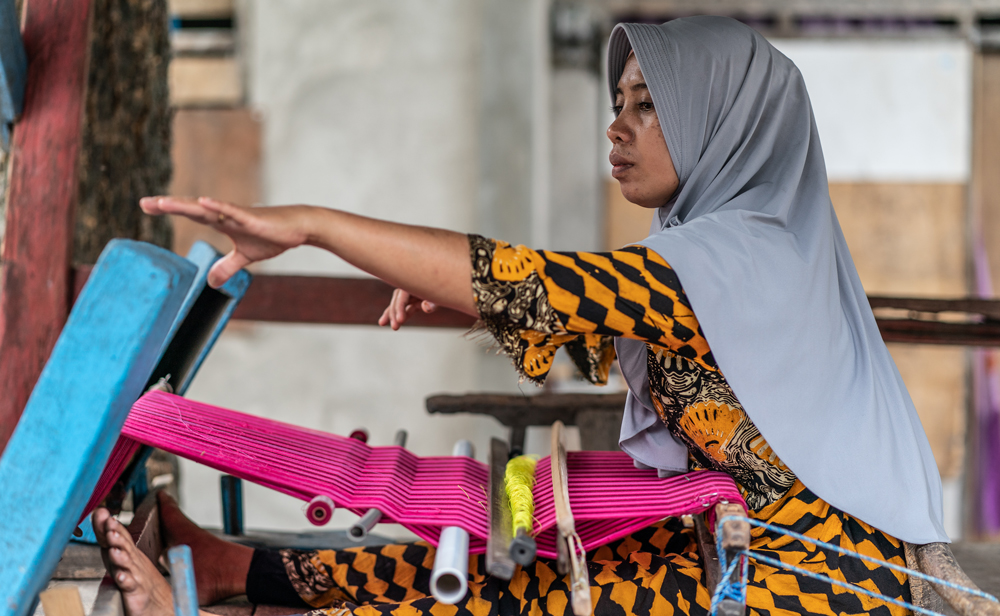 For Mama Aldi, having multiple incomes helps her family hedge against the uncertainty of fishing. Further, when Fish Forever offered her the opportunity in 2019 to track the catch and income from fishing with the OurFish app, she jumped at the chance to better understand her finances. She believes that OurFish has already made a significant impact on her personal and professional life. "The app allows me to now understand our return on our investment and manage [Papa Aldi's] finances. Understanding our finances has allowed me to save money at the local bank and put money aside for school fees and daily needs."
Mama Aldi also participates in the 'gender committee' set up by Liya's fisheries management body to encourage women to participate more actively in making money. "I want to get more women in the community involved in post-harvest activities, such as making fish crackers, so that people can have more jobs." As a traditional Butonese weaver, entrepreneur and original OurFish user, she hopes she will inspire other women to take advantage of opportunities to become more self-sufficient.
Every fisherman's wife used to be like me. They did not know anything [about their husband's catch and their household income]. I became interested in the OurFish app because I could find out my husband's income. Now I know how much money he makes every week and month, and I can manage his finances."
---
Meet Hartono – Bajo Fisher, Community Leader, and OurFish User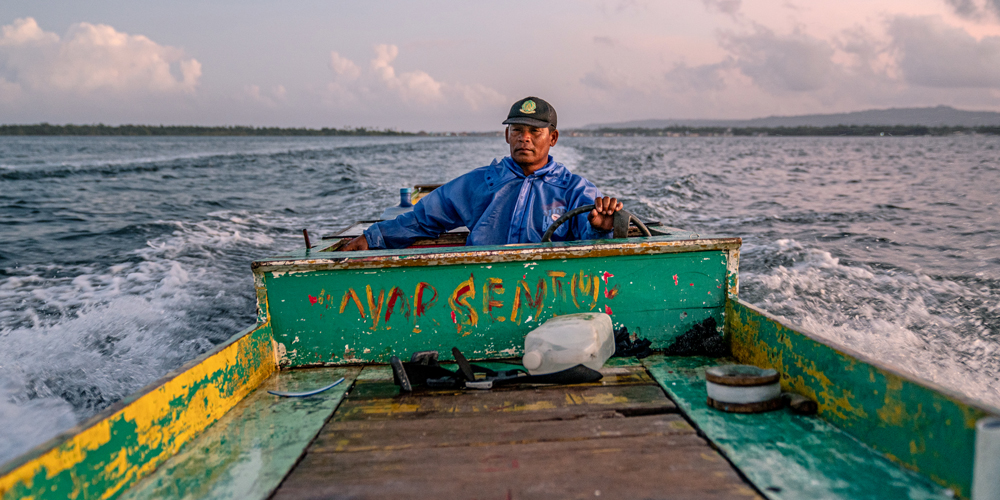 Hartono is a Bajo Fisher from Mola village, a cluster of five villages connected by narrow brick roads in Wakatobi's Wangi-Wangi Island. Fish Forever launched in Mola village  in 2014. This inspired Hartono to start a fisher's group in Mola because he and other fishers were growing concerned about declining fish catch and worsening conditions of habitats like coral reefs. "We wanted to develop our fisheries. Before 2004, there were plenty of fish here, but then local communities started using compressor fishing [using cyanide to stun fish], and our fish catch started to go down. Cyanide can damage coral reefs as big as a football field."
The fisher's group partners with Wakatobi National Park and the Indonesian government; the former introduced Hartono and his community to Rare. According to Hartono, "Since 2014, there has been a change in people's behavior and attitude, especially with regards to illegal fishing. Although the problem still exists, the fishers are more concerned and aware about it now."
The fisher's group, made up of 46 fishers and seven women who support fishing logistics, is proud of their integrated approach to solving local problems. Hartono is one of the first OurFish app users in his village, and also one of the province's first. "We [use OurFish] and support law enforcement, especially in surveilling, monitoring, and combatting illegal fishing. It is our duty to protect the area."
We are committed to Fish Forever, because the program involves local people and fishers, and helps us small-scale fishers understand how to manage our fishing areas and fish stocks. With fish declining, we believe the program can help us solve this problem."
About the Bajo Fishing Community
Bajo fishers like Hartono used to be known as sea gypsies, but life for these fishers has changed. They have traded a nomadic lifestyle for a permanent community in Wakatobi, living on land that was 'reclaimed' in 1956. Among the Bajo, men fish and women sell the fish. Most fishers are engaged in high-value capture fisheries, mainly grouper. They fish from 5 a.m. until noon every day, using mostly hook and line. Some people practice aquaculture, placing fish cages below their houses. A kilo of fresh grouper fetches 30,000 rupiah (~$2.20) in the local market, while live groupers sell for 150,000 rupiah per kilo (~$11) because they are headed to the export market.