Transforming Smallholder Agriculture
Adopting New Technology, Mindsets, and Practices to Transform Colombia's Agricultural Sector
---
The Issue
The traditional extractive approach to agriculture and livestock management is not sustainable. Smallholder farmers tend to rely on entrenched farming and ranching practices to manage their land. Faced with climate change and other challenges, they typically resort to quick, short-term solutions, like overusing chemical fertilizers that degrade soils and water, expand the agricultural frontier, and generate high carbon emissions. These practices undermine ecological integrity and agricultural productivity and damage farmers' livelihoods and their communities' prosperity in the long term.
In Colombia, the agriculture, forestry, and other land use (AFOLU) sector generates 62% of greenhouse gas emissions (GHG);  agriculture and cattle ranching are responsible for 26% of this. For Colombia to deliver on its NDC unconditional economy-wide reduction target of 20% by 2030, the country needs massive shifts in the AFOLU sector.
The Opportunity
Helping Colombia's smallholder farmers shift to more regenerative and sustainable land-use practices holds tremendous promise for tackling behavioral challenges like climate change. Agricultural land use and practices are at least 30% of the solution to the climate crisis, given that the land sector holds the potential for sequestering the world's carbon.
Establishing long-term emission reduction pathways in land use requires consistent and continuous implementation of climate-smart practices that deliver mitigation dividends while supporting resilient agricultural productivity. Better land-use methods deliver on climate goals and positively impact biodiversity, water security, and livelihoods.
Stay Connected
Sign me up for occasional emails to learn more about Rare's work and how I can support its mission. I know I can unsubscribe at any time.
The Solution: Changing Mindsets and Norms through Behavior and Technology
With support from UK Pact, Rare and The Nature Conservancy (TNC) are accelerating smallholder farmers' transition to climate-smart agricultural practices. Using a unique approach that combines behavioral and social science with technology, we will align agricultural and ecosystem productivity, improve the livelihoods of over 4,000 smallholder farming families, and protect and preserve our shared natural resources. Sustained, continuous implementation of climate-smart practices will contribute to NDC AFOLU targets prioritized in Colombia's Nationally Determined Contribution (NDC).
The cross-cutting practices this project promotes have significant GHG emissions reduction potential: fixing carbon in soil/tree biomass, reducing methane emissions through improved animal fodder, and reducing nitrous oxide emissions given less demand for nitrogen-based fertilizers—while all are together improving producers' net incomes.
We will implement the project in ten municipalities of the Ariari river watershed in Colombia's Meta department: Cubarral, El Castillo, El Dorado, Granada, Guamal, Lejanías, Mesetas, San Juan de Arama, San Luis de Cubarral, and Vista Hermosa.
---
Meta has the second-highest number of total GHG emissions out of Colombia's 32 departments.
85.6% of Meta's GHG emissions are AFOLU related.
Meta has the 2nd highest deforestation rates in the country.
The AFOLU sector generates over 60% of GHG emissions
28% of soils are overused, 35% suffer erosion, and 68% have poor organic matter
Colombia is home to nearly 10% of the planet's biodiversity
7 out of every 10 farmers are small-scale family farmers
69.5% of farms have less than 5 hectares
70% of the products that reach the Colombian table come from family farming
How We Do It
The project will contribute to enhanced and sustained action on climate change in three critical ways: 1) generating a cost-effective model for AFOLU-related emissions reductions that the sector can readily replicate; 2) developing a systemic model that tackles emissions from both agriculture and ranching; and 3) installing capacities and good practices in Orinoquia, a high emitting region with rapid agricultural expansion.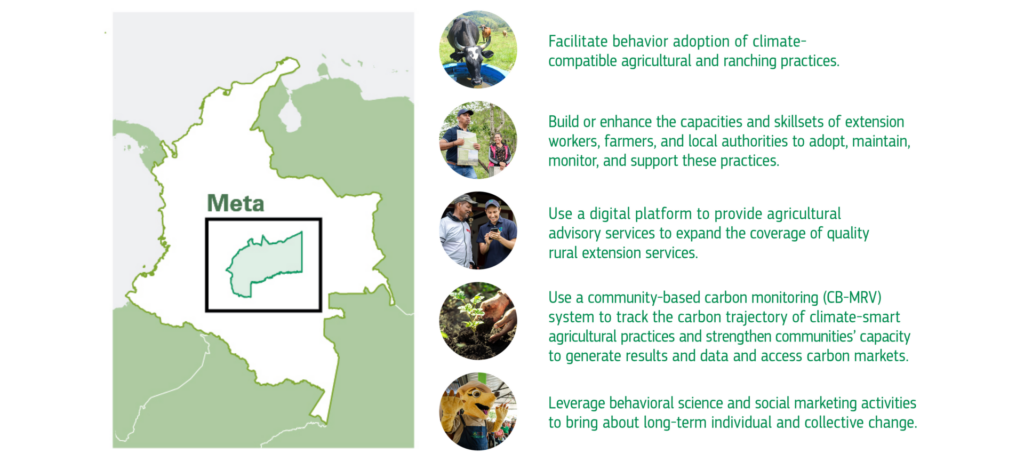 ---
Supported by: