Farming for Biodiversity Matters
Growing the food to feed our planet takes more than 570 million farms worldwide, most of which are small—operating on less than two hectares—and family-run. In developing countries, small-scale agriculture is a mainstay of employment and subsistence for men and women, and it supplies most of the food consumed in urban areas.
Biodiversity is essential for agriculture and serves as its base. However, unsustainable agricultural practices remain one of the greatest threats to healthy ecosystems and biodiversity. With the world population expected to reach nine billion by 2050 and as climate change further threatens livelihoods, we need to identify more sustainable agricultural practices that support both farmers and the environment upon which we all depend.
Agriculture drives 80% of deforestation
Land use contributes to 20-25% of climate change
Smallholder farmers provide more than 80% of food consumed in developing countries
The good news is many solutions already exist at the community level. At the global level, the Convention on Biodiversity's Aichi targets creates a path towards biodiversity protection and sustainable use by 2020. Consumers are also becoming increasingly aware of how their choices affect the environment and the people who depend on it.
Farming for Biodiversity—the 2017 Solution Search theme—surfaces what works for farmers at the community level and takes these bright spots to scale. It is designed to identify, celebrate and help replicate community-driven solutions from around the world that align biodiversity preservation with agricultural production. Our vision is to make these community-led initiatives shine and reach thousands of people worldwide. This is how we do it.

In 2017, we joined PANORAMA – Solutions for a Healthy Planet to showcase some of the best ways to connect agriculture with biodiversity. Through our global crowdsourcing effort, we have surfaced a total of 338 solutions—inspired by communities around the world—that show us how to do this.
---
Explore the 10 brightest ideas, selected by our jury:
National Disaster Risk Reduction Center (NDRC)
Nepal
Pollution in the Banganga River Basin was contributing to biodiversity loss, land degradation and other environmental challenges…
Sustainable Income Generating Investment Group (SINGI)
Kenya
A pilot project that is bringing together farmers, NGOs and government agencies is reviving interest in nutritious African Leafy Vegetables…
---
Winning Solutions
A global jury of more than 30 agriculture and biodiversity experts from across disciplines selected winning solutions in six categories. These are our local champions who were celebrated for their successes at the annual climate change conference in Bonn (COP23).
Our scaling campaigns, based on behavioral insights and the latest knowledge in sustainable agriculture, occur in nine countries: Benin, Bolivia, Ecuador, Ethiopia, Kenya, Mexico, Nepal, Peru, and Vietnam.
People reached worldwide
based on media coverage (BBC, Thomson Reuters, Deutsche Welle, NPR, and others)
Local leaders trained
in behavioral insights, technical knowledge, and organic agriculture trends
Farmers and rural communities engaged
by local leaders in 9 countries running 36 campaigns that promote proven agriculture solutions
Rare report on 300 community-based farming solutions provides pathway to protecting biodiversity globally
In 2017, Rare's Solution Search competition unearthed 338 community-based solutions to help farmers and other agricultural practitioners adopt ecologically-friendly practices that protect biodiversity. This report responds to the accelerating loss of biodiversity globally with proven and promising solutions, while also identifying the common success factors that allow for replication, and a blueprint for scaling the adoption of sustainable behaviors needed to protect biodiversity globally.
Solution Search: Farming for Biodiversity is driven by a global alliance of organizations aiming for more sustainable land use and agriculture.
Rare teamed up with IFOAM – Organics International as Implementing Partners to combine our expertise in behavior design and social marketing with IFOAM's role as a global leader in in organic farming.

Solution Search: Farming for Biodiversity contest partners included the following: Blue Solutions, the Convention on Biological Diversity, EcoAgriculture Partners, Global Island Partnership, IFOAM – Organics International, Panorama, Patagonia, Save the Children, and Young Professionals for Agricultural Development (YPARD). The initiative is supported by the German Federal Ministry for the Environment, Nature Conservation, and Nuclear Safety.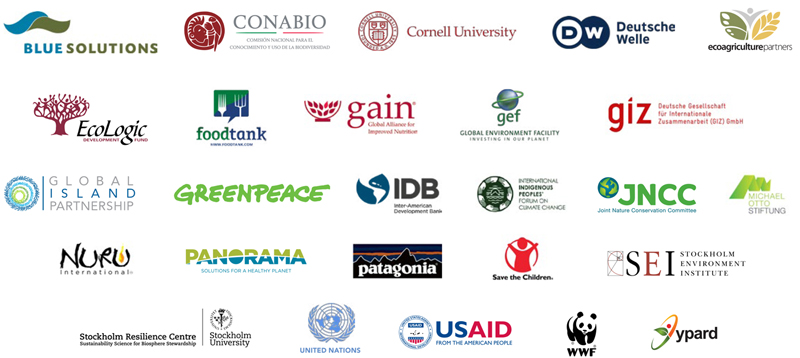 Connect with the Farming for Biodiversity team
Project Manager: Ann-Kathrin Neureuther
Cotheniusstrasse 12
10407 Berlin, Germany
Tel: +49 30 60606860
akneureuther@rare.org
Follow Our Journey
Cooking With Pride
October 15, 2019
In Mexico, Indigenous recipes are preserving tradition, native seeds and sense of place
Green gold — Turning the invasive water hyacinth into agricultural wealth
May 29, 2019
Only five minutes into our journey on the So River, the problem reveals itself.
5 Tricks to make biodiversity stick
May 21, 2019
Biodiversity is a tricky beast to capture: It always seems either too small or too big to communicate.
The Courage to Change: Three Female Leaders Envision a Better Life
January 7, 2019
Three woman leaders are leading the change in their communities in Kenya, Nepal, and Ecuador.
Stories From the Field: A Tale of Two Billboards
November, 29, 2018
Stories From the Field features experiences from conservation and behavior change practitioners.
Ethiopia's Apis Agribusiness and Nepal's National Disaster Risk Reduction Center Take Home Top Solution Search Prizes
November 22, 2017
Amid powerful calls to move forward with Paris climate pledges during COP23, Rare spotlights and celebrates creative local innovators in climate-friendly agriculture.
Rare and GIZ team up to showcase selected agriculture & biodiversity solutions on PANORAMA – Solutions for a Healthy Planet
November 17, 2017
The initiative "PANORAMA – Solutions for a Healthy Planet" presented its vision and function in a side event at COP23 in Bonn, Germany with more than 90 attendees and launched a new thematic community on "Agriculture and Biodiversity."
On to Bonn: Solution Search Announces Top 10 Farming for Biodiversity Finalists
June 9, 2017
June 11 marks the International Day of Agriculture, a day to take to recognize the importance of thriving and environmentally responsible farming.
International Biodiversity Day: 338 reasons to celebrate
May 19, 2017
This Monday, on 22 May 2017, marks the International Day of Biological Diversity. This could be an occasion for painting a bleak picture: The current rate of global diversity loss is estimated to be a 1000 times higher than the extinction that would occur naturally.
The Search is On: Solution Search Contest Seeks Entrants with Biodiversity-Friendly Farming Practices
This year, Solution Search is on the hunt for the world's most promising approaches in biodiversity-friendly farming practices. Solution Search: Farming for Biodiversity is now open for entries.
Are You Rare?
Take Action Today