Rare's Lands for Life program takes a people-centered approach to climate-smart agriculture
September 25, 2020
For over 40 years, Don José Valencia has managed his farm the only way he knows how—with chemicals, chicken manure, and a whole lot of grit.
His family and farm have survived decades of armed conflict.  Like most smallholder farming families in and around El Moral, a small, high-altitude Andean town in Colombia's Valle del Cauca, José has farmed the same way for generations: He applies chemical fertilizers to his onions, corn, and potatoes, throws away plant residue, and trusts the advice of agrochemical company advisors connected with the municipal agriculture departments on when to plant and fertilize his crops.
But now, despite a formal end to the conflict, changes to the land, production, and their bottom line have José and others still worried.
"Ten years ago, we could get multiple production cycles out of the same bulbs and amount of fertilizer than we do now," he laments, surveying his land.
Climate change is changing the world for farmers like José. Unpredictable and extreme weather, increased water scarcity or flooding, and more pests and diseases all threaten the world's smallholder farmers and rural communities, including here in Valle del Cauca.
Meanwhile, farmers' excessive use of agrochemicals and water, and their encroachment into environmentally strategic areas, among other unsustainable practices, compound the climate problem. They also jeopardize Colombia's rich diversity of ecosystems and biodiversity and the livelihoods of rural communities.
It's a multi-faceted problem. But at its core, it's a human problem. While more sustainable practices are known, empowering farmers with the capacity to change is elusive. On average, fewer than two in 10 Colombia's farmers receive technical assistance.
"Colombia's traditional agricultural extension services have not empowered farmers to understand their land, the trends that affect it, and how to maintain soil health," said Paula Caballero, Managing Director of Rare's Lands for Life program. Using its people-centered approach, rooted in behavioral and social science, the program seeks to help farmers and rural communities adopt more sustainable and climate-compatible agricultural practices. "We must support farmers in understanding that by protecting the ecosystems that underpin their farms, they are protecting their livelihoods."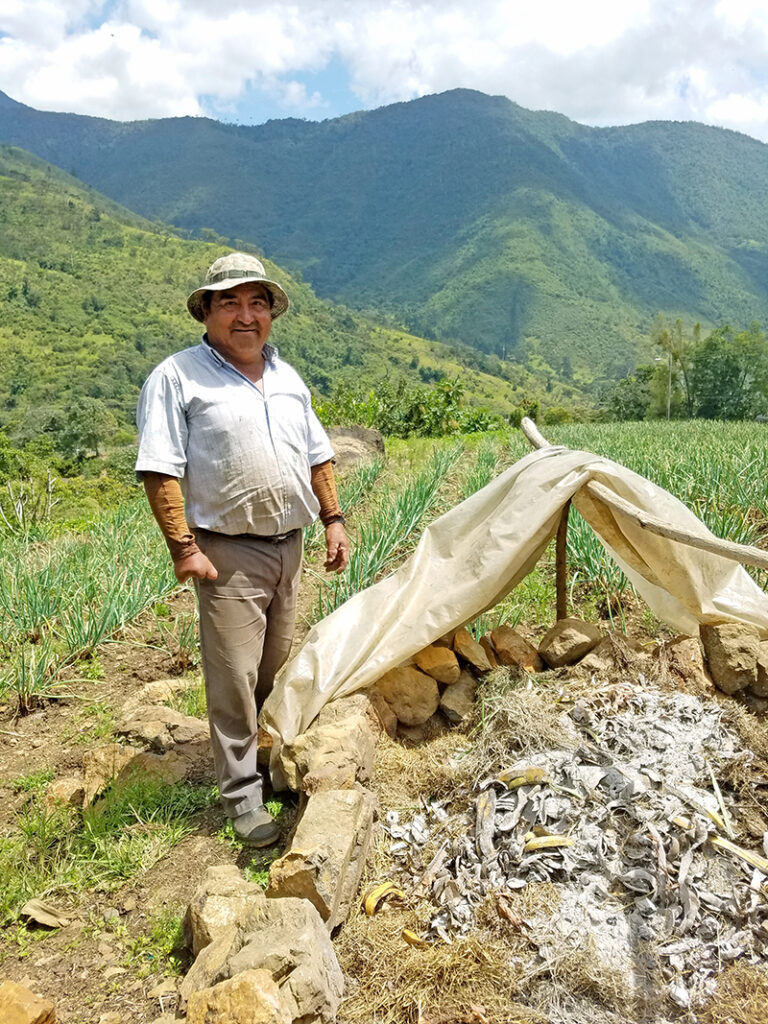 Through Lands for Life, Rare works with Colombia's smallholder farmers and extension agents to integrate better agricultural practices,  such as composting, cover cropping and reducing water use. The program works with partners to create a new model for agricultural extension that empowers farmers with digital agriculture: Extension agents text farmers to deliver remote, customized, and timely technical assistance, information, and services to increase their productivity, profitability, and environmental sustainability.
By combining behavior change, extension work and timely and cheap mobile-based platforms, Rare is changing the way farmers manage their land and the way extension service agents engage with farmers. And because the approach is behavior-focused and cost-effective, it's designed to deliver change that lasts.
"The single most significant barrier to adopting more sustainable agricultural practices around the world is insufficient training and information," said Caballero. "And when farmers do change, it's often short-lived, tied to a given project or intervention—what we call the tragedy of the pilot. We need a people-centered solution that can break through years of distrust, shift mindsets, and empower farmers to be informed, agile decision-makers: true agents of sustained change."
The International Center for Tropical Research, or CIAT, has found low adoption rates of known, simple, and cost-effective practices that increase smallholder farming communities' resilience to climate impacts.
But, as Kevin Green, Senior Director of the Center for Behavior & the Environment at Rare, explains, behavioral problems have behavioral solutions: "It means supplying more than just information. A truly people-centered approach accounts for a farmer's motivations and aspirations. It empowers them to be a part of the solution – a decision-maker with agency – which is key to lasting change."
José believes that his fellow farmers aren't making the necessary connections among the health of the soil, the plants, and the people—and that this can and needs to change. "Farmers in the community don't talk or ask each other questions [about these changes]. But you can observe the connection between the soil and the plant. Everyone in the community needs to start doing these practices—we all need to accept that more people doing these practices is better for everyone."