Palau is an archipelago of over 300 islands in the western Pacific Ocean's Micronesia region. It's also a biodiversity hotspot that hosts an incredible diversity of nature, cultures, and livelihood. Palauans rely heavily on their islands' natural resources, making community-based small-scale fisheries a crucial part of the country's economy, food security, and cultural traditions.
Many Palauans believe in coexistence with nature, a value passed down from generations that they continue to instill in their children. But outside factors like climate change and overfishing threaten their way of life, endangering the fragile balance between a healthy marine ecosystem and a thriving economy.
As a Small Island Developing State bearing the brunt of climate change, Palau needs an effective coastal fisheries management plan to support decision-making and coastal resilience. Palau's newly launched fisher registration system is critical to achieving this vision.  
The

n

eed

to

c

entralize

Palau's

f

isheries

d

ata-

c

ollection

 
In recent years, Palau has become known for its conservation success stories thanks to implementing its Protected Areas Network Act and the world's first shark sanctuary. But just thirty years ago, the island nation-state faced a challenging problem that threatened the health of its coastal fisheries.  
As a popular island destination for travelers, Palau suffered from tourists exporting its reef fish. Referred locally as the "cooler trade," visitors individually fished hundreds of pounds of reef fish like groupers and parrot fish, culminating in the removal and exportation of tons of critical species every year. Reef fish populations plummeted to dangerously low levels, leaving local communities concerned about their livelihoods and the fishing economy. 
In 2012, Congress banned exporting reef fish and shifted tourism to pelagic fishing. Following the transition period, the legislative decision went into effect in 2020 and the Palau National Marine Sanctuary closed 80% of its Exclusive Economic Zone, leaving the remaining 20% for domestic fishing to support local livelihoods. The island nation also removed all foreign fishing companies and pushed for greater protection of its coastal fishing reefs.  
Local communities welcomed the new executive orders as a means of economic security, but soon the government encountered a complication. The lack of accurate fisheries data presented a barrier to coastal resources management. During the high points of the "cooler trade," fisheries officers at the airport inspected outgoing catch and collected key data for the Bureau of Fisheries. With the cooler trade eliminated and airport fisheries officers no longer sourcing data, Palau needed a new system for collecting and managing consistent catch data for the government.  
In early 2019, the Bureau of Fisheries began developing a global strategy to obtain high-quality data to manage coastal fisheries. They partnered with Rare's Fish Forever program, a global leader in reducing coastal overfishing and revitalizing coastal fisheries for the 500 million people who depend on them. The program uses a replicable model rooted in behavioral science to promote responsible fishing behavior among local fishers. The two organizations implemented the Fishing for Climate Resilience project in Palau to enhance the country's coastal fisheries management program. Part of the strategy included creating and rolling out a robust national fisher registration system to help collect critical data related to fishers, gear, and fish stocks.   
Developing a

n

ational

f

isher

r

egistration

s

ystem

for Palau
On March 3rd, 2023, Rare and the Bureau of Fisheries handed over the new national fisher registration system to the Republic of Palau. This first-of-its-kind system seeks to formally register and license Palau's small-scale fishers to support the country's efforts to protect its coastal and artisanal fisheries. As part of the process, fishers will enlist in a registry that enables the government and fisheries management groups to grant fishing rights, monitor fishing activity, and regulate entry into community-based fisheries.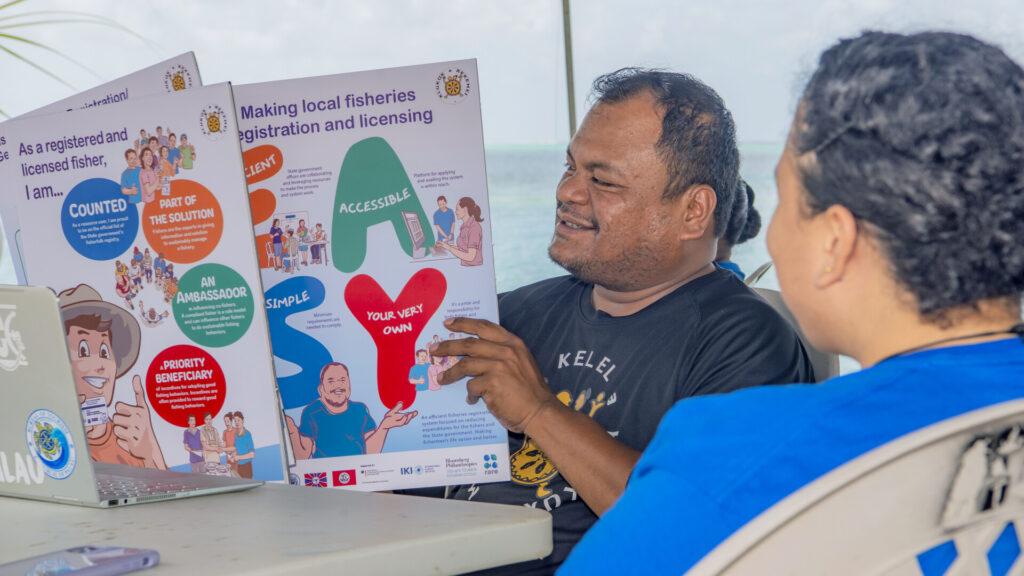 The new fisher registration system coincides with Rare's managed-access with reserves approach, a management strategy that gives exclusive privileges to registered fishers compliant with national fishing regulations. Rare will also register aquaculture farmers to facilitate their inclusion in the system, incentivize benefits like protection from poachers, and ensure accurate inventory of their products. 
"Through Fish Forever, we are committed to creating more sustainable fisheries management to support this network of artisanal fishers and help them manage their fishing grounds," says Kevin Mesebeluu, Fish Forever Palau's Implementing Manager. "And we must do it now—before the fish disappear forever." 
Fisher registration as a target behavior

—

why it works
Rare's Fish Forever program uses behavioral insights to inspire fishing communities to adopt more responsible behaviors related to coastal fishing. Rare and local implementing partners on the ground target the attitudes and behaviors of key stakeholders to strengthen community co-management, build specific rights for communities to access local fisheries, and establish fully protected reserves to protect critical fish habitat. 
The Rare approach really is a ground-up approach where you empower the fishers, build their pride, and implement incentives to achieve sustainability," explains Kevin Mesebeluu.
The key factor of success for Palau's new fisher registration system relies on legitimizing an individual's identity as a fisher. Palauan fishers take great pride in their ability to support their families, fuel the economy, and fulfill their role as guardians of the ocean's resources. With the fisher registration system, they can now professionalize their career while gaining incentives like registering their fishing nets, clam traps, boats, and other gear in case of natural disasters.  
Fishers who support the program will help set a powerful social norm throughout Palau's 16 states—an expectation that fishers are responsible for contributing to community-led management of their coastal fisheries. 
Building community support for new social norms
Rare's next step in rolling out Palau's fisher registration system includes training government administrators on how to use the system and integrate it into their own internal processes. Targets include government administrators from all 16 states, with a special focus on the densely populated and tourist-heavy state of Koror. Palau's population is less than 20,000, but at the height of tourism, they receive over 160,000 visitors a year. By mandating tourists to apply for fishing permits in Koror and all other states, Palau will be able to manage fisheries inventory data better and prevent excessive pressure on the reefs like that experienced during the "cooler trade."  
"Here in Palau, there has been a lot of support for protecting pelagic fisheries and creating the Belau Offshore Fisheries Inc. (Palau's only domestic fishing company)," shared Joe Reklai, a local fisher and community leader. "But there's also a major gap in support for training, policies, and assistance to coastal artisanal fishers, most of them women. We need to highlight this need since we are the ones who rely most on vulnerable community fishing grounds."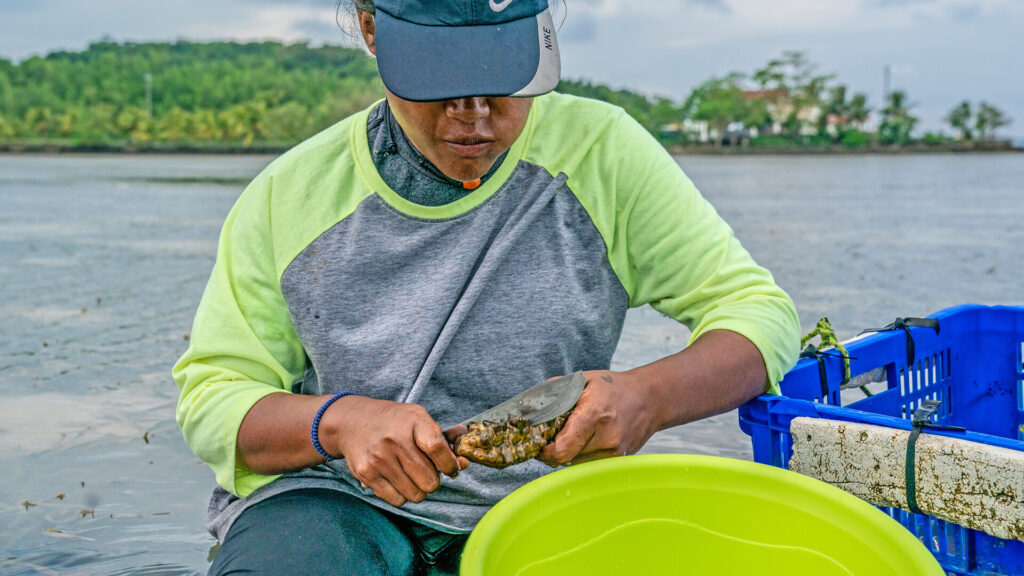 Rare plans to address this gap in support by targeting women fishing groups, many of whom lead the harvesting and sale of invertebrates like sea cucumbers and clams. Additional trainings will target highly productive artisanal fishermen who make up just 20% of the nation's fishers yet provide 80% of the total catch. The final training stage addresses buyers, processors, and sellers like grocery chains, high-traffic restaurants, and fish markets. Rare will educate them about the importance of purchasing products solely from licensed fishermen. 
"Once we train these three stakeholder groups, they will be our champions and advocates," declares Kevin Mesebeluu. "We will take them to radio shows and cultural events to share how fisher registration builds resilience for the people of Palau."