Guardian of the Sea
With help from a dancing parrotfish named Moymoy and an eagle-eyed crew of local fishery enforcement volunteers, Gina Barquilla takes on illegal fishing in Del Carmen
July 9, 2018
For Gina Barquilla, a tough day at the office could mean an ugly face-off with an illegal fisher or mangrove cutter. They're an inevitable occupational hazard: Gina is the environment and natural resources officer for the municipal government of Del Carmen, Philippines, and a deputized fish warden with "Bantay Dagat," ("Guardians of the Sea") the local fishery enforcement team. In the two years that Gina has served as fish warden, she and the team's efforts to crack down on illegal operations have earned them death threats, harassment, and even gunfire on their homes. When Gina once confiscated a judge's illegal mangrove timber, he punched her.
Despite the challenges, she keeps at her work. It's too important to give up, for both marine life and local livelihoods in Del Carmen. Gina works to protect Del Carmen's 100,000 plus acres of municipal waters, which are abundant in coral reefs, seagrass beds, and more than 12,000 acres of mangrove forest. Unsustainable fishing and illegal activities have been persistent problems affecting these ecosystems. Fishers have overfished and used destructive methods to extract resources, perpetuating the fishery's decline in the process. Illegal operations are particularly problematic in two of Del Carmen's most important areas, the San Fernandino and Caub marine sanctuaries. The mangrove-lined sanctuaries shelter rich pockets of rebounding fish populations, making them irresistible to those who aim to take what they shouldn't, in ways they shouldn't.
Whatever affects the fishery affects many of the families in Del Carmen. Fishing is a core source of income and food for its population, with about 1,900 fishing households living in a community of just under 20,000 people. In 2015, the Del Carmen municipal government sought to improve the community's use and management of its coastal waters, to ensure that its people could depend on their resources well into the future. Mayor Alfredo Coro II chose Gina, one of his staffers, to lead a Rare Pride campaign utilizing community behavior change to inspire the adoption of sustainable solutions. Since then, Gina has worked tirelessly to rally the community to reconnect with the ocean and defend it.
•   •   •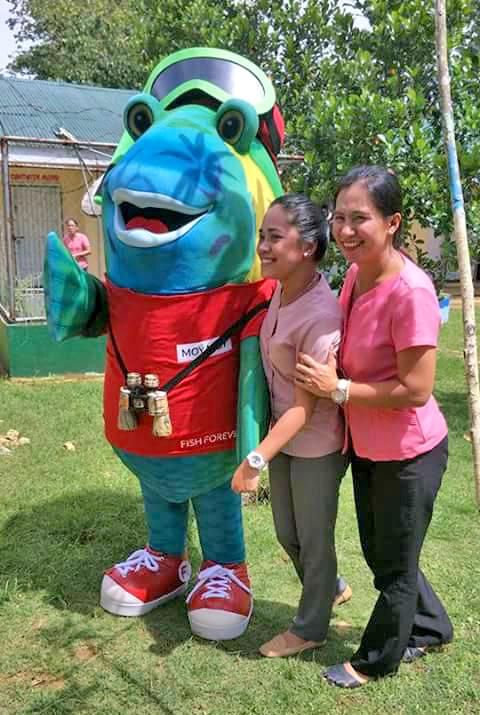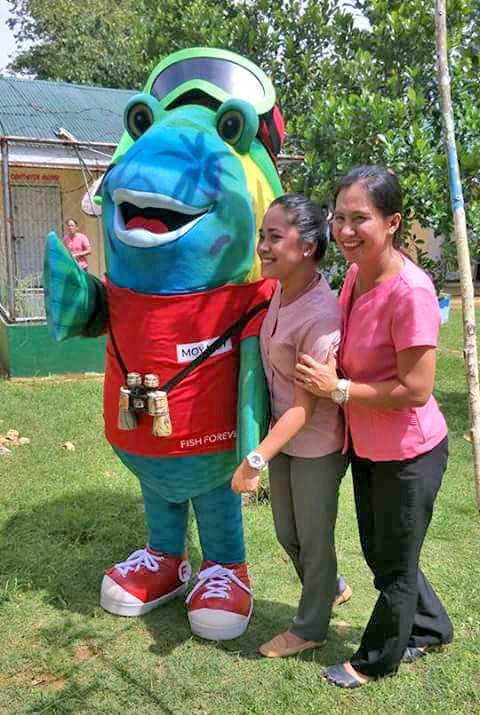 When Gina began her Pride campaign, she had to be ready for the hard road ahead. The campaign and its goal of sustainable fishing rested in large part on community engagement and enforcement — inspiring members of the community to see, think and act differently to protect the fishery. That meant helping fishers see the value of sanctuaries, even as their catch waned. It meant stemming participation in illegal fishing, even though it was the norm. And it meant fostering a vigilant community of fishers, even if it involved reporting people they knew for noncompliant behavior.
Gina's community engagement efforts included social marketing tools like billboards, a campaign jingle and an ocean animal mascot. The mascot was Moymoy, depicting the rare, bright turquoise and orange Bower's parrotfish in community events. Printed across the campaign billboards were lines like "Dali ug Tambong sa mga Miting. Pangutana, Maminaw ug Apil sa Solusyon." ("Let's attend meetings, ask questions, listen, and join the search for solutions.")
With these tools, the campaign embedded its conservation message — to appreciate and protect Del Carmen's unique, native marine resources — throughout the community. Gina and her team also hosted workshops to increase communication on fishing and its issues between local people and government.
The workshops allowed fishers to air their concerns about fishery misuse and livelihood obstacles like a lack of job benefits. During these workshops and other community events, fishers also learned about a sustainable fisheries management solution called TURF+Reserves, in which areas of "TURF" ("territorial user rights for fishers") work with no-take "reserves" (or sanctuaries in the Philippines) to promote both sustainable use and conservation. TURFs grant local fishers priority access, rather than leaving waters open to competition from fishers near and far. In turn, local fishers heed the rules of the reserves with which TURFs are paired. The concept is meant to motivate fishers to better protect their waters, so they can reap the eventual spillover benefits of reserves.
In Del Carmen, Gina's campaign built local buy-in for the TURF+Reserves approach and worked with the community to design and legally establish the solution per their needs. With the TURF+Reserves solution on the horizon, protecting marine sanctuaries and putting an end to destructive fishing behavior was more important than ever. A year into her campaign, Gina joined Bantay Dagat, or "Guardians of the Sea," to make additional progress on one of her core goals: increasing her and her community's participation in fishery law enforcement.
Gina was deputized as a fish warden with the team in 2016, for which she had to become well-versed in comprehensive fisheries ordinances and proper procedures for arresting violators, she says. Bantay Dagat works with maritime police to apprehend and penalize illegal fishers and mangrove cutters. They look out for sanctuary intrusion and illegal methods like fine mesh nets, poison and dynamite, as well as illegal mangrove logging. Gina says that fish spillover from the sanctuaries are particular targets for illegal fishers. "Using dynamite, it's very easy for them to get a school of fish, especially during the new moon, when the fish are near the surface."
Gina's involvement in Bantay Dagat became a useful tool for increasing community involvement in enforcement. The team is made up of volunteers, and after becoming a fish warden, Gina worked hard to recruit more local people to join Bantay Dagat, which now has 25 members. She continues to recruit volunteers, and encourages fishers and other people in the community to report violations they see to the team.
In time, fishers realized that some of the things they were doing were destructive, and they should be protecting the fishing grounds because it is the source of their livelihood."Gina Barquilla, Rare Pride Campaign Manager, Del Carmen
The work local volunteers have put into enforcement has resulted in more than 200 apprehensions of illegal operations in the past three years. "We only managed to catch violators when Rare came in, because we started to focus on fishing behavior," says Gina. "Most of the recent illegal fishing methods are triple nets, fine-meshed nets, and Danish seine. We have filed more than 100 cases since 2014, and the judge has become familiar with my face because I keep going to court."
While Gina worked to make fishers more accountable for illegal actions, her campaign aimed to take a step beyond increased reporting and legal action toward isolated incidents. She wanted to stop the fishing and mangrove cutting violations from happening in the first place. So she began a dialogue with illegal fishers themselves. "We told them that they might be catching a huge volume of fish, but they were also destroying corals that take many years to restore," she says. "We employed a bit of scare tactics too." Gina and her team would demonstrate to fishers how their behavior could wipe out fish stocks on which their children and grandchildren would rely.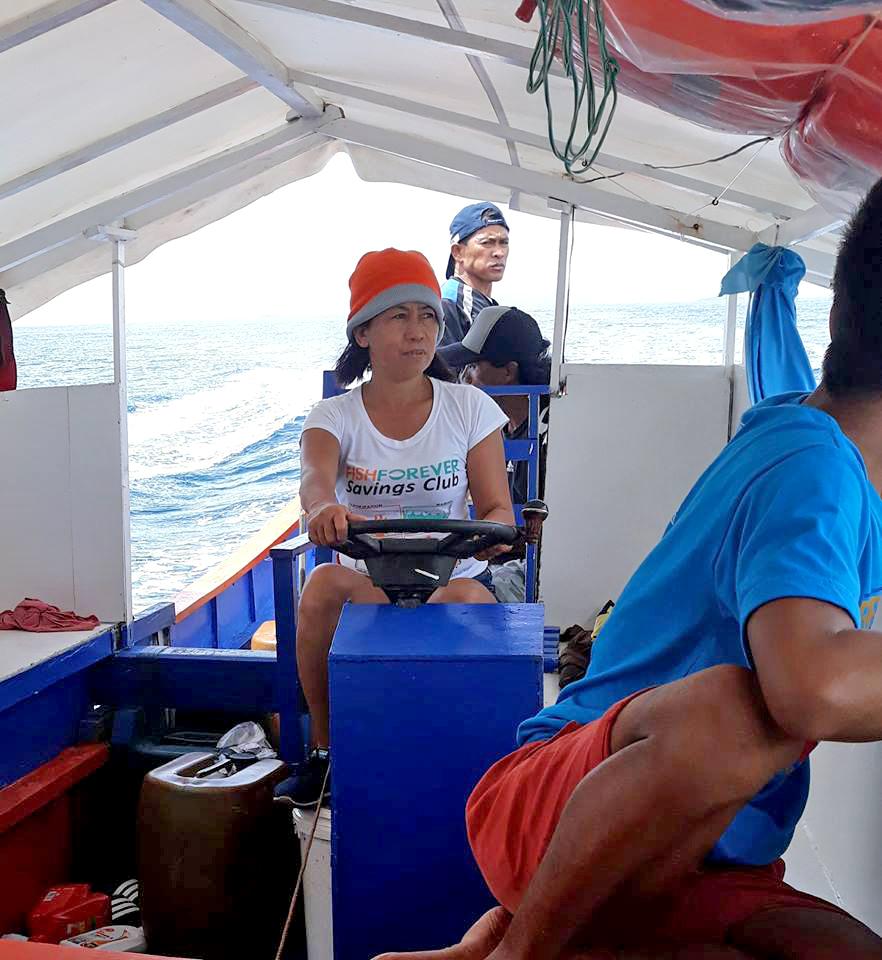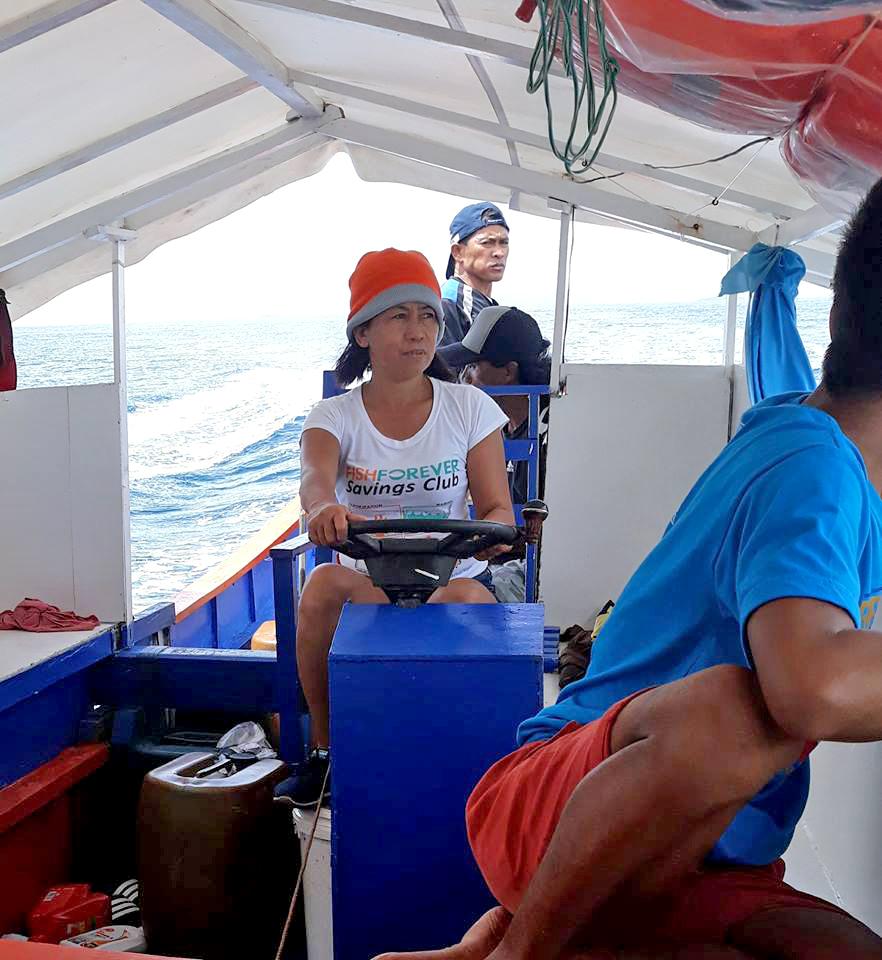 Over the course of her three-year campaign, Gina noticed a significant shift in illegal fishing behavior. "In time, fishers realized that some of the things they were doing was destructive, and they should be protecting the fishing grounds because it is the source of their livelihood," says Gina. "In the three years that we have implemented the program, both legal and illegal fishers have understood why there are arrests."
One such convert is a 27-year-old former dynamite fisher, Henry Sammy Jarel, who was once arrested by Bantay Dagat. "He has become our most trusted Bantay Dagat member," says Gina. After Henry was arrested, he began to learn more about the impact of his demolition on the fishery's longevity. Bombs that wiped out large schools of fish accelerated its degradation. Henry now helps Bantay Dagat stop the practice he once used, and has joined the team on successful confidential missions.
Gina says Henry is always there when she needs him and makes team patrols his priority, even if it means he can't hold onto the hefty sums of cash he used to get as an illegal fisher. "He says that he could easily buy rice and have expensive dishes like adobo when he was still engaged in illegal fishing, and now, he has less money for food," says Gina. "He's convinced it's for the better, though."
•   •   •
Since Gina began her campaign in 2015, the waters of Del Carmen have become a different place to fish. Ideas of safety, accountability, and longevity have worked their way into the collective perspective toward marine resource use. Once rampant mangrove cutting has stopped nearly altogether, says Gina. And the community has expressed its support for the TURF+Reserves solution, designing and passing its own into law.
Early this year, Gina and fellow Pride campaign managers in other coastal communities throughout the Philippines celebrated the completion of their three-year campaigns with Rare. Next steps will involve working with the community to implement and give functionality to the TURF+Reserve solution they've legally adopted.
Still, there are times when Gina remains hard at work fighting the lingering pull that illegal fishing has for some of its people. She remembers one of her most difficult days on the job: September 19, 2017, just a few months before her graduation from Pride. At 11:00 p.m., Gina and several other Bantay Dagat headed out ahead of the maritime police to confront a man who had been identified by other fishers as an illegal fisher. When they approached his boat, the fisher rammed into their vessel and the entire team was thrown overboard. He took off and they were left treading water without life vests, waiting for the maritime police boat to catch the target first (per official protocol), then circle back for them. Thinking the trip would be quick enough, Gina hadn't eaten dinner that day, and she was starting to feel weak enough to drown in the open water. The team was lucky, she says, because the sea was calm at the time. "Thankfully, everyone survived," says Gina. "The maritime police boat went back and saved all of us."
Even on days like September 19, when Gina has reason to feel adrift, she remains hopeful about achieving sustainable fishing. The people of Del Carmen have shown her their capacity for change, and her work with Rare has given her the tools and lessons to keep it up. "The approach of Rare's fisheries program is different," she says. "We may not be able to stop all illegal activities, but at least we are able to minimize them."
---
Rare Philippines Senior Manager of Communications Yasmin Arquiza contributed to the reporting of this story.