Summer is finally here, and that means vacations, sunshine, and of course, a great book! Whatever your plans for these warm, sunny days, consider checking out selections members of the Rare Team read this year!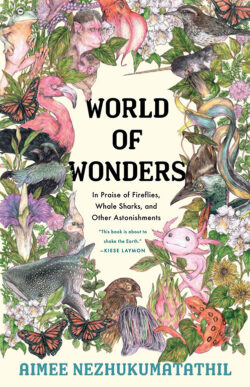 By Aimee Nezhukumatathil
Named as Barnes & Noble's Book of the Year for 2020, World of Wonders is a meditation on nature and all of its joys and wonders. Award-winning poet Aimee Nezhukumatathil takes the reader through a series of first-person essays exploring of some of nature's most awe-inspiring flora and fauna and the lessons they have taught her. "What the peacock can do," she tells us, "is remind you of a home you will run away from and run back to all your life."
Why I loved it: "Each essay makes a lovely little break and dose of inspiration.  Bonus points, the writer is half Filipino!" – Rocky Sanchez Tirona, Managing Director, Fish Forever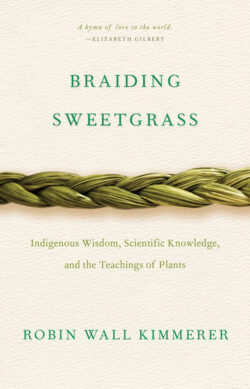 By Robin Wall Kimmerer
Robin Wall Kimmerer is a botanist, a mother, a woman, an Indigenous Scientist, and a Citizen of the Potawatomi Nation. In this book which has captivated millions of readers since its original release in 2015, Kimmerer turns our attention to the importance of learning from nature, our oldest teacher. "I could hand you a braid of sweetgrass, as thick and shining as that plait that hung down my grandmother's back," reads the back cover of Milkweed's 2020 special edition. "But it is not mine to give or yours to take. Wiingaashk belongs to herself. So I offer, in its place, a braid of stories meant to heal our relationship with the world."
Why I loved it: "Braiding Sweetgrass is an ode to nature, one that encourages us to reevaluate what's missing in our relationships to it today: an understanding of and appreciation for invaluable indigenous wisdom, the intrinsic value of plants and living things, immense gratitude for nature's (free!) gifts, and the universal power of love to restore the earth.  It's a must-read for every generation." – Larissa Hotra, Director, Content Marketing & Communications
"Braiding Sweetgrass combines Native American knowledge, botany, and natural history to show how humans and nature are deeply connected. It is hopeful and compelling in its calls to look at and live in the natural world in new ways." – Christine Sur, Senior Manager, Policy & Partnerships, Global Development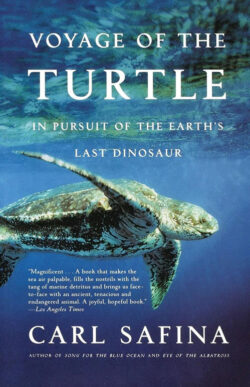 By Carl Safina
Sea turtles are one of the world's most beloved flagship species, and one of the most imperiled — despite having weathered mass extinctions and other serious threats. Carl Safina looks at how the Leatherback Sea Turtle, a present-day dinosaur, has both suffered under the hands of humans and started to recover.
Why I loved it: "Voyage of the Turtle is a great example of how humans can play a positive role in helping populations and ecosystems recover, but also provides a sobering reminder that inaction today can mean the loss of incredible species tomorrow." – María Dabrowski, Senior Outreach Associate, BE.Center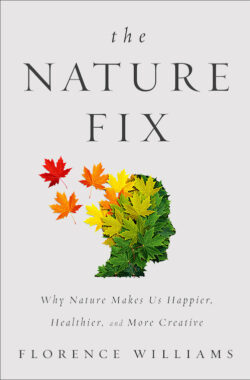 By Florence Williams
Nature has the power to mitigate, if not cure, some of humanity's most pervasive physical and mental challenges. Williams examines how countries and communities across the world re-integrate themselves in their local environments to find creativity, shift moods, reconnect with nature and strengthen the body and mind.
Why I loved it: "This book gave me a lot of food for thought – how can we individually and communally spend less time sequestering ourselves indoors and more time healing in nature?" – María Dabrowski, Senior Outreach Associate, BE.Center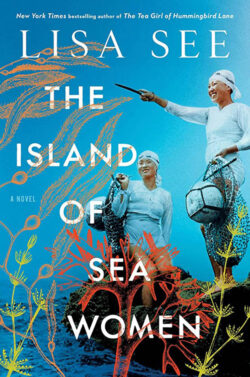 By Lisa See
Set on the remote Korean island of Jeju, The Island of Sea Women tells the story of two best friends who bond over their shared love of the sea, despite their drastically different upbringings. Young-sook and Mi-ja come of age together while working on their village's all-female diving collective. Together, the friends learn to navigate the vicissitudes of life – marriages, childbirth, loss – as well as the devastating effects of foreign intervention and the politics of shifting gender norms. Booklist has called the novel, "A stupendous multigenerational family saga, See's latest also provides an enthralling cultural anthropology highlighting the soon-to-be-lost, matriarchal haenyeo phenomenon and an engrossing history of violently tumultuous twentieth-century Korea… Stupendous…Mesmerizing."
Why I loved it: "This book reminds me a lot of our communities, and how coastal communities can benefit from the sea while protecting it. It's an amazing piece of historical fiction, and bonus points for the female leads. I'd definitely recommend it to anyone who loves a good book on women empowerment, coastal communities, and historical fiction." – Bernice Esguerra, Manager, Marine Governance and Training, Fish Forever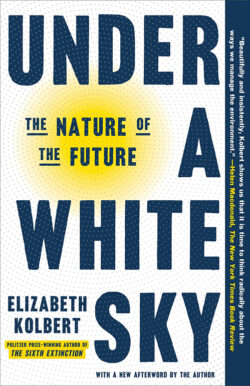 By Elizabeth Kolbert
Listed as one of Smithsonian's 10 Best Science Books of 2021, Under a White Sky examines the Anthropocene in a wholly new way: if humans have been changing the planet for the worse, could we finally start to change it back in order to save it? From scientists experimenting with diamonds to cool the stratosphere to engineers turning carbon emissions into stone, Kolbert takes us across the globe to look at how interventions that once threatened our planet may now be our only chance of saving it.
Why I loved it: "Elizabeth Kolbert has the incredible ability to articulate science with humor and clarity. In a time when climate doomism feels like the norm, Kolbert offers us a look at the incredible advances we are making to save our one and only home." – Kristi Marciano, Senior Associate, Marketing & Communications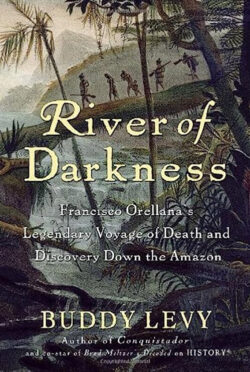 By Buddy Levy
River of Darkness tells the epic true story of sixteenth-century explorer Francisco Orellana's journey into the Amazon. As the first European to enter the Amazon, history may very well remember this European conquistador's name. But central to Levy's account is the long-overdue story of the Indigenous Peoples Orellana encountered and the depiction of the Amazon itself as a central character to the story.
Why I loved it: "It is fascinating to see what the Amazon was like before Europeans arrived and heart-wrenching to see the way Europeans treated the native people. The book is also a simply remarkable journey of survival." – Bruce Boyd, Rare Board of Trustees