"Gurita! gurita!" the neighborhood children shout, alerting Nurlini that another fisher has arrived to sell her the octopus he has caught from the reef-rich coastal waters off Indonesia's Siompu Island. The refrain of "Octopus! octopus!" is one common to Nurlini, an octopus fisher-turned-trader, one of two on the 22,000-person island. But she worries that one day soon, the cries of "gurita!" could fade out along with the supply of healthy octopus.
For a businesswoman like Nurlini, understanding her product—Indonesia's most common octopus, Octopus cyanea, a.k.a. the 'big blue,' 'day,' or 'reef' octopus —is necessary for her small business to thrive. But very little data about octopus landings by small-scale fishers in Indonesia (and the Indo-Pacific region as a whole) exists. And over time, Nurlini has noticed changes in and out of the water. "Back then, octopuses were cheap but abundant, with few fishers fishing them. Now, octopuses are expensive but limited, and many fishers compete to catch less."
These challenges make the future of her livelihood and business tenuous. Nurlini knows that she has a lot to lose if octopus fisheries aren't better managed—and that she can no longer conduct 'business as usual' if she wants her small business and family to flourish.
Back then, octopuses were cheap but abundant, with few fishers fishing them. Now, octopuses are expensive but limited, and many fishers compete to catch less."
Like most women from small-scale fishing households in Indonesia, Nurlini works multiple jobs from sunup to sundown. She rises from her bed on the bamboo floor of a modest nipa hut at 4 a.m. to prepare her household and business for the day ahead, making hot coffee and tea with biscuits for two school-age children and doing light housework leftover from the previous evening. Her husband Hamid, a fisher, left the house at 3 a.m., having joined a fishers' group for a twice-daily fishing expedition in his father's boat. Hamid fishes to feed his family; he will keep most of the catch for household consumption and sell any leftovers to the "papa lele" (mobile fish sellers) that hang out on the beach, awaiting the fishers' arrival.
Nurlini is the family's breadwinner, and her workload ebbs and flows with the many daily tasks she assumes as the primary manager of her house and business: cooking, cleaning, grocery shopping and managing the three (of six) children still living in her home; buying, weighing, and selling octopus; delivering petrol by motorbike to neighbors around the island on behalf of her mother's profitable petrol business; teaching her children and neighboring children the Koran; and regularly collecting firewood for cooking and drinking water from a spring inside a nearby cave.
From the business side, by 8:00 a.m., she already has her first buyer; by 4:00 p.m., she has already bought 200kg (approximately $14) of octopus from multiple buyers and sold yesterday's octopus shipment to a porter at the ferry that transports people and goods to the main market in Bau Bau, on Buton island, one hour away; and by 8:00 p.m., she completes her last octopus purchase from a fisher who stops by the house. With the final purchase, she begins the task of calculating the day's household and business finances. Most days proceed like this.
In addition to manually logging her day's revenue in a paper logbook, Nurlini now also uses a digital mobile app called OurFish to track her business transactions. Through OurFish, traders like Nurlini record their purchases with fishers, creating a permanent digital log of sales, expenses, and inventory and a log of onward sales data. By her account, her average daily income ranges from 200,000-500,00 rupiah, or approximately $14-$35/day. "This is enough for our family because our expenses are low, and school is free." Given the profitable octopus business, Nurlini's family is doing well compared to most of Southeast Sulawesi's fishing households, whose mean income falls between Indonesia's national poverty rate and the province's minimum wage of $6/day; on average, their mean income is about 84% of the province's minimum wage.
This is enough for our family because our expenses are low, and school is free."
The app provides transparent accounting with financial statements for fishers and buyers. This new tool has helped Nurlini create more certainty in understanding her income against the backdrop of an uncertain future for the region's octopus.
Less Octopus but More Fishers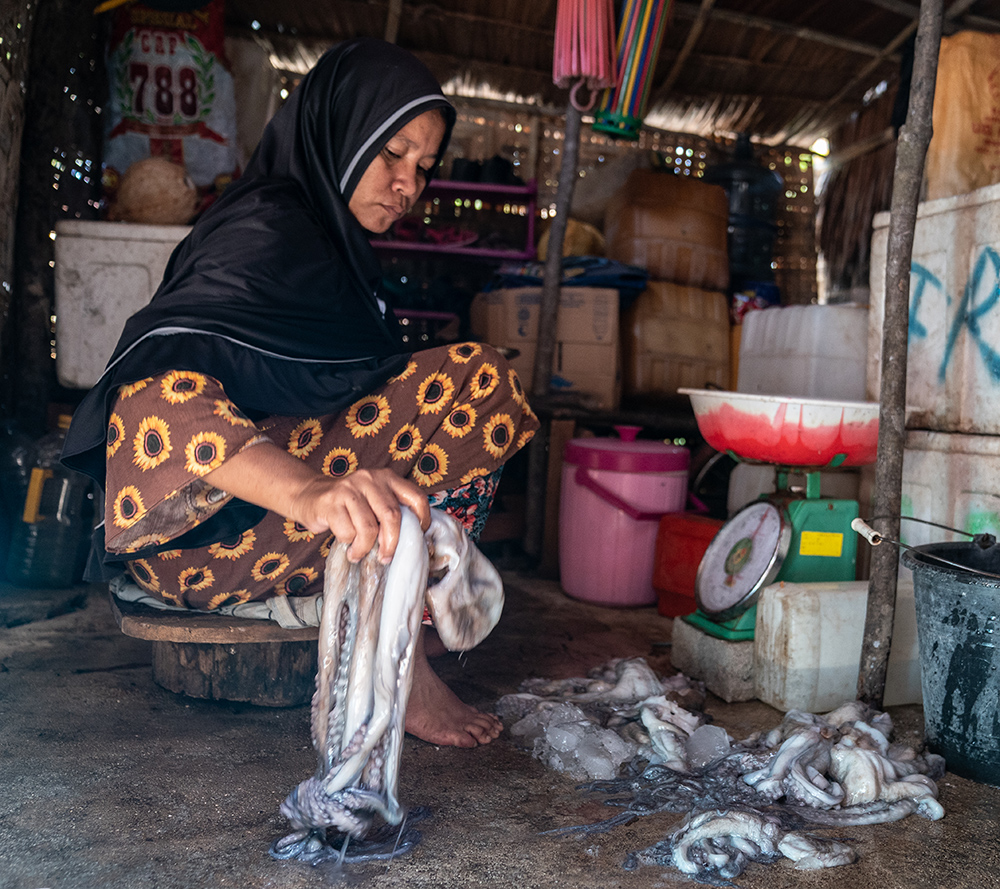 Octopuses are fascinating creatures. Google "octopus" and you'll be rewarded with countless hyperbolic descriptors of these blue-blooded phenoms: they are amazing and mysterious camouflage and communication masters that use tools and escape capture and tight quarters; they are the eight-legged Einsteins of the deep; they possess short- and long-term memory; and on and on. Beyond the glamour, they are, in fact, widely considered to be the most evolved and intelligent of all invertebrates.
And importantly, from a fisheries management perspective, they are an important target for sustainable management—with a short lifespan, they reproduce quickly; there is growing demand for them in international markets (such as Europe and the United States); and they are a critical livelihood for many small-scale fishers throughout Indonesia. Further, based on several cases, they respond positively to management.
But despite octopuses' positive attributes, there is little to no management of Indonesia's octopus fisheries at local or national levels. Further, very little biological or socioeconomic data exists about the fishery or industry. While it's known that octopuses predominantly inhabit coral reefs near to the shore, their stock health and harvest data is unknown. A proportion of small-scale fishers' octopus catch, whether for subsistence or sale, remains unreported,
Moreover, Indonesia's octopus catch has increased since 2004, with evidence that "many reef resources are being extracted at a rate exceeding maximum sustainable yield (MSY) and that catch per effort is rapidly declining." (Seafood Watch 2016). In other words, while fishing effort is increasing, octopus catches are decreasing—the stock is likely overfished, and the coral habitat in which it thrives is degrading.
Small-scale octopus traders like Nurlini have a lot to gain by operating a more sustainable octopus business. Nurlini and her family have been at the forefront of Siompu's octopus trade for the last 20 years. She grew up learning how to fish for and sell octopus, and by her telling, her parents pioneered Siompu island's octopus industry. Her father—a fisher by trade—learned how to fish for octopus while working construction in the main city of Baubau. In 2000, he and her mother returned to Siompu, bought a house on island's west side near the main harbor and ferry, and taught the Island's fishers how to catch octopus. Her mother saw an opportunity to buy the octopus, and thus a family business was born—one that Nurlini is now advancing, with a regular clientele of 30 fishers.
Like the magnificent and modern-day octopus—big-brained problem-solvers, capable of multi-tasking, using tools, and learning from observation and experience—Nurlini recognizes the need to understand her business asset better so that she might protect it. With more fishers and less octopus, she's keen to balance their protection with their production.
From My Fish to OurFish: Tools and Data Make a Difference
Rare met Nurlini in early 2019 when its coastal fisheries program, Fish Forever, visited Siompu Island to meet with fish buyers and traders who would be willing to pilot the use of an innovative digital app called OurFish. Interested, and with Fish Forever's support, Nurlini started using the app in June 2019.
OurFish is a digital fish catch reporting tool that enables fishing communities to monitor the amount, type, and local amount of fish caught. "I was interested [in OurFish] because a few months before I started using it, I found out from all collectors in the city that octopus catch should be recorded. So, I was motivated and wanted to use [OurFish] to support my business.  I'm going to apply for a permit to open a business and want to make sure that the octopuses that I collect have not been banned or something." Through Fish Forever in Indonesia, Rare is working with traders like Nurlini to ensure more sustainable fisheries management using tools like OurFish.
Nurlini is the first woman to use the app in her community—and according to her, recording her fish catch through OurFish has made a significant impact on her business operations and personal finances in multiple ways. "OurFish allows me to understand four elements of my transaction at once: amount purchased, the day's sales, the debt I still owe, and my balance and trends over time. So, I feel lighter, less worried, and happy, because the app eases my workload and makes me feel like I have a built-in assistant."
The app has also given her a new understanding of how recording her octopus catch can contribute to the collective knowledge and management of Indonesia's octopus industry. The more traders like Nurlini record and share catch data and income, the better the local government and other key stakeholders can support the industry. According to her, the tool gives her business information that provides her "credibility in the eyes of government officials" and allows her to be more selective in what she purchases. "I only accept smaller sizes if the current price for octopus is high. I tell fishers to let them grow to adult sizes, but the fishers say other fishers will take the small octopus if they don't so they get the juvenile sizes anyway."
It's also given her a new way to elevate her role as a businesswoman and her household's manager. For women in small-scale fisheries, these roles are critical but usually unrecognized and undervalued contributions to the sector. Nurlini now understands her family's income and "can contribute, as a woman, to moving the economy forward." She taught her one daughter to use the app; and her husband Hamid has even begun to acknowledge Nurlini's contributions, sharing that she has offered, on multiple occasions, to teach him how to catch octopus and diversify his catch, "so that he can earn more and buy his own boat."
Nurlini has big visions for creating a more sustainable business and fishery for her family: She awaits a general business permit to cover her multiple businesses, wants to start a fishers' cooperative to formalize business loan arrangements, and is helping the island's fishers register their catch to better understand who is fishing the octopus, and how much is coming out of the water. For her, adopting a new behavior through OurFish and encouraging others to do so is not only good for the octopus—it's just smart business.
Rare Philippines Senior Communications Manager Yasmin Arquiza contributed to the reporting of this story.